Commodity markets entered 2020 having navigated some choppy waters in 2019.
What looked like surefire storms on the horizon a year ago—notably the trade dispute between the US and China, and a hawkish US Federal Reserve—have blown in without delivering long-term damage to the asset class, at least thus far. It may be too soon to tell if these risks are dissolving or if we're simply in the eye of the storm. No matter the current state of the economy, it may be the underlying currents that have the final say in where the asset class goes from here.

So, what's the outlook for commodities in 2020? Let's review a few of the key threats and opportunities that could stifle further gains or provide a tailwind for smooth sailing in the New Year.


The Business Cycle
According to the National Bureau of Economic Research (NBER), we last experienced a trough in the business cycle in June 2009, which puts the current expansionary phase as the longest on record with 126 months as of December 2019. It's hard to predict when the current phase will end, though it seems plausible to suggest that we are likely in the later stages. If that weren't the case, we'd have to expect at least another three to five years of positive GDP growth, which seems like a herculean effort for an economy that's been averaging roughly two recessions per decade.

Assuming we are in the later stages, now may be a great time to own commodities in your portfolio since it's generally been in these waning periods of expansion that commodities have experienced their best performance. The following graph presents the average monthly returns for stocks and commodities over the last eight cycles, broken down into expansionary and recessionary periods. It divides the expansionary periods into four quartiles; early stages, early-to-middle stages, middle-to-late stages, and late stages. It also includes the periods of recession over the last eight cycles.


Average monthly returns for commodities and stocks during various stages of the business cycle, April 1960–December 2007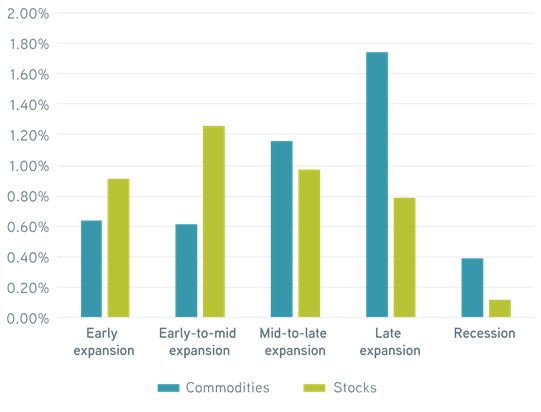 Sources: Bureau of Labor Statistics, Bloomberg, S&P Dow Jones®, ICE, Nareit, and FTSE Russell. Inflation represented by US CPI Urban Consumers SA, US corporate bonds represented by ICE BofAML US Corporate Index, TIPS represented by ICE BofAML US Inflation-Linked Treasury Index, US equities represented by Russell 3000 Total Return Index, REITs represented by FTSE NAREIT and All Equity REITs Total Return Index, and Commodities represented by S&P GSCI Total Return Index. For illustrative purposes. Not a recommendation to buy or sell any security or financial instrument.
On average, commodities have historically outpaced stocks as the economy moves into late expansion and recession. However, these results aren't entirely unexpected given that commodity prices are more directly tied to the economic cycle due to their linkage to raw material prices. This means that commodity returns typically max out later in the cycle as aggregate demand is peaking and inflation has increased. If we truly are in the later stages of the current cycle, commodities may be well positioned to capitalize.
Inflation
Speaking of inflation, it's well established that commodities have delivered the best defense against rising consumer prices. The reason? Many commodities themselves are members of the basket of goods and services that make up the Consumer Price Index (CPI).

The graph below explores the average sensitivity of a few common asset class returns to changes in CPI over the last 10 years. More specifically, it displays the slope of the regression line of monthly returns versus changes in the CPI over the prior 10 years—ending November 30, 2019—for each asset class.


Inflation beta for US asset classes, prior 10 years as of 11/30/2019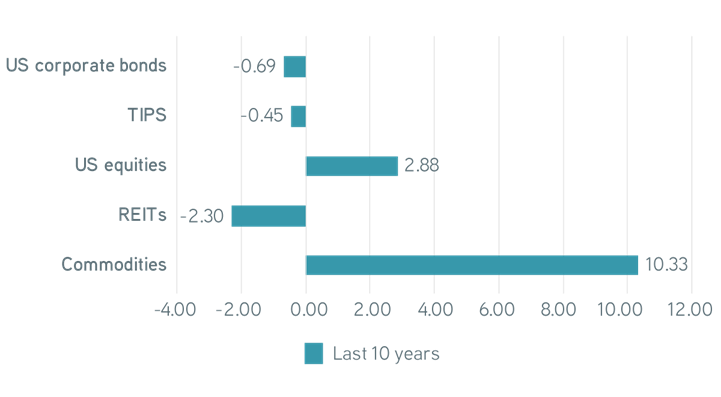 Sources: Bloomberg, Parametric, 12/31/2018. For illustrative purposes only. It is not possible to invest directly in an index. They are unmanaged and do not reflect the deduction of fees and expenses. Past performance is not indicative of future results. Please refer to the disclosures for important information.
As we can see, commodities easily top each asset class when it comes to inflation sensitivity, a characteristic that hasn't been needed much over the past few years. However, this may be changing; there is some evidence that inflationary pressures may be creeping back into the economy. For example, the median CPI is a measure of core inflation calculated by the Federal Reserve Bank of Cleveland that focuses on price changes of the 50th percentile component in the basket of goods and services that make up the index and is considered by some to be a better gauge of underlying inflation trends in the economy. The median CPI recently came in at nearly 3%—a high not seen in over a decade.
Adding to the concern is that trade protectionism by the US may exert further upward pressure on prices as imported goods are slapped with tariffs or companies are forced to move to higher-cost supply chains. These higher costs may eventually find their way to the consumer in the form of higher prices if companies are unable or unwilling to handle them. The Fed seems content to allow the economy to run a bit hot before taking any action, most likely due to not wanting a repeat of 2018, when it may have acted too quickly in pumping the brakes on growth.
Meeting minutes from both the October and November 2019 Federal Open Market Committee meetings expressed concern over inflation that has continued to run below the Fed's symmetric 2% target, with Fed chair Jerome Powell stating that he doesn't expect an increase in rates unless there's a meaningful move up in inflation. With three cuts to the federal fund's rate and a reversal to balance sheet runoff in 2019, current market-implied expectations signal that the Fed is likely to ease, rather than raise, rates in 2020.
Given the backdrop of a strong labor market and an economy already running above its potential GDP, a more accommodating monetary policy may provide the necessary support for inflationary pressures to reemerge in the near term. If that happens, commodities are well positioned to tag along for the ride.
The US-China trade war
A major headwind in commodity markets over the last two years has been the trade war between the US and China. Though the risk of further conflict hasn't gone away, we're finally beginning to see the early stages of de-escalation from both sides. The announcement of a phase one trade agreement in mid-December sent commodity prices rallying, even though details of the deal were sparse. The market is dying for a truce between the two powerful nations, and it's likely becoming more painful economically for both to stay in the fight the longer it continues.

China in particular is facing its slowest GDP growth in over 30 years, with estimates from the International Monetary Fund and Citigroup pinning expectations at 5.8% for 2020. This alone could be a headwind to commodity performance given the country's position as the largest consumer and importer of real assets. To the extent that growth materializes even lower, the risks of a hard landing would reverberate across commodity prices.

However, the probability of a significant miss seems somewhat muted given monetary and fiscal policies already introduced and the central authority's proven willingness to act in the face of economic weakness. Barring a hard landing, the outlook on the progress of a phase two agreement with the US and potential tariff rollbacks will be key to supporting asset prices over the medium term. If we don't see any more progress on trade this year, commodity prices may see further headwinds to performance.

The bottom line
Commodity markets enter the New Year with a slight wind at their back, having steered past some formidable challenges in 2019 and rallying late to deliver one of their best years in the past decade. Looking ahead, if the trade war between the US and China doesn't sink this recovery, a US economy in the golden hour of economic growth will likely calm the waters for strong performance from this late-cycle stalwart.