If 2020 taught us anything, it's that one event can change everything for the markets.
As the year winds down to a close, it's appropriate to look ahead and consider what might be on the horizon in 2021—but we should first consider the events of 2020 altogether. If we look back to last year's outlook, few people foresaw the global pandemic that shocked capital markets in Q1 and brought many parts of the global economy to a screeching halt for the balance of the year. That outcome should make us all a little wary as we consider the potential range of outcomes on the road ahead.
As readers of this blog know, we don't employ market forecasts in our investment strategies. However, we regularly engage in discussions with clients, their representatives, and other interested parties about significant themes that have the potential to dominate the future. It's then with great humility that we share some of our thoughts about our outlook for 2021.
What will normal look like after the COVID-19 pandemic?
The pandemic that was the dominant news story of 2020 will continue to hold the pole position for much of 2021. As of this writing, Johns Hopkins University reports nearly 76 million global infections and over 1.75 million deaths, with the US unfortunately leading in both categories. Science may finally allow us to control the virus and start to bring the pandemic to closure in 2021. According the New York Times Coronavirus Vaccine Tracker, there are a total of 55 vaccines in clinical trials on humans, with six approved for early or limited use. Two vaccines are currently approved for full use with the general population. With this progress, it's anticipated that an effective vaccine will be widely available for most frontline workers and high-risk individuals in Q1, reaching the broader population in Q2. The pandemic is expected to subside as an increasing percentage of the world's population receives the vaccination.
Federal Reserve chairman Jerome Powell has repeatedly stated the economy will only recover once the pandemic is under control. The recession we find ourselves in today wasn't caused by economic imbalances that need resolution. Before the pandemic fully hit in March 2020, the US economy was enjoying its 128th month of expansion, and the unemployment rate was running near a 50-year low. The pandemic acted like an exogenous shock similar to a large-scale natural disaster.
Nobel-winning economist Paul Krugman points out that more pessimistic forecasters may have "overlearned" the lessons from the 2007–2009 global financial crisis, when the recovery in employment was anemic. That crisis was caused by a housing crash that left consumer balance sheets in shambles, and it took several years for both consumer spending and employment to recover. On the other hand, consumers entered the 2020 recession with reasonably strong balance sheets, and those who remained employed increased savings while in lockdown. This combination could mean that consumer spending will rapidly grow once the pandemic starts to subside, and we could see a V-shaped employment recovery that was more common before 2008, such as the one that followed the 1981–1982 recession.
US employment rate, 25–54 years of age, 2007–2019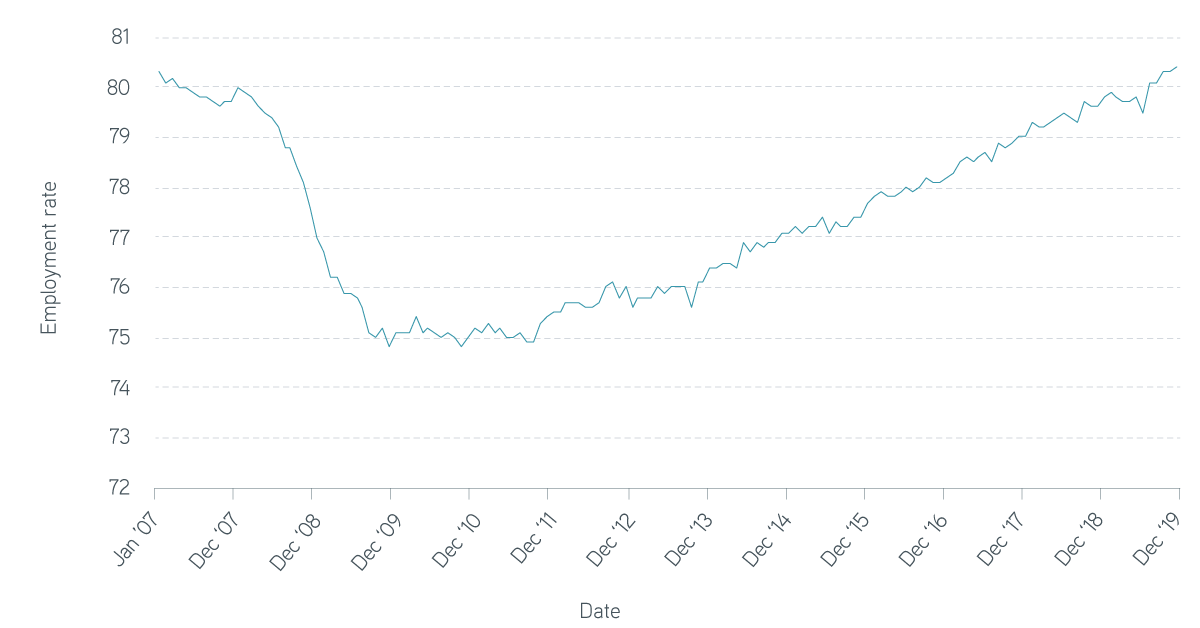 Source: Federal Reserve Bank of St. Louis, 11/12/2020. For illustrative purposes only.


US employment rate, 25–54 years of age, 1981–1984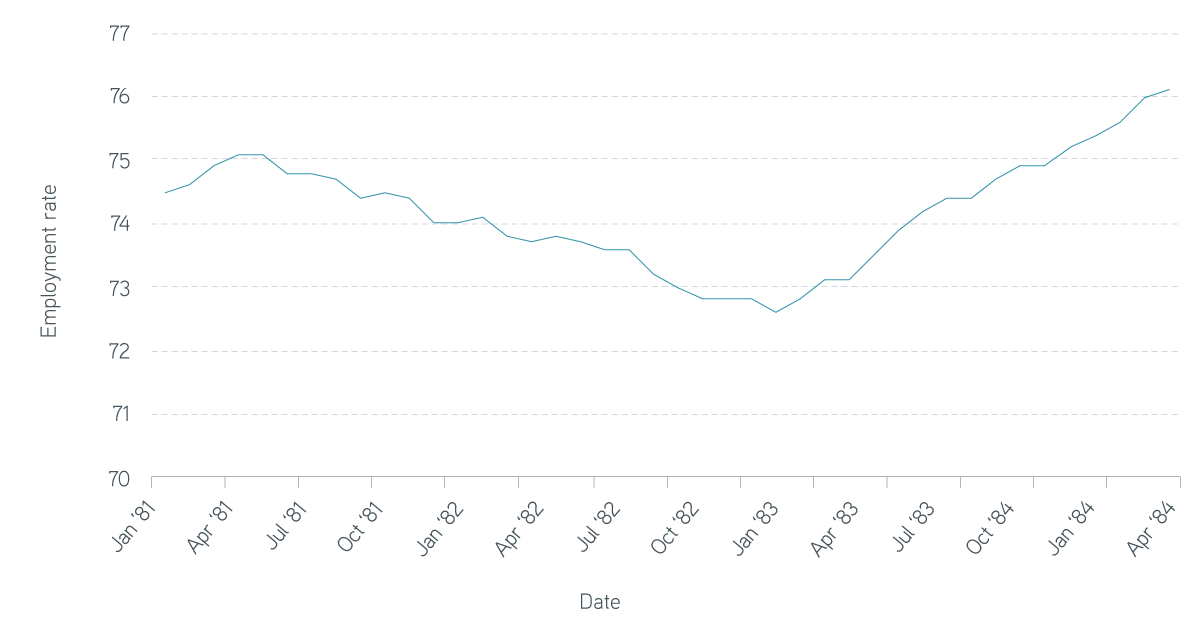 Source: Federal Reserve Bank of St. Louis, 11/12/2020. For illustrative purposes only.


However, a recovery in employment doesn't mean we revert to a prepandemic normal. Many of the changes brought on by the pandemic will remain with us in a postpandemic world. Telemedicine, remote work and education, and curbside pickup will likely be a much larger part of our lives in the future. Debt will also be a hallmark of the pandemic that will remain with us for years to come: The Institute for International Finance reports that the ratio of global debt to gross GDP will rise from 320% in 2019 to a record 365% in 2020, summing up their concerns with "More debt, more trouble."
What does Joe Biden have in store for the economy?
President-elect Joe Biden ran on a plan to increase taxes on corporations and individuals earning more than $400,000 annually while increasing spending on COVID-19 relief, health care, and infrastructure. These initiatives will be a heavy lift if the Democrats are unable to sweep the January 5 runoff elections in Georgia and gain control of the Senate. Prediction markets currently assign a 30.6% chance to that outcome. A divided government seems most likely, with the Biden administration negotiating with Senate Republicans to set a more modest course of action.
While it's unlikely that the new administration will be able to get any tax increases passed in the near term, the natural expiration of some existing taxes will provide the Biden team with some leverage. Full expensing of capital equipment—also known as 100% bonus depreciation—will begin to phase out at the end of 2022. The biggest change will happen on December 31, 2025, when 23 provisions from the Tax Cuts and Jobs Act (TCJA) related to individual income taxes expire. The net impact of these expirations will effectively return individual tax rates to pre-TCJA levels. The threat of these expirations allows Biden and Senate Republicans to find common ground on taxes.
Although not explicitly addressed in Biden's economic plan, relations with China will be a critical input to economic growth. Biden has publicly described Chinese president Xi Jinping as an authoritarian dictator and threat to US interests. He notably went out of his way to support Japan's claim to the Senkaku Islands in a recent conversation with Japanese prime minister Yoshihide Suga. Regardless of how the Obama administration dealt with China in the past, Biden is now a geopolitical realist and a China hawk. He understands there can be little progress on global issues like climate change, Korean denuclearization, or pandemic recovery without China's cooperation. The Biden administration will likely engage with China on common areas of concern while also working with nearby democratic allies like Japan, South Korea, Australia, and India to combat China's global ambitions. Tensions between the two nations are likely to remain elevated.
Two of Biden's White House appointments are worth mentioning, since they could have an outsized impact on the economy. The first is former secretary of state John Kerry in the newly created position of climate envoy. This appointment indicates that Biden intends to go beyond just rejoining the Paris Climate Accord, and climate change will be a focus of the new administration. The second appointment of note was Janet Yellen as Treasury secretary. Yellen advocated fiscal stimulus in her role as Fed chair from 2014 to 2018, and she signed a letter in June 2020 requesting Congress pass another stimulus bill. Most observers expect fiscal stimulus to be her first big task at the Treasury Department.
The bottom line
Rising equity returns and tightening credit spreads are already forecasting the possibility of an end to COVID-19. But if the previous year has taught us anything, it's that one or two surprises could quickly put us on an alternative course. It could be something as simple as an unexpected jump in inflation, or it could be something as serious as a Chinese threat to Taiwan that brings East and West into more significant conflict. As always, we emphasize holding diversified portfolios and rebalancing allocations when they get out of alignment as the best protection against these unwelcome surprises.