A divided Senate highlights the importance of a moderate policy agenda from the Biden administration—especially when it comes to taxes. We explore what's ahead for taxable investors.
Good riddance to a profoundly tragic year. Investors need not be reminded of the cacophony of unease and discord that have made the year unforgettably bad for most of society. In spite of this, passive US equity investors who simply held the market not only experienced a 30% drawdown early in the year but escaped the year remarkably well-off, with most major indexes returning greater than 15% for the calendar year. Tax-managed investors mindful of relative risks fared even better, since opportunities for tax-loss harvesting were plentiful in the first half of 2020.

Investors should be under no illusion that with a new calendar year comes an elixir to what ails us, although the timely rollout of a vaccine may assist. All political eyes have been on the January runoff elections in Georgia, which determined the balance of power in the upcoming 117th US Congress. The January 6 result means Democrats have achieved their best outcome in light of earlier election results: a split Senate with the tiebreaking vote going to Vice President-elect Kamala Harris. Despite this slim advantage, there's no room for votes outside of party lines, highlighting the importance of centrist and moderate policy proposals.

How will Joe Biden's tax policy differ from Donald Trump's?
President Donald Trump's 2017 Tax Cuts and Jobs Act (TCJA) ushered in a new era of tax policy that lowered taxes for the majority of Americans from the Obama era. The major aspects of the law will stay alive until sunset at the end of 2025. The law included many provisions pertinent to the individual taxpayer, including a reduction of individual income tax rates and increased child tax credits, standard deductions, and alternative minimum tax (AMT) exemptions. The law also increased the estate tax exemption level significantly and decreased the corporate tax rate.

Highest federal tax rates, 1954-2020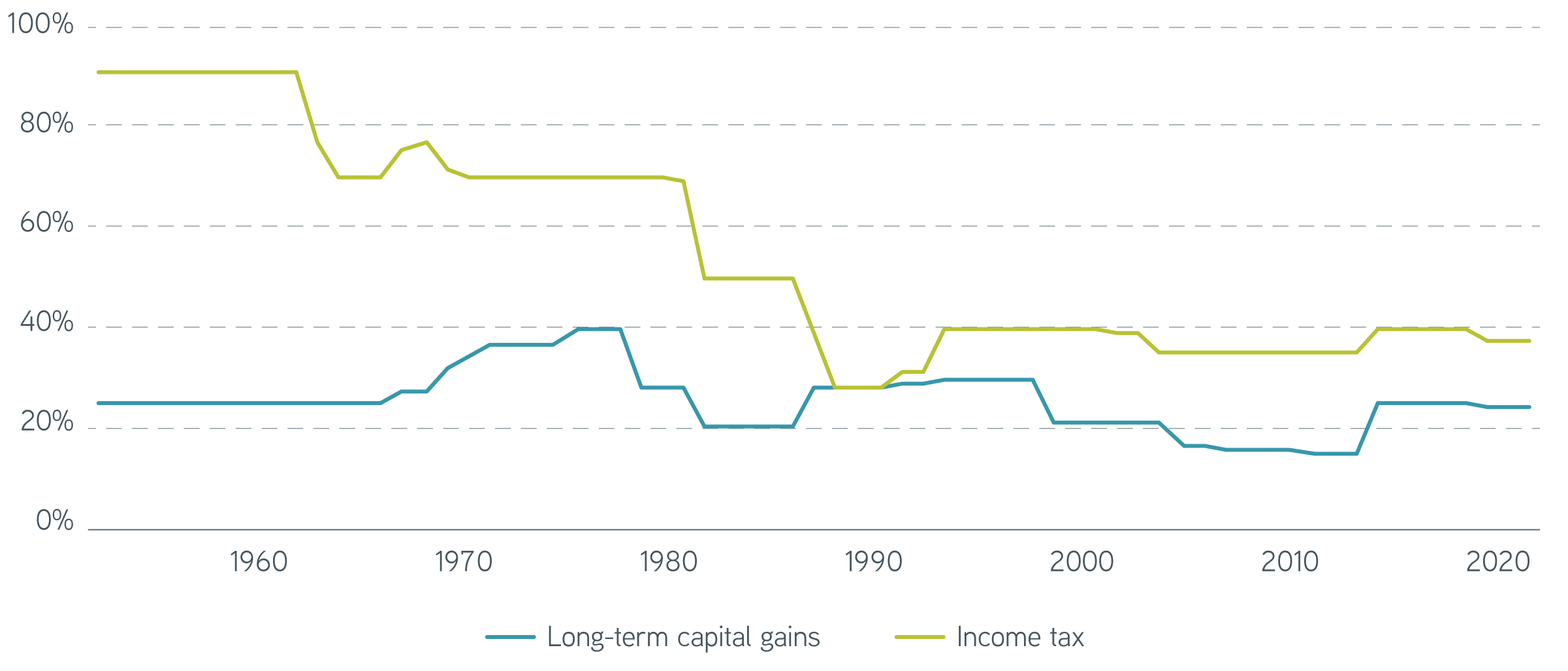 Source: Tax Policy Center, 12/31/2020. For illustrative purposes only.
President-elect Joe Biden plans to reverse most of the changes put into law with the TCJA, hoping to go even further in some cases. These changes present investors with a different set of tax considerations, likely changing incentives and behavior for many. His tax policy includes the following:
Reversing the highest marginal tax bracket to pre-TCJA levels

Lowering the level of income to which the tax rate would apply to individual incomes over $400,000

Taxing long-term capital gains (LTCG) for earners over $1 million as regular income

Reducing the estate tax exemption to pre-TCJA levels

Eliminating the cost basis step-up on inherited investments

Increasing the corporate tax rate to 28%
Estate tax rates and exemptions, 1954-2020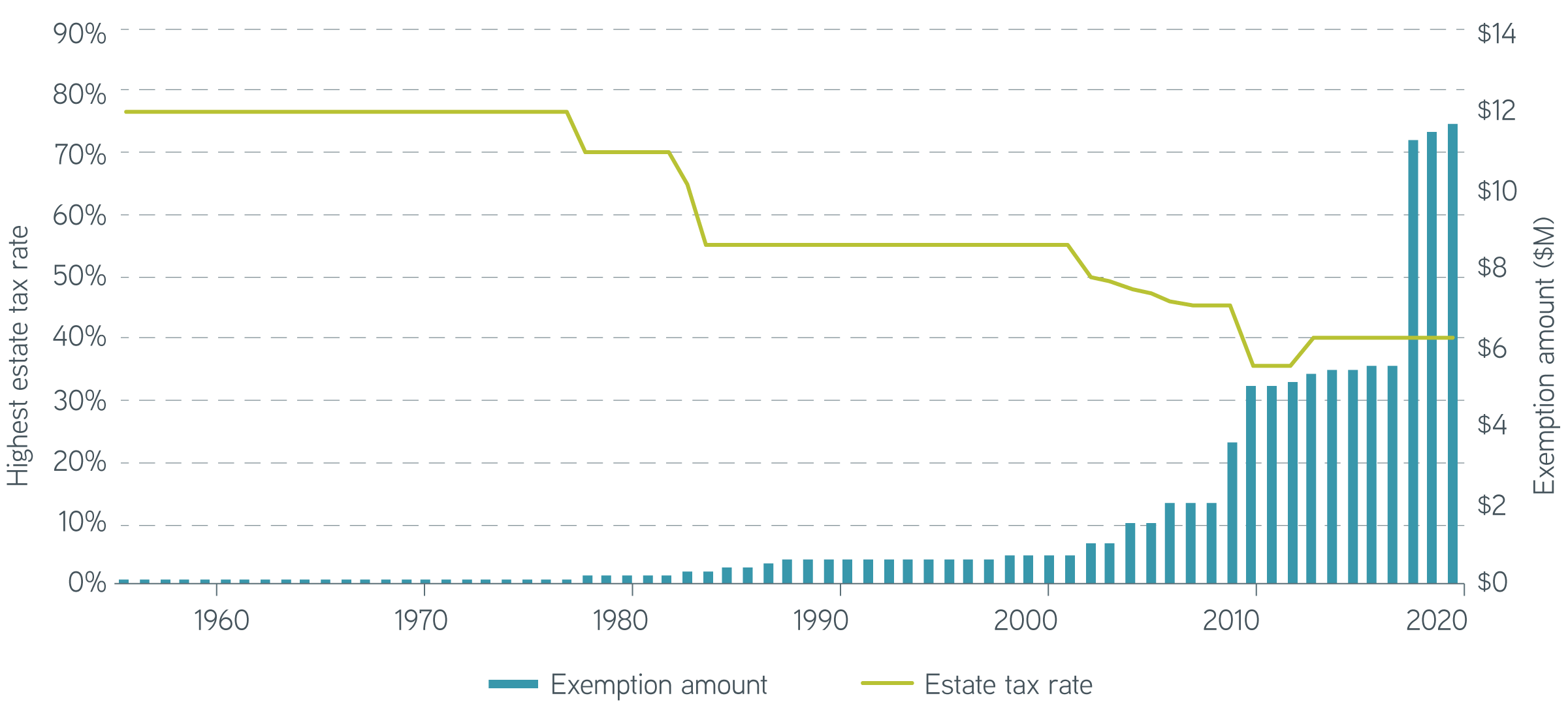 Source: Internal Revenue Service, 12/31/2020. For illustrative purposes only.
What could change for investors in tax year 2021?
We expect Biden to pursue tax policy proposals with appeal to the political center, where there's a greater chance of incremental change. The corporate tax rate is one place that may have support, although presumably the bidding would start at Biden's stated goal and end with a compromise. In the time leading up to the TCJA, many lawmakers discussed setting the corporate rate between 25% and 28%, down from the 35% prevailing rate. This was before the rate was cut to 21% and approved by the Republican majority. A moderate increase from the current rate may have appeal to the center.
Trump's reduction in the highest marginal income tax rate from 39.8% to 37% may also be an easy target for the Biden administration. Simply accelerating the expiration of this provision could prove achievable, since it's both incremental in nature and applies to a portion of the labor force that has seen less financial fallout from the COVID-19 crisis.
The bottom line
Most experts believe 2021 will be a year in which the Biden administration will prioritize controlling COVID-19, vaccinating the public, and pushing to restore employment—not an environment in which most economists would propose accelerating tax increases to achieve a bolder tax policy agenda. That reality, combined with a divided Senate, suggests very little wiggle room to implement sweeping tax policy changes. We believe tax increase proposals will be modulated and likely deferred for implementation until at least late in the year, perhaps even 2022 or beyond. Then again, 2022 will bring us the midterm election cycle, in which officials up for reelection may be loath to have a recent tax increase on their constituents' minds.