As volatility in the equity markets persists due to the expansion of the coronavirus outbreak, investors have turned to the safety of US Treasuries, driving yields lower.
Despite the Federal Reserve making an emergency 50-basis-point rate cut on March 3, the biggest onetime rate cut since the financial crisis in 2008, there's still a great deal of uncertainty around how the bond market will react. Bond yields remain very low, and markets don't seem to have faith that the Fed has done enough. What does this mean for investors in municipal bonds? As I evaluate the muni landscape, I observe three key things.
Municipal bonds provide diversification, and they're doing that now
Muni bonds are a valuable building block of investor portfolios due to their tax advantages, low historical default rates, and diversification benefits. They've thus far again exhibited negative correlation during the coronavirus outbreak, delivering a positive return as equities have plummeted.

As a result, investors owning muni bonds likely have unrealized gains in their portfolios, so they should carefully consider any attempt to reposition their holdings. Realizing these gains, especially net of taxes, may not be prudent if the reinvestment goes back into a safe-haven asset class.

For investors with long time horizons, it may be more advantageous to stay invested and focus on the book yield of existing holdings—the rate at which they've put their money to work. The generally higher book yields will continue to provide some cushion against higher rates while also providing the safe haven many investors still look for.

Lastly, with respect to new-money investments, patience may be appropriate, along with slowly taking advantage of more attractive entry points into the market.
Technical factors and retail sentiment may weigh on bond valuations
Once fear subsides, muni bond market technical factors may garner more attention. Historically, March and April see a resurgence of new-issue supply from lighter issuance at the start of the year. This may be particularly elevated this year as issuers take advantage of record-low yields.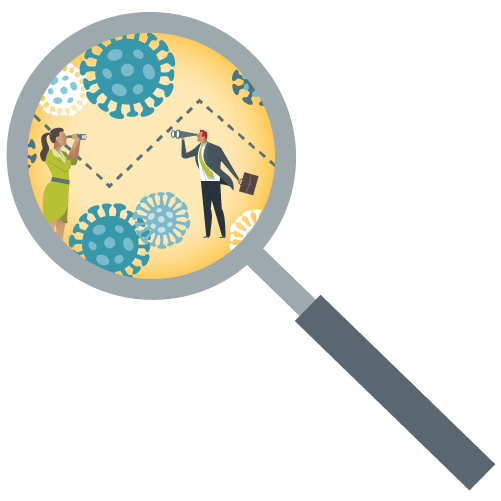 However, retail investors may begin to lose enthusiasm for the same reason, causing tax-exempt municipal bond funds to see accelerating outflows. While shifting safe-haven assets doesn't make sense, if equity markets erode further, investors may reallocate to risk assets. All of this means that we're likely to see some volatility in the muni bond market in the short to intermediate term. We view this as an opportunity.
How will the coronavirus outbreak affect individual municipal sectors?
One of the principal concerns of muni investors is credit quality. Depending on the direction the coronavirus outbreak takes, it has the potential to affect some issuers' credit ratings. Let's look at five muni sectors and how this could play out.
Hospitals
If the coronavirus outbreak turns out to be similar to the typical seasonal flu, it could be modestly positive for hospitals. A bump in patient volumes could lead to revenue increases, assuming hospitals effectively minimize patients' length of stay and commercially well-covered patients seen exceed those that are poorly covered or indigent.
Credit concerns include the extent of impact derived from the following factors:
Cancellation or postponement of more-profitable elective procedures and diagnostics out of contagion fear

Disruption of the health-care-related supply chain and consequent scarcity of such items as pharmaceuticals, medical supplies, and protective gear

Higher unbudgeted wage costs related to overtime
Large-scale, well-capitalized health care systems are more insulated from these concerns than stand-alone academic medical centers, community providers, and rural hospitals with limited cash reserve cushions and weaker payer mixes.
Transit
With more companies imposing work-from-home mandates, public transit could be affected due to less commuter travel. Other types of trips could also decline, since people will have more incentive to shop online to avoid crowds. Keep in mind that on January 20, public transit was suspended in Wuhan, China, due to the outbreak.
Hotels
The US economy continues to be robust. However, an economic downturn stemming from the coronavirus outbreak could have a deep negative impact on hotels and convention centers. A potential decrease in room prices and occupancy levels could reduce net operating income and thus stress coverage of debt obligations.
Airports
In the initial wake of the coronavirus epidemic, some international travel has been curtailed and companies recently have reduced work travel domestically. Most airports rely not only on passenger enplanement levels but also on concession revenues. Agreements with airports also require air carriers to meet operating costs as related to their use.
In general, larger airports with greater international travel and overall volume, such as LAX and JFK, continue to be supported with strong balance sheets and strong local markets. If auto traffic ebbs across the country longer term, airports reliant on customer facility charges from rental car companies could experience a downturn as demand falls.
By way of comparison, US airports during other crises (such as the SARS outbreak of 2002–2003, 9/11, and the global financial crisis) did experience sharp downturns in air traffic, but they didn't experience the kind of financial distress that resulted in credit defaults.
Port authorities
Chinese export volumes are expected to decline in the first quarter of 2020. The effect on US ports may hit shortly thereafter due to the time it takes to sail to the US, especially if there are extended factory closures leading to more shipping cancellations. However, US ports receive most of their revenues from fixed payments from tenants, which will mitigate the effects of short-term volume declines.
West Coast ports will likely be the most affected. The Port of Los Angeles and the Port of Long Beach have the most exposure to two-way trade with China. However, at least 70% of the revenue for both ports comes from minimum annual guarantees.
The bottom line
There continues to be a lot of uncertainty about the coronavirus outbreak—everything from how severe it will grow to be to the effectiveness of the monetary and fiscal response—and the epidemic is a fast-developing story. Because more volatility in risk-on asset classes may ensue, investors looking to their existing municipal bond holdings to provide a safe harbor in the storm should stay the course. For new investors, it may be wise to invest patiently, since the prospects of weaker market technicals may lead to better buying opportunities. Lastly, negative long-term trends may affect specific credits, reinforcing the need for professional due diligence in investors' muni bond portfolios.