Without a new trade deal between the UK and the European Union, investors in major international equity indexes could face serious downside risk.
When the clock strikes midnight in Brussels on New Year's Eve, the United Kingdom's post-Brexit transition period will officially come to an end—never mind that it'll only be 11 p.m. in London. For all intents and purposes, any trade deal between the two sides will have needed to be worked out well before December 31. The way negotiations have been going, it's unlikely that any amount of additional time would make much of a difference in the matter.

None of this is to say the UK and the European Union (EU) can't or won't reconvene in the new year to continue negotiations if a deal isn't inked beforehand. But for the moment, the stakes in avoiding a no-deal breakup scenario couldn't be higher.


What does Brexit mean for the UK?
While a member of the EU, the UK was part of a single market and customs union that promoted economic cooperation and stability among its members. This meant goods and services that flowed between the UK and other EU members weren't subject to tariffs, quotas, or major border checks. Almost half of the UK's $1.9 trillion in global trade as of 2019 was with other EU members and free from trade barriers. Come New Year's Day, absent a deal, trade between the UK and the EU would be based purely on World Trade Organization terms, which means more UK imports and exports would face tariffs.
This also means the UK would lose access to any free trade agreements between the EU and other countries around the world. To ensure continuity with non-EU countries, the UK is in the process of trying to mirror existing EU agreements. Already free trade agreements have been reached that cover 11.6% of the UK's 2019 global trade—but time is quickly running out. UK consumers will be left footing the bill in the form of higher prices without a deal, paying up for everyday staples such as ground beef, cheese, and even wine. The British Retail Consortium estimates that come January 1, 85% of foods imported from the EU will face tariffs greater than 5%. With only one-fifth of food imports coming from outside the EU and local supermarkets operating on razor-thin margins, tariffs may ultimately become a problem for everyday Brits. The market has already come to that conclusion, pricing in increasingly higher inflation rates over the past few weeks.
Market-implied UK inflation expectations for the next five years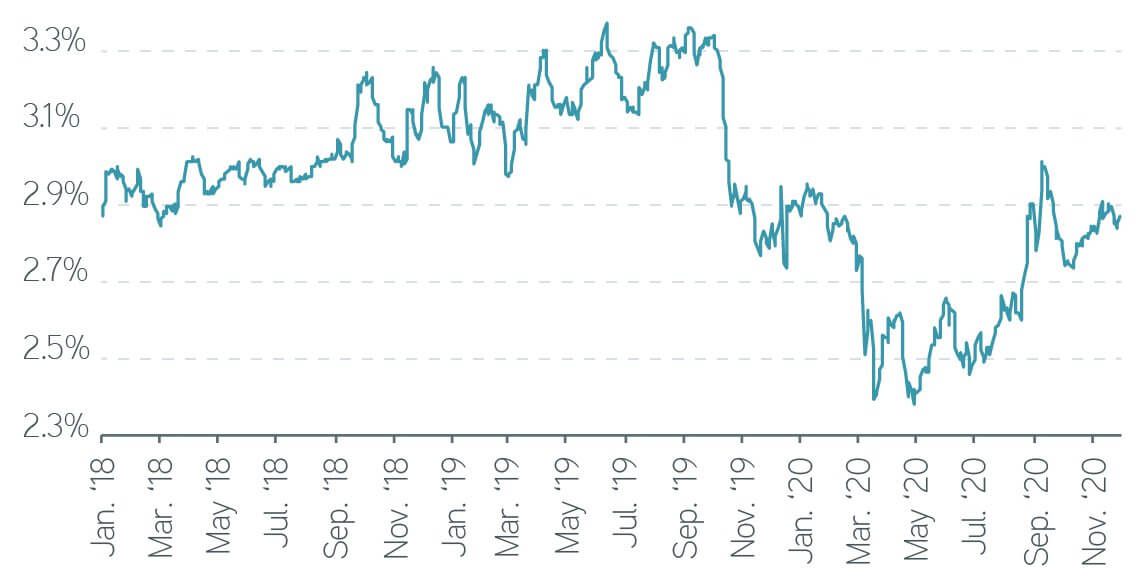 Note: Inflation expectations are defined to be the difference between the yield on a five-year nominal bond and the yield on a five-year inflation-linked bond.
Sources: Bloomberg, Parametric, 11/30/2020. For illustrative purposes only.
But it's not just the risk of higher consumer prices that makes a no-deal scenario worrisome. According to the Office for Budget Responsibility, an independent watchdog of the UK Treasury, failure to reach a free trade deal with the EU would knock two percentage points off British GDP growth in 2021. This would significantly impede any recovery from this year's massive shock from the COVID-19 pandemic.
What does Brexit mean for global markets?
When looking at equity market performance, it's hard not to assume that a fair amount of downside risk associated with Brexit hasn't already been priced into the UK market. UK equities in 2020 have trailed the rest of the EAFE universe—proxied by the MSCI UK Index and MSCI EAFE ex UK Index, both net of dividends and USD-denominated—by 21.7% as of November 30. Taking that back even further, the UK market has trailed its developed market peers by nearly 40% on a cumulative basis since the Brexit referendum in June 2016. Investors have seemingly been concerned about Brexit since day one, and equity performance may have suffered because of it.
UK equity market performance vs. international equity market performance YTD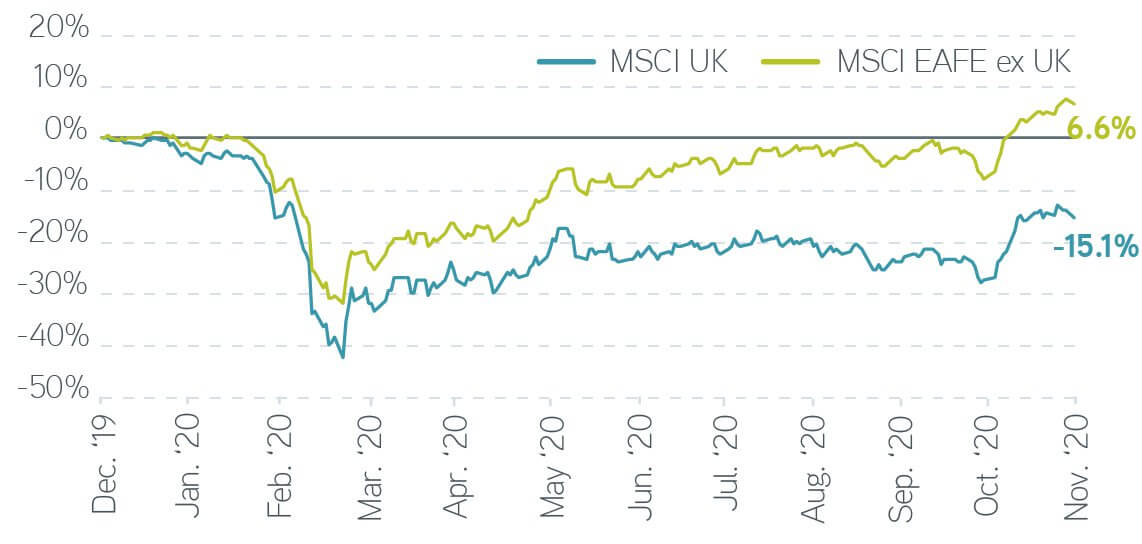 Sources: MSCI, Bloomberg, Parametric, 11/30/2020. For illustrative purposes only. Not a recommendation to buy or sell any security. It is not possible to invest directly in an index.
This brings to light an important consideration for passive investors: the exact contents of their chosen benchmarks. Many investors assume an index-based portfolio is a less risky alternative to an active strategy. However, a benchmark makes for a poor investment portfolio in many asset classes due to high levels of concentration. MSCI EAFE, which many investors view as the international developed market proxy, has suffered from concentration issues going back to the 1980s, when Japan represented more than 50% of constituents. While Japan's weight sits closer to 20% today due to decades of underperformance, the EAFE index remains heavily concentrated in the largest international markets and exposes investors to greater downside risk. The UK's exit from the EU should make that obvious: The UK represented just shy of 20% of MSCI EAFE as of May 2016, a bet that weighs heavily on the index's performance to this day.
The bottom line
We can't predict what will happen on the trade front between the UK and EU, or how markets will ultimately react to various outcomes. Brexit nonetheless serves as a stark reminder of the virtues of diversification. It's impossible to avoid all risk when investing in equities, as the COVID-19 pandemic has reminded us. However, whittling away idiosyncratic risk can lead to better results over the long term. As MSCI EAFE has shown us, investors can't live on bangers and mash alone.