Bond departments have finally woken up to the advantages of electronic trading. But technology alone doesn't make a solid fixed income strategy.
Every aspect of investment management revolves around accessing and processing information and incorporating it effectively into the decision-making process. Technological innovations in corporate bond trading rarely grab headlines, but advancements in electronic trading over the past decade have substantially changed how business is conducted in the fixed income markets. Electronic trading provides greater insight into pricing and liquidity data, as well as faster and more efficient access to market liquidity. The result of this recent innovation is an environment where a much larger number of trades are executed faster, easier, and cheaper than ever before.

When used as part of a comprehensive portfolio construction process, electronic trading helps improve efficiency, enhancing performance in client accounts while reducing account minimums and expanding customization options. However, there's still a major role for fixed income professionals in unlocking additional value for bond investors.
What is electronic trading?
When investors think about a bond trade being executed, they probably imagine a trader haggling with a Wall Street broker over the phone, putting all their negotiation skills to use. In reality, trading desks now rely more on data than persuasion to transact a bond. When a trader receives an order from a portfolio manager, they first need to decide the most efficient way to execute the trade. For less liquid bonds, that may still entail knowing which of their dozens of counterparties is likely to make the best market and working the order over the phone. But for a growing segment of the bond market, traders turn to electronic trading platforms that are linked to their in-house order management system. These platforms, like MarketAxess, TradeWeb, and Trumid, consolidate bids and offers from both brokers and other investment managers. This greatly expands the number of potential interested counterparties, contributing to better prices and lower transaction costs.

There's no question that electronic trading makes the process easier and more transparent. For bonds that meet certain liquidity thresholds, a trader can enter specific transaction parameters and efficiently execute the trade while their firm collects valuable market data. Traders work with their quantitative research team to develop an execution framework and define the trading parameters based on market conditions, trade size, and a bond's liquidity assessments. They use this electronically generated data in post-execution trade cost analysis (TCA) to further refine the process.

Bond trading is one of the most tradition-minded areas of investing. As the bond business transitions to younger and more tech-savvy investment professionals, adoption of electronic trading will only become more widespread. As much as bond trading has evolved, fixed income managers have been slower to embrace electronic trading than their counterparts on the equity side due to the more fragmented and less liquid nature of the bond market. Even so, almost one-third of investment-grade corporate bond trades in 2020 have been executed on an electronic trading platform, up from 8% just seven years ago. While there's still a role for one-on-one trading today, there's no turning back to the phone-only past.
Share of corporate bonds traded electronically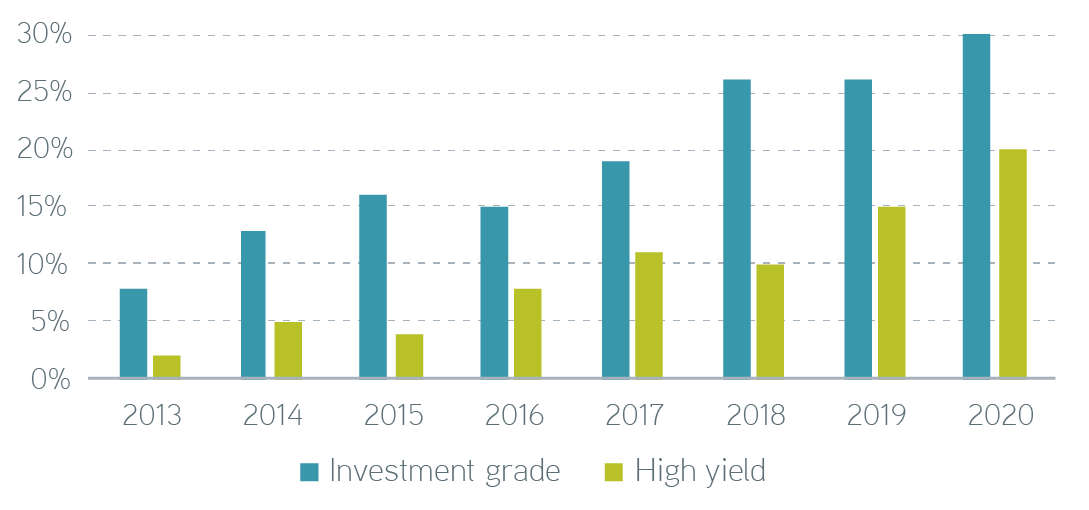 Source: Greenwich Associates, 10/31/2020. For illustrative purposes only. Not a recommendation to buy or sell any security.
How does electronic trading benefit the investor?
While investors have benefited from lower transaction costs, the main benefit of electronic trading from the perspective of the trading desk is the ability to automate more predictable transactions. Preset parameters free up the trader to work on value-added orders that require greater attention and analysis, such as when a client seeks to transition a portfolio of in-kind bonds. An hour saved on routine trading is an hour spent on providing market feedback, evaluating trading rules, and talking to clients. Electronic trading makes it possible to construct thousands of laddered separately managed accounts (SMAs) and introduce new strategies, like portfolio customization, without expanding the trading desk. Adding scale to the investment process results in more competitive management fees for investors' and increases the flexibility to tailor their portfolios to reflect their specific needs and values.
Some market commentators have asserted that traders can generate the best value for investors by trading in large aggregated blocks, similar to exchange-traded funds. However, we concur with a September 2020 MarketAxess report that finds "whether an investor is institutional or not is more [of a] determining factor than trade size" when judging execution. While aggregating trades across client accounts improves efficiency, it takes the insight of a professional trader to identify the opportunities for superior execution and spare the client from paying more for their bonds than necessary. All the professionals on a full-service fixed income team—traders, credit analysts, quantitative researchers, and portfolio managers—provide information that enhances the electronic trading process. This is never more true than during periods of market stress, when liquidity becomes more difficult to find.
The bottom line
We expect electronic bond trading to continue to grow, particularly with record new issuance this year, and for transparency, liquidity, and transaction costs to improve even further. However, it's important for fixed income investors to remember that innovations like electronic trading are just tools. What matters most to clients is how effective these tools are in increasing performance, lowering fees, and improving product offerings. We believe their effectiveness is directly related to the experience of the trader who uses them and the trading workflows in which they're employed. Effective electronic trading plays an important role in driving down trading costs, increasing trading productivity, and promoting the scalability of fixed income SMA solutions. With scalability comes the opportunity for a professional manager to deliver added value in customization, risk management, and fundamental research.


Special thanks to Parametric senior portfolio manager Maria Cappellano and Eaton Vance director of investment-grade corporate trading Mike Nappi for their significant contributions to this post.