For people of faith, springtime isn't just about flowers and warmer weather. It's also a time for observing major holidays.
Passover begins April 20, Easter Sunday is April 21, and Ramadan begins May 6, to name holy periods for just three of the world's major religions. Because these holidays follow a lunar, rather than Gregorian, calendar, they vary in timing but all tend to converge at roughly the same time of year.
That's not the only way they converge, though. While we may think of these religions as being fundamentally very different, when it comes to investing, they actually have more in common than we might think. And it may surprise you to learn that faith-based investors share a great deal in their approach with non-faith-based investors as well.
How so? Because it turns out that a good deal of faith-based investing is rooted in broad ethical principles—principles that many socially responsible investors of all stripes also feel strongly about.
Faith matters, but so do a lot of other things
When we think of faith-based investing, we tend to reduce it to the specific issues we associate with certain religions. For example, Muslim investors who observe the Koran's prohibition against usury may seek to avoid companies whose revenue is derived mainly from moneylending or other interest-generating activities. Many Catholic investors are motivated to keep their portfolios free of companies that, in their view, fail to protect life through all stages of development. Latter-day Saint, or Mormon, investors often look to steer clear of companies associated with caffeinated products. And many Jewish investors, depending on their point of view, may seek a portfolio that supports Israeli public companies.
These may be issues particular to those faiths. But there are many more issues shared across faiths and with the broader investing community alike—in other words, there's more that unites us as investors than divides us. Some common shareholder themes that emerge across many types of investors, faith based and not, include data privacy, human trafficking, diversity and inclusiveness, climate change, drug pricing, and corporate lobbying.
Perhaps one of the best examples of shared interests is the actions of the members of the Interfaith Center on Corporate Responsibility (ICCR). This organization brings together the faith-based investing community with public plans, foundations, endowments, academic institutions, nongovernmental organizations, and asset managers. Today, the ICCR counts more than 300 institutional investors around the globe as its members, representing more than $400 billion in assets.
While the ICCR comes at issues through a faith-based lens, the underlying premise is one that resonates across non-faith-based investors as well. ICCR members believe that "responsible and sustainable business practices—and a strong corporate culture of ethics—are in the long-term interest of both companies and investors."
ICCR members engage in corporate dialogue, file shareholder resolutions, host industry roundtables, and promote public policies. In 2018, ICCR members tallied over 100 successful withdrawals—resolutions that companies opted to comply with before they even went on a shareholder ballot. To date in 2019, the ICCR is expected to file 250 resolutions at 163 companies across ESG issues such as insight into political lobbying, climate change, and independent board chair and executive pay.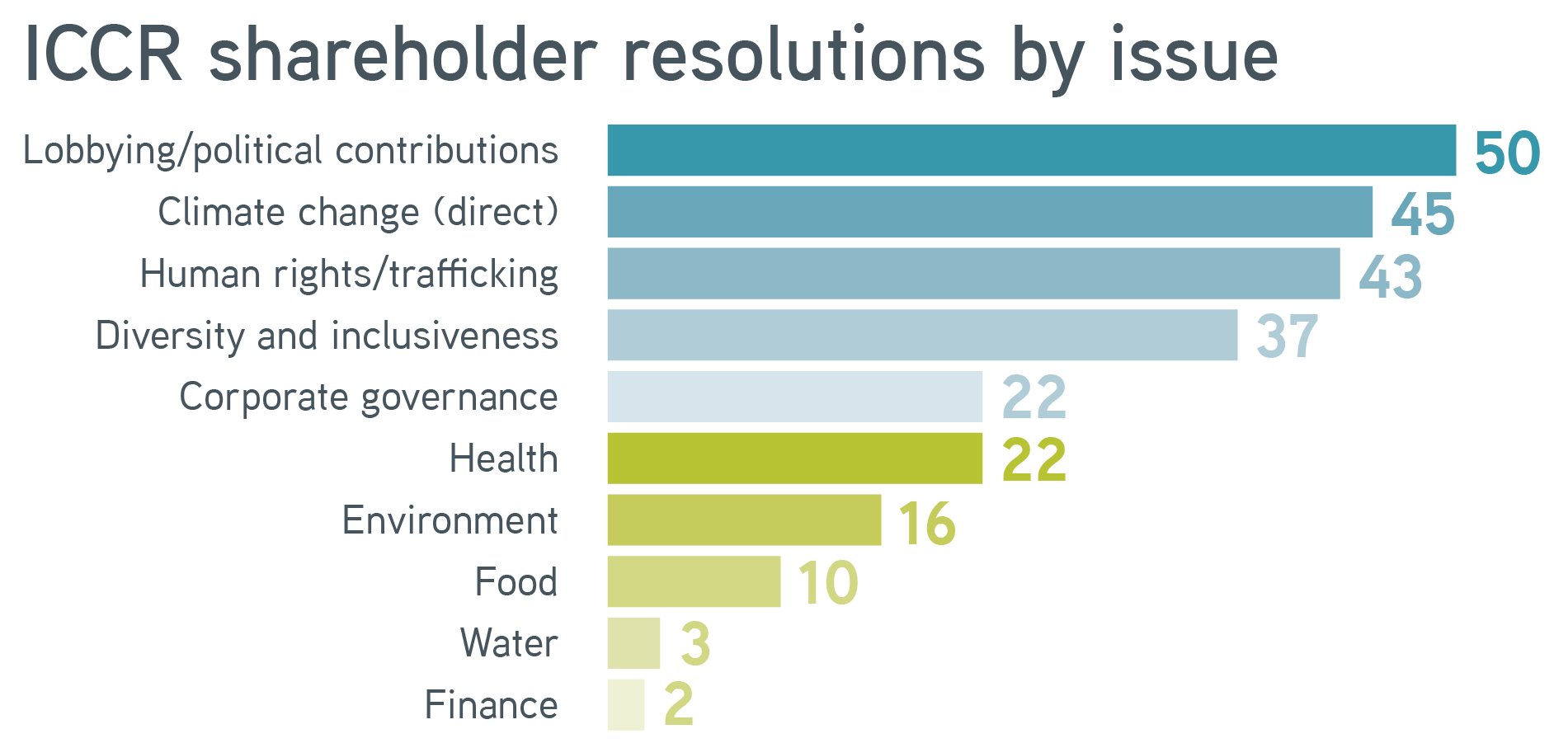 Source: ICCR 2019 Proxy Resolutions and Voting Guide


The bottom line
As the ICCR's example shows, instead of thinking of ourselves as different because of our faiths, those of us committed to socially responsible investing may be better able to effect change in public companies if we embrace the goals we share in common. After all, many investors across faiths (and even those who don't engage in faith-based investing) want public companies to address issues such as climate change and corporate governance. And when we join forces, you might say it allows all investors to tap into a higher power.