Parametric is generally not in the business of forecasting anything.
We're humble enough to know that we can't predict short-term fluctuations in any market, and we'd argue that few have proven successful at this challenge.
Yet taking some time at the beginning of the year to pause, reflect on the past, and consider carefully how it informs us about the future is nonetheless a valuable exercise. It allows us to thoughtfully consider the environment we're entering and explore some of the opportunities and challenges that may drive the market's narrative in the coming year.

So taking care not to prognosticate too much, I think there are three things worth watching above all others in 2020.


How will the 2020 elections affect the US economy?
Sick of all the election coverage already? Just wait. The race for president will occupy the majority of the headlines for much of the calendar year. The Democratic field of what still seems like a cast of thousands will continue to winnow itself down, especially once we get through February, which features the Iowa caucuses as well as primaries in New Hampshire, Nevada, and South Carolina before we get to Super Tuesday on March 3. The winner of this marathon will then (barring an unexpected turn in the impeachment saga) face off against President Trump in a sprint that will start with the summer conventions, when campaign rhetoric will really heat up.

You'd be challenged to find in recent history a presidential election in which the policies supported by the candidates have been so divergent. Some leading Democratic contenders have campaigned on the promise of Medicare for All and a Green New Deal, while President Trump has advocated a continued rollback of the Affordable Care Act and further reduction of regulations on gas and oil producers.

But focusing solely on the presidential election would be a mistake. Let's not forget that the entire House and a third of the Senate will also be up for grabs. As the chart below shows, having a unified (one party controls the House, the Senate, and the presidency) or divided government is as important as, or possibly more important than, simply which party occupies the White House, at least as it relates to economic growth.


Average year-over-year US GDP growth since 1950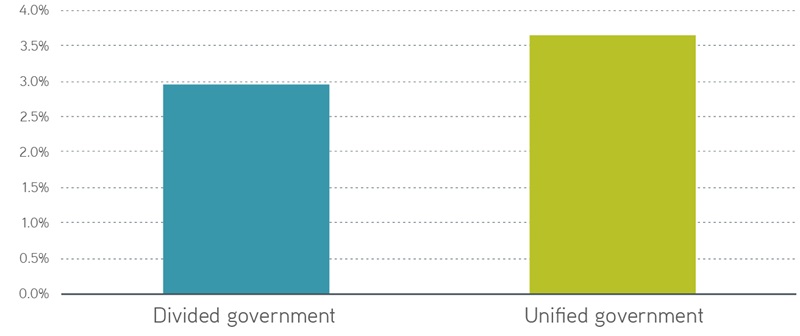 Sources: US House of Representatives, US Senate, US Bureau of Economic Analysis, December 2019


Since 1950, year-over-year GDP growth is 0.69% higher when government is unified versus divided. The simple argument is that when one party gets control of all three levers of the government, it has the ability—some might argue a mandate—to implement its platform. Presumably, at least in the near term, this platform supports economic growth. The US economy staying at or above trend growth is key to keeping the global economy growing in the coming year.

But for those tired of all the political thrash who are really just looking for some sense of stability, there's at least one thing to look forward to in 2020: An election year means we're unlikely to see any new policy initiatives. One possible exception would be legislation that garners widespread bipartisan support, which in an election year means more spending. A major spending initiative that could get through the House and Senate in the coming year would be an infrastructure bill. If it happens, it would provide fiscal stimulus to the US economy.

It's also worth noting that the Fed typically tries to stay out of the picture during an election year. That means, barring any sudden economic shock, monetary policy will be on hold once we get into the summer.
Which way will the trade winds blow?
It's hard to underestimate trade's contribution to global growth. The International Monetary Fund's October 2019 World Economic Outlook states it perfectly, noting that "rising trade and geopolitical tensions have increased uncertainty about the future of the global trading system and international cooperation more generally, taking a toll on business confidence, investment decisions and global trade." That same report describes the pace of growth in the global economy as "weak" and mentions that growth in manufacturing has declined to levels not seen since the global financial crisis.
The forces driving this hostile trade environment include the US and China trade war, Brexit, and Russia's continued antipathy toward much of the Western world. Do these situations improve or deteriorate further in the year ahead? The most recent data seems to indicate that trade tensions, particularly between the US and China, are starting to ease. Further, last month's British general election provided at least a modicum of clarity to the direction of Brexit, although there will be more hurdles to overcome in the coming year.
In short, the outlook for trade, while uncertain, appears to be improving or at the very least not deteriorating further. Time and again we've seen that trade drives economic growth. Therefore, if the trend on trade is positive, global growth is likely to improve.
Monetary policy: Are we being over-Fed?
One could argue that the single most powerful force benefiting the global economy in the past year has been monetary stimulus. Around the world, developed market interest rates remain historically low. As the chart below demonstrates, as of the end of 2019 fully $11.3 trillion notional of global bonds were trading with a negative nominal yield.
Bloomberg Barclays Global Aggregate Negative Yielding Bond Index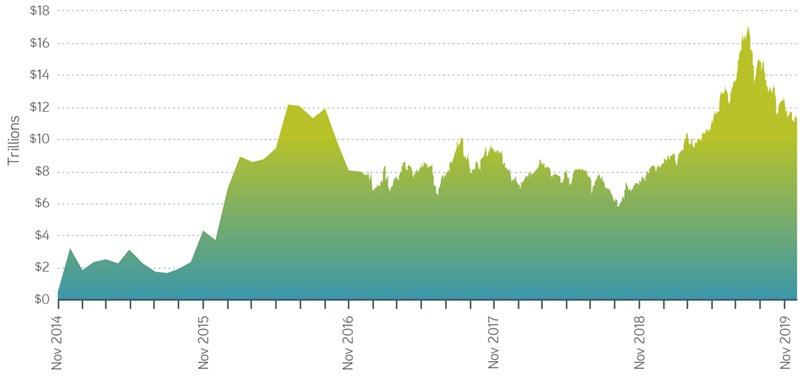 Source: Bloomberg, 12/17/2019. For illustrative purposes only. Not a recommendation to buy or sell any security. It is not possible to invest directly in an index.
Accommodative monetary policy has helped offset some dampening effects of trade tensions and prevented the global economy from slipping into a recession. Look no further than the US. A year ago, in the face of a declining equity market, the Fed increased rates by 0.25% at its December 2018 meeting. Most investors expected additional increases in 2019 as the Fed pursued a "normalization" policy. Additionally, the Fed was shrinking its balance sheet by roughly $50 billion per month, removing liquidity from the market—which, again, was expected to continue.
It didn't. In fact, not only did the Fed discontinue its rate increases—it reversed course and initiated the first of three rate cuts in July 2019 and began expanding its balance sheet in October. These steps undoubtedly softened the negative impact the disruption to trade had on the US economy. The S&P 500® Index is up over 9% since the beginning of August.
The question we have to ask ourselves is, should calamity strike, how many bullets do central bankers have left in the chamber? At the time of this writing, the federal funds rate stands at 1.75%, which doesn't leave the Fed much downward room to maneuver. And that's a relatively high rate among developed market economies. For the reasons we stated above, monetary policy, particularly in the US, is likely to be on hold in the coming year—meaning no change. Therefore, if some sort of economic stimulus is required in 2020, monetary policy may have less room to maneuver and thus fiscal policy may need to pull more weight.
The bottom line
Is 2020 a year of opportunity or challenges? A bit of both, I think. As I noted, Parametric believes it's helpful to consider the forces that could impact markets, but we don't seek to structure our investment strategies to take advantage of short-term market shifts. Rather we seek to build portfolios that give our clients the best opportunity to achieve their long-term investment objectives.