The journey has begun: A decade after the start of the global financial crisis, the dual forces of a sustained bull market and rising interest rates have produced significant improvements in corporate pensions' funded status.
The culmination of these forces and the increased costs of defined-benefit pension management have led plan sponsors to focus their attention on reducing risk. Strategies to do so include "hibernation"—freezing the plan, focusing on stability over growth, and letting it shrink naturally as it pays out assets to participants—or the outright transfer of pension liabilities to an insurer.
The reintroduction of market volatility in the fourth quarter of 2018 has only accelerated discussions about how to best lock in improvements in funded status and implement a de-risking plan. Most pension plans have a general outline in place via a glide path and liability-driven investing, but they may not have thought through all the practical implementation challenges, including:
Developing a streamlined mechanism to continuously monitor location along the glide path and triggers

Creating a framework for timely, efficient, and risk-controlled movement along the glide path once triggers are met
Let's take a brief look at how plans can tackle each of these challenges, creating an integrated, holistic framework for more robust governance and risk control. But first, some definitions.
What is a glide path?
A glide path, generically speaking, is the series of stages one envisions in the hope of eventually reaching an objective. For example, managers of a target-date fund may use a glide path to change the mix of assets in the fund as it nears its target date, shifting from equities to more conservative fixed income securities. In the context of a corporate defined-benefit pension, the glide path is the plan for how asset allocation will change as funded status improves.


What is liability-driven investing?
Liability-driven investing, or LDI for short, is an approach pension plans take that focuses on the plan's liabilities—the payments it must make to plan participants—as opposed to only its assets. In other words, with LDI the emphasis is less on seeking returns and more on reducing risk to the plan's obligations.


Knowing your location on the glide path
A comprehensive portfolio summary, including asset and liability information, is critical to determining a plan's funded status and, ultimately, its location on the glide path. Plan sponsors must consolidate data from a variety of sources, including custodians, actuaries, consultants, and third-party vendors. Further, friction from stale or lagged data, inconsistent reporting standards, and limited internal staff resources may make managing this process time consuming and cumbersome.

As funded status improves, pensions will approach and eventually reach triggers defined in the glide path's policy. That's when action is required. These triggers are often reached in between standard monthly or quarterly reporting periods. In the absence of a midperiod monitoring mechanism, pensions may frequently find themselves in limbo, unsure of their funded status and potentially missing opportunities to lock in improvements.

As a result of these lags, pensions may not adjust their glide path for a month or more after hitting a trigger. In some cases a shift may never occur if the monitoring mechanism didn't capture the trigger event before markets reverse course.


Creating a framework to smooth out the glide
Equipped with a streamlined monitoring mechanism, an LDI completion manager can help mitigate real-time implementation risks, adjusting the glide path shortly after the trigger has been reached and in a coordinated manner, bypassing the lags introduced by physically reallocating assets among investment managers and other administrative procedures.
Reallocating capital may also result in a settlement gap, whereby growth assets have been reduced but hedging assets haven't yet been added. An LDI completion manager can reduce these gaps, and improve policy alignment, by adding exposure to the hedging allocation in conjunction with de-risking rather than waiting for transactions to settle.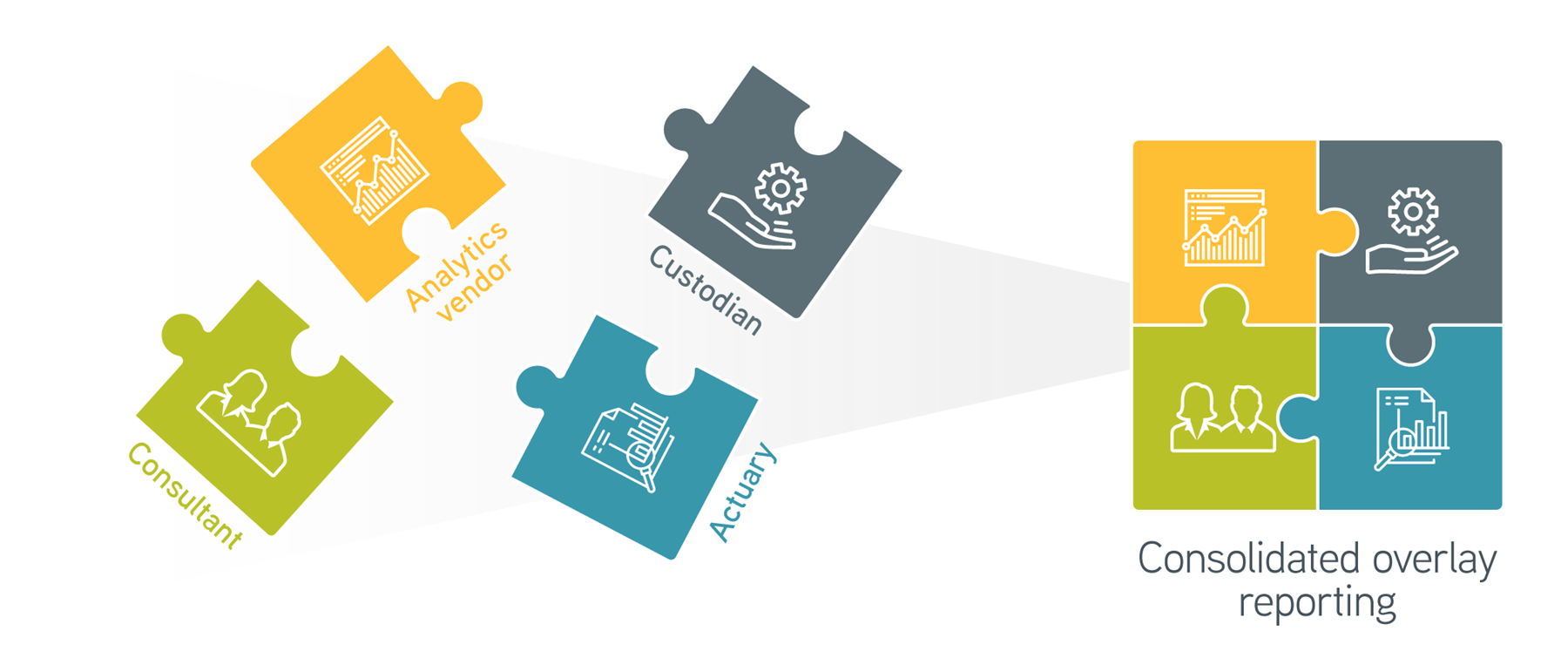 For illustrative purposes only.

In this way an LDI completion manager provides plan sponsors with the flexibility to move capital thoughtfully, strategically, and at natural rebalancing points. Once the necessary exposures are in place, the completion manager can work with the investment staff or directly with other asset managers to coordinate a seamless transition between the completion overlay and physical assets.


The bottom line
An increasing number of corporate pensions are implementing glide paths, but plan sponsors face many challenges putting them into action. After determining a glide path, developing a robust monitoring mechanism and a seamless action plan should be key areas of focus to mitigate policy risk. An LDI completion manager can help address both in an integrated program.

This new environment, focused on de-risking, adds new challenges in pension management, but with the appropriate framework in place, opportunities exist to improve the efficiency of the glide path.


With additional contributions from Richard Fong, CFA, Senior Portfolio Manager.