Investors are almost always on the hunt for additional sources of returns.
Maybe they've tried traditional assets like emerging-market equities, commodities, and real estate. Options may seem more complicated and can end up last on the list. But they don't have to be intimidating. How do options work, and why might you consider using them?
A simple definition of options
Options are a type of derivative. You may have heard stories about derivatives and their role in financial crises, but not all derivatives are created equal. And how you use options, as with any financial instrument, matters. Even though they can be used in a speculative manner, that's just one of the ways options can be incorporated into an investment strategy. Another is to use options as a hedge in a falling market to limit your downside. That being said, options are complex securities and do come with risks.
As the word derivative implies, options have a value that's derived from something else. For example, equity options are derived from the price of the underlying stock. They're contracts to buy (using a call option) or sell (using a put option) the stock at a set price on or before a certain date. Both carry costs (premiums) but also the opportunity to adjust your exposure.
Buyer or seller?
Whether you're a buyer or a seller of options can make all the difference in your risk. Buyers (or holders) of puts and calls aren't obligated to take action. They get to choose to do so, and that helps limit their risk (the maximum loss possible being the premium they paid). On the other hand, sellers (or writers) of puts and calls are obligated to take action if required by the buyer. So they can lose far more than the premium they collected, and they have unlimited risk.
Pricing
Whenever we talk about options, the phrases in the money and out of the money often pop up. What do they mean? It all relates to the price of the stock when you bought the option (strike price) and how it compares with today's price (market price).
If the market price is higher than the strike price, your call options will be in the money. This means it would be worth it to exercise your right to buy the stock and profit on the difference between the share and strike prices. When the market price is lower than the strike price, your calls will be less valuable or out of the money.
The opposite scenario is true for put options. For those to be considered in the money, you want the market price to be below the strike price. Then, when you exercise your right to sell, you can do so at the higher strike price. If the market price is higher than the strike price, puts are considered out of the money.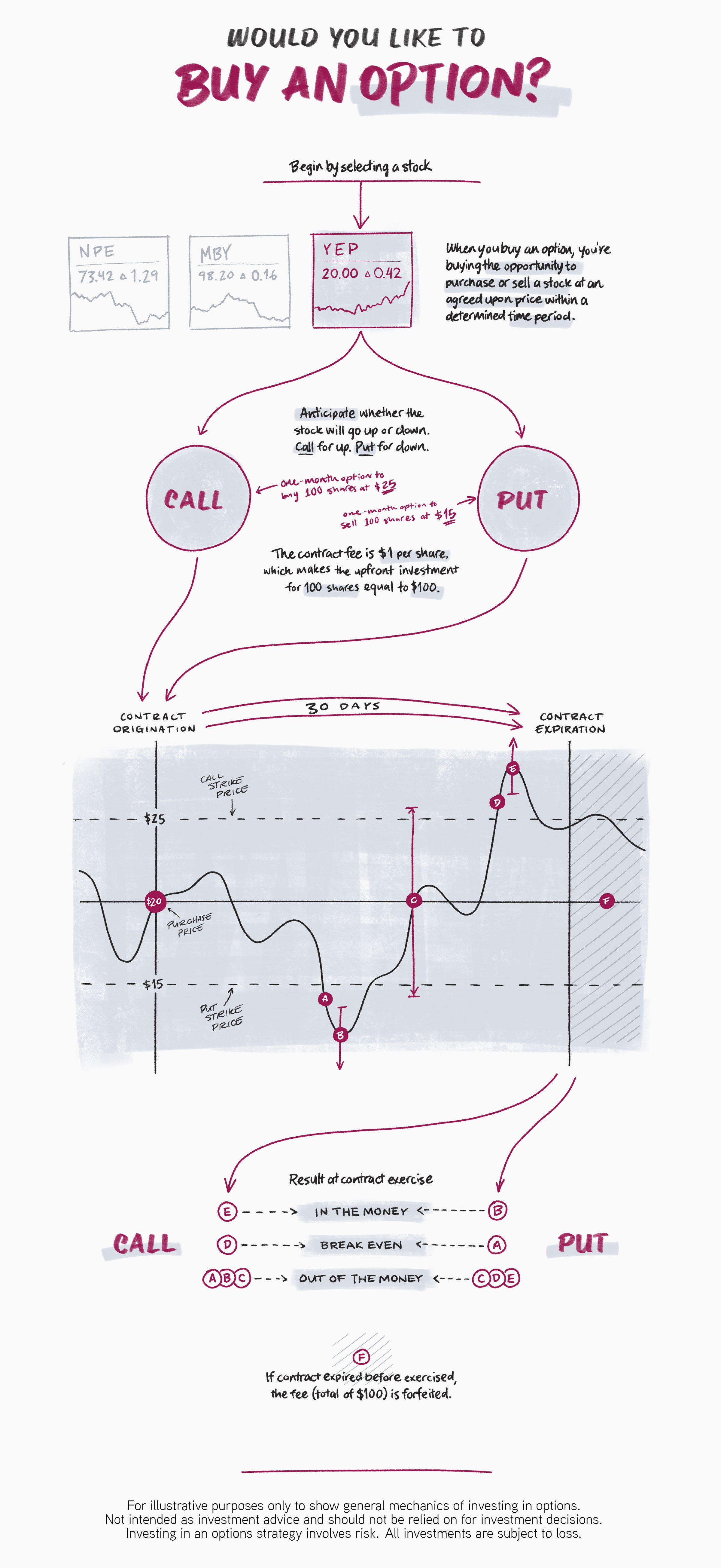 Source: Parametric


The bottom line
Knowing how options work can help you think about how best to incorporate them into your investment strategy, if appropriate. While some investors use them speculatively, there are multiple ways to invest in options—and they can be a valuable addition to a portfolio.