Barring another economic shock that sparks excess volatility, income investors may have less to worry about in 2020 than they feared.
With summer and the Q2 earnings season now firmly in the rearview mirror, we felt it appropriate to revisit one headline-dominating equity investment topic of 2020: dividend cuts. In the first half of the year, we discussed the timing and magnitude of dividend cuts and suspensions. Our data-driven analysis disagreed with some of the conclusions put forth by financial media. The limited scope of the reductions that took place had minor aggregate impact on the diversified investor, amounting to an estimated two quarters of dividend growth wiped out.
Recent developments further the narrative that the worst of this year's dividend cuts may be behind us. Economic conditions are improving as companies return to some level of normalcy, and consumers are resuming at least some of their historical spending patterns. Let's take a look at what that could mean for the future.
How should income investors think about current dividend yields?
The change in yield levels over the periods analyzed in the table below tells a twofold story of dramatic price swings and far more reserved dividend declines. Our first point of reference is the change in indicated yield from 12/31/19 to 5/31/20. Notice that the two numbers are nearly identical for the S&P 500®. We also know the price of the index fell 5% over that span. Intuitively that means dividends fell by a similar percentage, resulting in the flat yield number.
Regular and indicated index yields updated to 8/31/2020


Sources: Bloomberg, FactSet, Parametric, 8/31/2020. For illustrative purposes only. It is not possible to invest directly in an index.
Juxtapose those outcomes with those in the period from 5/31/20 to 8/31/20, and the narrative changes. On its face it would seem cuts increased during that time frame due to the falling yield level. Because the S&P 500® rose more than 15% during that window, the resulting indicated yield would have fallen to 1.64% from price appreciation alone. That left just four basis points of cut impact realized over the summer.
S&P Global, the parent company of the S&P 500®, has provided further comments about the scope of this year's cuts. The firm's analysts halved their 2020 dividend payout cut estimates from -4% in May to -2% in August. Estimated dividend growth from the majority of index constituents that did not cut payouts provides ballast to aggregate yield numbers—an essential factor when looking toward the year's end.
Frequency of announced 2020 dividend cut by index and month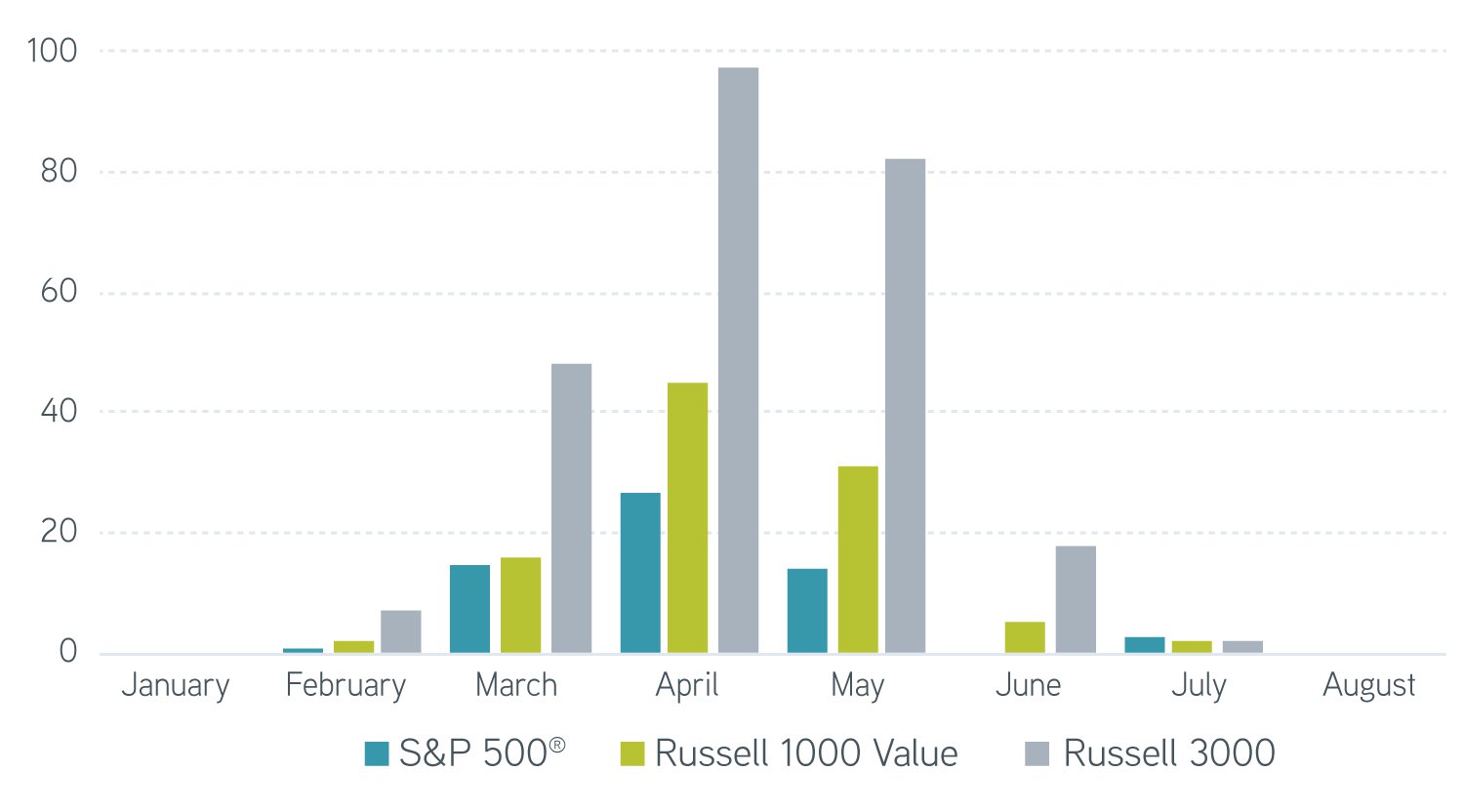 Sources: FactSet, Parametric, 8/31/2020. For illustrative purposes only. It is not possible to invest directly in an index.
The cadence of dividend cuts gives us a glimpse of what the future may hold. The chart above indicates that the pace of cuts not only decelerated from its April peak but has all but stopped. This trend bodes well for the income-oriented investor: Following the rash of cuts that started back in March and did not reach full realization until summer, index-level dividend payments should begin to rise in the latter half of the year. Absent any shocks that induce excess market volatility in the coming months, sentiment should remain generally positive, share prices should retain upward momentum, and dividend payouts should return to growth.
Which sectors were most impacted by dividend cuts?
While dividend cuts have touched every sector, consumer discretionary stocks saw far more cuts than any other group. This collection of companies includes some of the biggest industries and businesses impacted by COVID-19, including airlines, hotels, casinos, cruise operators, and apparel retailers. Revenue for most of these companies disappeared virtually overnight due to government intervention and consumer unwillingness to travel or spend money on extraneous goods. The impact was swift, and the resulting dividend cuts were understandable.
For example, Ross Stores (ticker: ROSS) announced a dividend cut during its Q1 earnings call despite enough cash on the balance sheet to pay several quarters of dividend payments. Prior to its dividend suspension, Ross Stores had recently achieved Dividend Aristocrat status with more than 25 years of increasing dividends. Despite that sought-after distinction, management made the prudent decision to suspend the dividend while facing a never-before-seen challenge.
If a fiscally judicious company such as Ross made the difficult decision to cut, the impact on less successful peers and the consumer discretionary sector as a whole was unprecedented. Up to 20 firms per sector ultimately suspended or reduced dividends. But the impact for a broadly diversified portfolio was relatively low, since afflicted companies tended to skew smaller from a market cap perspective, making the total dollar amount of dividends involved more digestible for investors.
2020 dividend cuts by GICS sector in the S&P 500®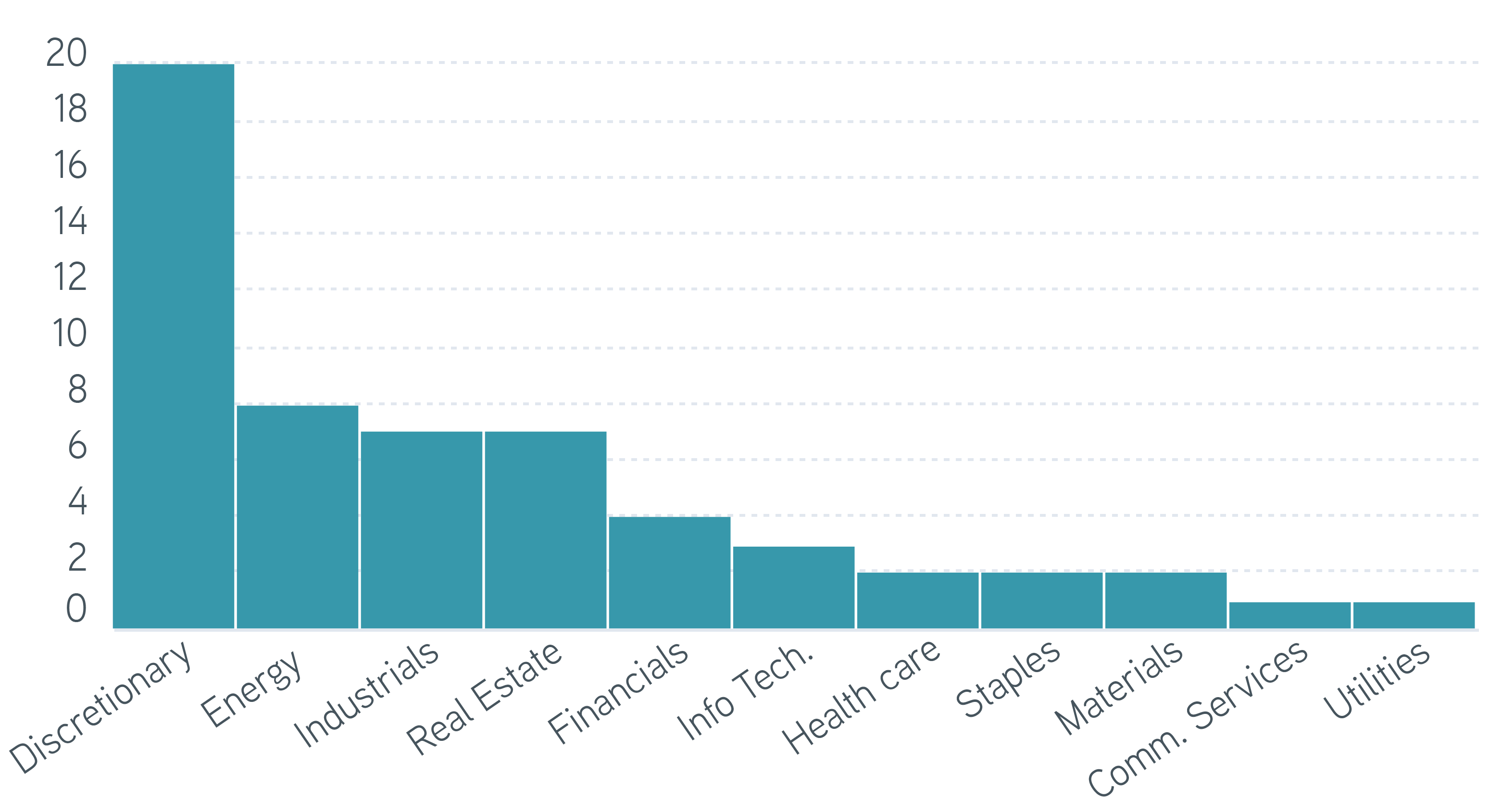 Sources: Bloomberg, FactSet, Parametric, 8/31/2020. For illustrative purposes only. It is not possible to invest directly in an index.
The bottom line
Widespread dividend reductions appear to be a thing of the past. The cuts and suspensions announced following the end of fiscal Q1 took time to matriculate, and their impact measured by dividend yields was muted. As Q3 sunsets and further cuts have all but disappeared, payouts should begin to rise. With firms making up more than 95% of S&P 500® exposure sustaining or growing their payouts, 2020's aggregate results should ultimately be a wash despite a tumultuous first half of the year. Investors who understand the data and the importance of diversification will adjust their views of the year in dividends from catastrophic to underwhelming.
"Russell®" and all Russell Index names are trademarks or service marks owned or licensed by Frank Russell Company ("Russell") and London Stock Exchange Group plc (the "LSE Group"). This strategy is not sponsored or endorsed by Russell or LSE Group and they make no representations regarding the content of this material.