For corporate pension plans, few markers of financial health are more important than funded status.
Beneficiaries depend on a plan's pool of funds, and anything that threatens a plan's balance of assets and liabilities is enough to cause sleepless nights for plan sponsors and other stakeholders. What's been causing the insomnia lately? Interest rates.
Changes in rates can often cause the value of pension plans' assets and liabilities to move in different directions or, at the very least, add to volatility in plans' funded status if those assets and liabilities aren't duration matched. The past year, and in particular the month of August, demonstrated vividly the pitfalls of a traditional mix of assets with a duration significantly below that of the liabilities. The result has been a sizable deterioration in funded status compressed into a short amount of time. A look at a model portfolio may help illustrate the issue.


Pension plan liabilities are outpacing assets
Parametric runs a model in which we measure a hypothetical (but typical) pension plan's liabilities against assets invested in a traditional allocation of equity and fixed income. The model is meant to provide a general sense of how a corporate pension plan would have evolved in recent history and to identify the factors that contributed to changes in funded status. The model plan uses an admittedly simple but representative mix of assets: 60% MSCI ACWI and 40% Bloomberg Barclays Long Government/Credit Bond Index. We constructed the liabilities using a model set of representative cash flows with a duration of approximately 15 years. The resulting fixed income hedge ratio, a standard metric used by practitioners of liability-driven investing, is around 35%.
Over the past year, most notably in August, the impact of falling nominal interest rates has been dramatic. As the charts below illustrate, the 30-year spot Treasury discount yield has dropped 0.61% since just the end of July 2019 and by 1.04% since the end of August 2018. While credit spreads widened in August (30-year spreads are 0.14% wider, for example), they remain tight by historical standards and are tighter than they were one year ago. The net effect? The value of our model's liabilities has jumped 6.8% in August 2019 and 20.7% over the past year.
Changes in the discount curve (month to date)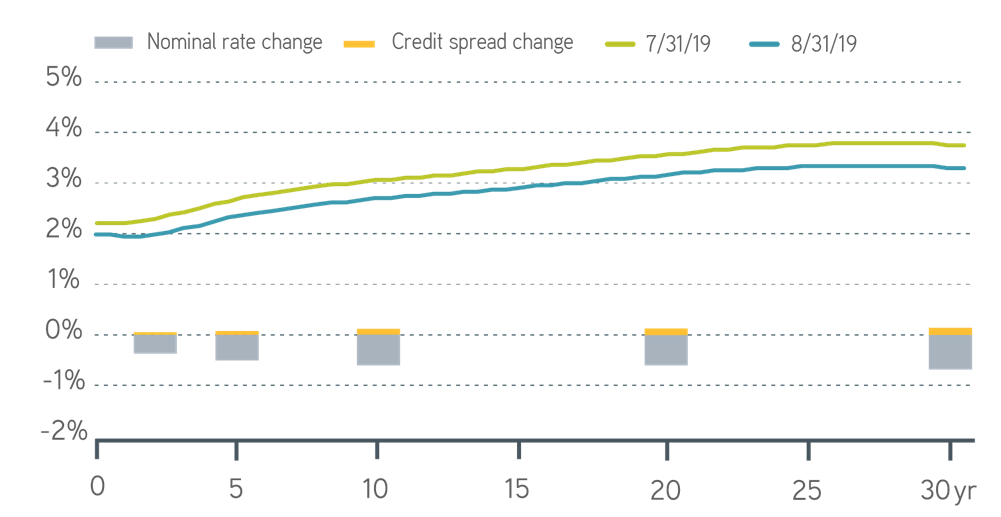 Sources: Bloomberg, FTSE, ICE, 8/31/2019


Changes in the discount curve (past year)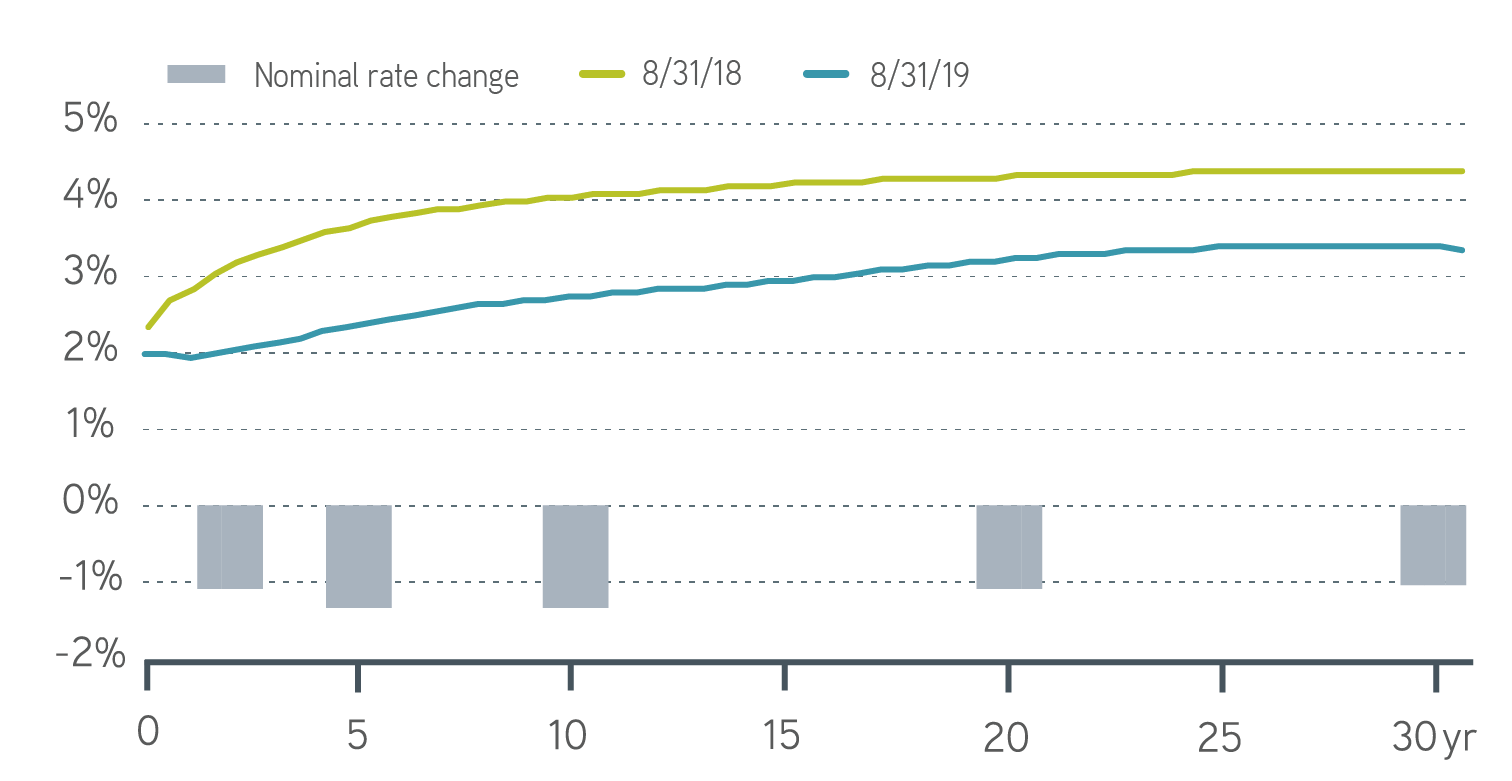 Sources: Bloomberg, FTSE, ICE, 8/31/2019


On the other side of the ledger, assets haven't kept pace. Our model asset mix was up only 1.7% through August and returned 8.8% over the past 12 months—a reasonable result over the past year when looked at in isolation but well below what's needed to keep up with the increase in liabilities. Our model plan, which ended in August 2018 with a fairly comfortable funding ratio of 93%, has experienced a drop to 84% one year later. As the chart below shows, in August 2019 the plan lost over four percentage points from its funded ratio alone.


Pension model funded status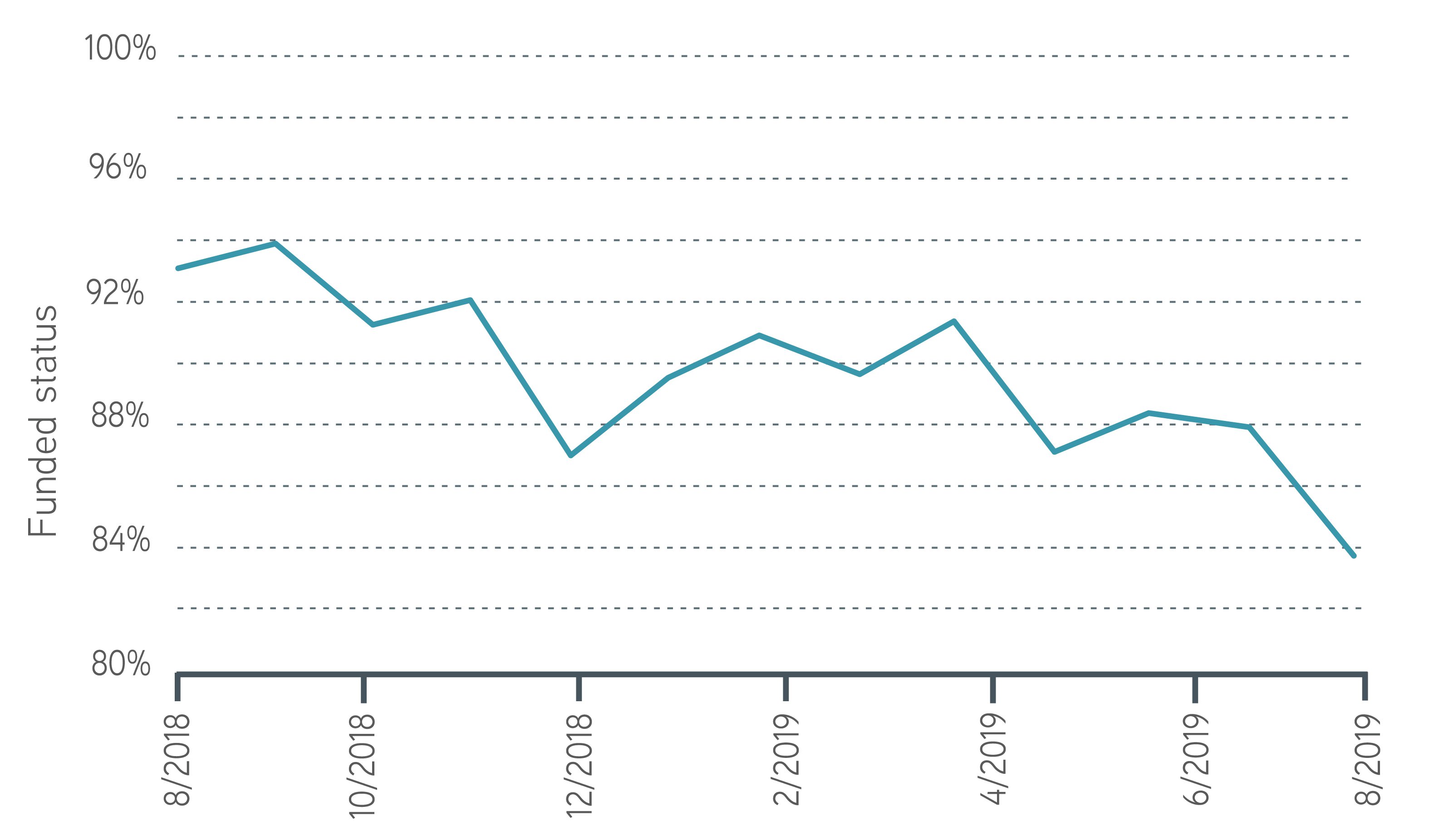 Sources: Bloomberg, FTSE, ICE, 8/31/2019


The sizable year-over-year drop in funded status experienced by our model plan would certainly raise alarm bells in practice. Thus far the decline has been driven by a decrease in nominal rates. Due to the long duration of the liabilities and the relatively small allocation to fixed income assets, the effective hedge ratio is only 35%. While the Bloomberg Barclays Long Government/Credit Bond Index performed well (up 7.9% in August and 22.3% over the year), there just isn't a large enough allocation to rate-sensitive assets to offset the massive growth of the liabilities. Is there a way to mitigate the problem?


Filling in the gap
Plugging the duration gap and raising the interest rate hedge ratio are reasonable approaches to reduce the impact of falling rates. Merely adding another 20% allocation to a Treasury overlay with similar duration characteristics as the Bloomberg Barclays Long Government/Credit Bond Index brings the effective hedge ratio to 52%. This is a change pension plans can make by using highly capital-efficient derivatives and with minimal disruption to existing asset managers. Applying this change to our model plan improves the final funded ratio from 84% to 87% and reduces funded status volatility over the past year from 10.0% to 7.0%.


The bottom line
Other risks to pension plans undoubtedly remain. A significant drop in equity markets, for example, would further negatively impact funded status. A duration mismatch, however, remains a significant source of risk—yet one that may be remedied with simple tools and a duration overlay.
---
Results demonstrated are based on a hypothetical portfolio as previously defined. Hypothetical results are for illustrative purposes only, do not represent the results of any investor, and may not be relied on for investment decisions. Actual results will vary. All investments are subject to loss. Hypothetical results have many inherent limitations, some of which are described below. Hypothetical returns are unaudited; are calculated in US dollars using the internal rate of return; reflect the reinvestment of dividends, income, and other distributions but exclude transaction costs and advisory fees; and do not take individual investor taxes into consideration. The deduction of such fees would reduce the results shown.

Hypothetical portfolio information presented, including, but not limited to, objectives, allocations, and portfolio characteristics, is intended to provide a general example of the implementation of the strategy. No representation is being made that any client account will or is likely to achieve profits or losses similar to those shown. In fact, there are frequently sharp differences between hypothetical results and the actual results subsequently achieved by any particular trading program. One of the limitations of hypothetical results is that they are generally prepared with the benefit of hindsight. In addition, simulated results do not involve financial risk, and no simulated trading record can completely account for the impact of financial risk in actual trading. For example, the ability to withstand losses or to adhere to a particular trading program in spite of trading losses are material points that can also adversely affect actual trading results. There are numerous other factors related to the markets in general or to the implementation of any specific trading program that cannot be fully accounted for in the preparation of hypothetical performance results and can adversely affect actual trading results. Because there are no actual trading results to compare to the hypothetical results, clients should be particularly wary of placing undue reliance on these hypothetical results. Perspectives, opinions, and testing data may change without notice. Detailed backtested or model portfolio data is available upon request. No security, discipline, or process is profitable all of the time. There is always the possibility of loss of investment.