Is it a good idea to hedge liabilities during this extended period of low interest rates?
It's a hot topic among pension plan sponsors. Considering the US hasn't had a recession in more than a decade—resulting in equity index returns of up to 30%, historically low interest rates, narrow credit spreads, and relatively low market volatility (at least until the last week of February)—you can imagine some plan sponsors' hesitation. Recent markets have only pushed bond yields lower—quite a bit lower than they've ever been on the longer end of the yield curve. The slow decline in interest rates has corporate plan sponsors rethinking their liability-driven investing (LDI) strategies.
Let's look at recent changes in the pension fund environment, the present risks, and why hedging remains a worthwhile strategy to control those risks.
Environmental changes to liabilities
Duration is the standard measure of sensitivity of price to yield changes. The duration of long credit reached lower than six years in 1989 but now hovers around 13 or 14 years. One reason for the increase has been a reduction in yields over time: Not only does duration increase as yields fall, it increases at a faster and faster rate as yields get smaller and smaller, a concept called convexity.
The same is true for pension liabilities, which behave like bonds: Duration has increased meaningfully as yields have fallen over the years. Furthermore, low rates actually mean the value of the liabilities has increased, since discounting at lower rates results in higher present value. The combination of duration and price increases can compound to generate greater market sensitivity to interest rates when rates are low. This increased sensitivity can spell trouble for unhedged pension assets.
Impact on pension funds
Examining a set of projected liability cash flows from a generic pension plan, we can illustrate the difference in value of liabilities having equal cash flows but different yield curves for discounting. Liabilities calculated on the FTSE Pension Yield Curve as of December 31, 2019, are 56% higher than those using the curve on September 30, 1995—the first date of monthly yield curves originally produced by Citi for pension discounting.
Present value of cash flows using yields from different years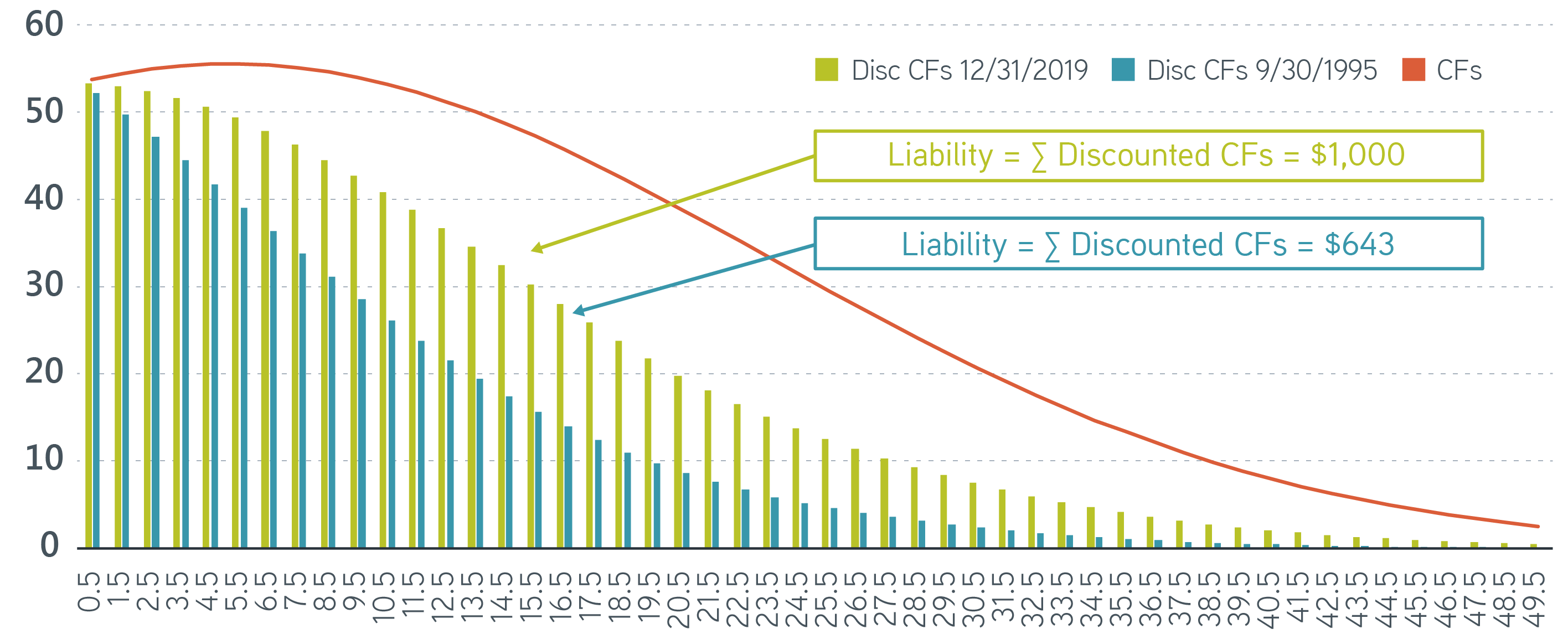 Source: Russell Investments, 3/1/2020
Taking the next step for these same liabilities, we can see in the below table that lower yields in 2019 resulted in duration increasing by 37% compared with 1995. The sensitivity to a change in yields, given the same set of cash flows, is more than double in 2019 what it was in 1995.
Relationship between duration and rate for different years (hypothetical)


Source: Parametric. For illustrative purposes only.
Imagining yields falling below already historically low levels may be difficult. The expectation that there's a greater chance of rates rising than falling may lead to reluctance when it comes to hedging liability interest rate exposure. However, as mentioned above, low rates mean much more sensitivity to rate changes. If rates continue to drop and liabilities aren't hedged, funding will fall further behind—and faster—than it would have before. Pension funds should exercise caution when evaluating LDI strategies because, in a historically low-yield environment, rate changes intensify the hurt of an unhedged liability.
Hedging to the rescue
Plan sponsors are more sensitive to yields than ever. A historically low-yield environment gives pension plan sponsors the illusion that rates can only rise and will bring higher funding statuses with them. But it's worth considering the situation further: While it's true that yields are historically low, the US has higher rates than every other developed market. Low rates may have become the global norm, but it's not impossible that the situation has forever changed.
10-year government bond yield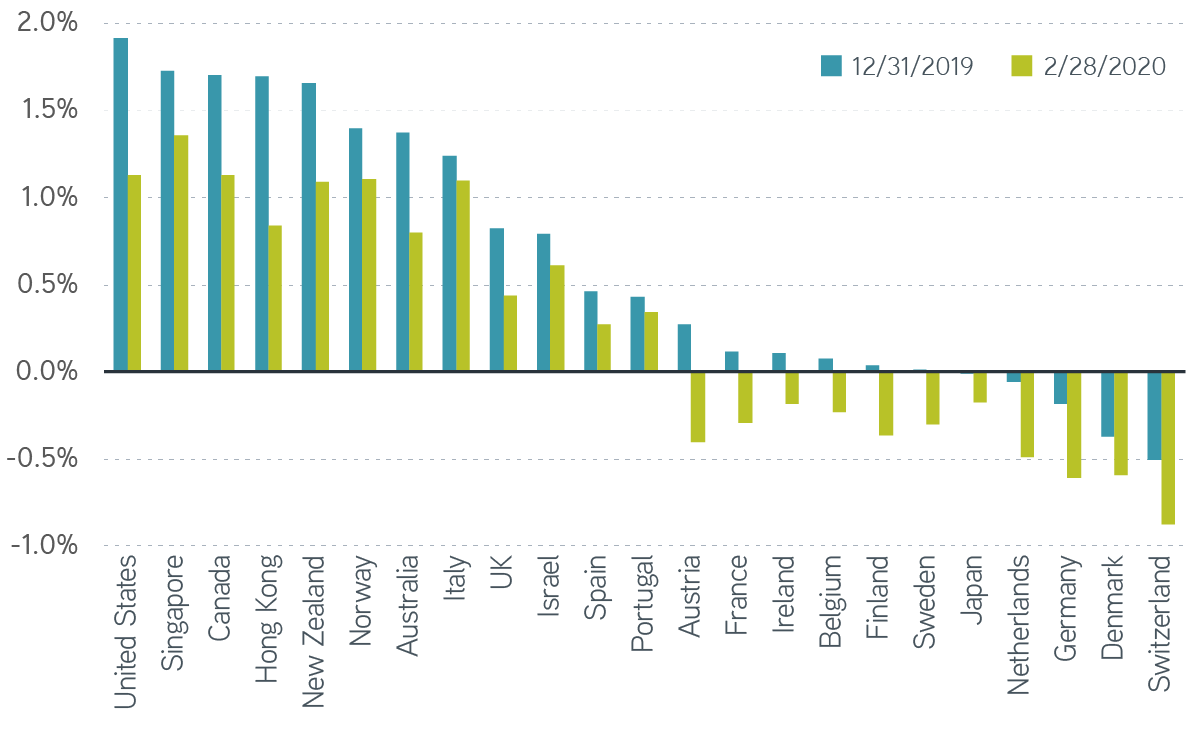 Source: Bloomberg, 2/28/2020. For illustrative purposes. Not a recommendation to buy or sell any security.
From a liabilities standpoint, this continues to put pensions in danger of higher deficits as rates drop. Hedging liabilities against interest rates always lends stability to a pension's funding status.
The bottom line
It appears that interest rates may continue to fall and rate sensitivity is at an all-time high. This means pension funds would feel the hurt from increased total pension plan exposure to interest rates more than ever. Hedging may be the best solution to offset increases in liabilities should rates continue their descent in 2020.