This Friday—March 29—was a date many, especially in the UK, had long marked in their calendars. Some with eager anticipation, others with grim trepidation.
It was the original deadline after which, absent a plan, Britain would crash out of the European Union—the so-called hard Brexit observers worried would disrupt everything from food supplies to financial markets.

But now it looks as if March 29 will come and go with no clear resolution. Deep divisions and intense political jockeying in Parliament thwarted each of British prime minister Theresa May's efforts to negotiate an agreement with the EU to date. And as of this writing, it's unclear whether Brexit will now happen on April 12, May 22, or sometime further in the future.

Regardless of the when, the what is what's troubling. Failure to reach a deal figures to cause upheaval, at least in the short term, not only to Britain's economy but to the rest of Europe's as well. And in an ever more connected world, Brexit's trade reverberations will likely affect economies and markets—and hence investors—around the globe.

But if Brexit is a huge asteroid careering toward Planet Free Trade, it isn't the only one. It may not even be the biggest. The United States and China, for example, are still trying to find a way out of the two countries' tit-for-tat tariff wars that have affected hundreds of billions of dollars' worth of goods.

So with all the dark clouds parked over global trade, what do they portend for global economic growth? And what will Brexit-related trade disruptions and the fallout from the ongoing US-China dispute mean for equity markets?


Trade's contribution to global growth
As we observed in January, trade has grown to represent about 55% of world GDP. As the chart below illustrates, the annual exports of goods, as reported by the World Trade Organization, have risen from approximately $5 trillion in 2000 to nearly $20 trillion at the end of 2017. (Note that not all countries report data to the WTO).
Goods exported annually around the globe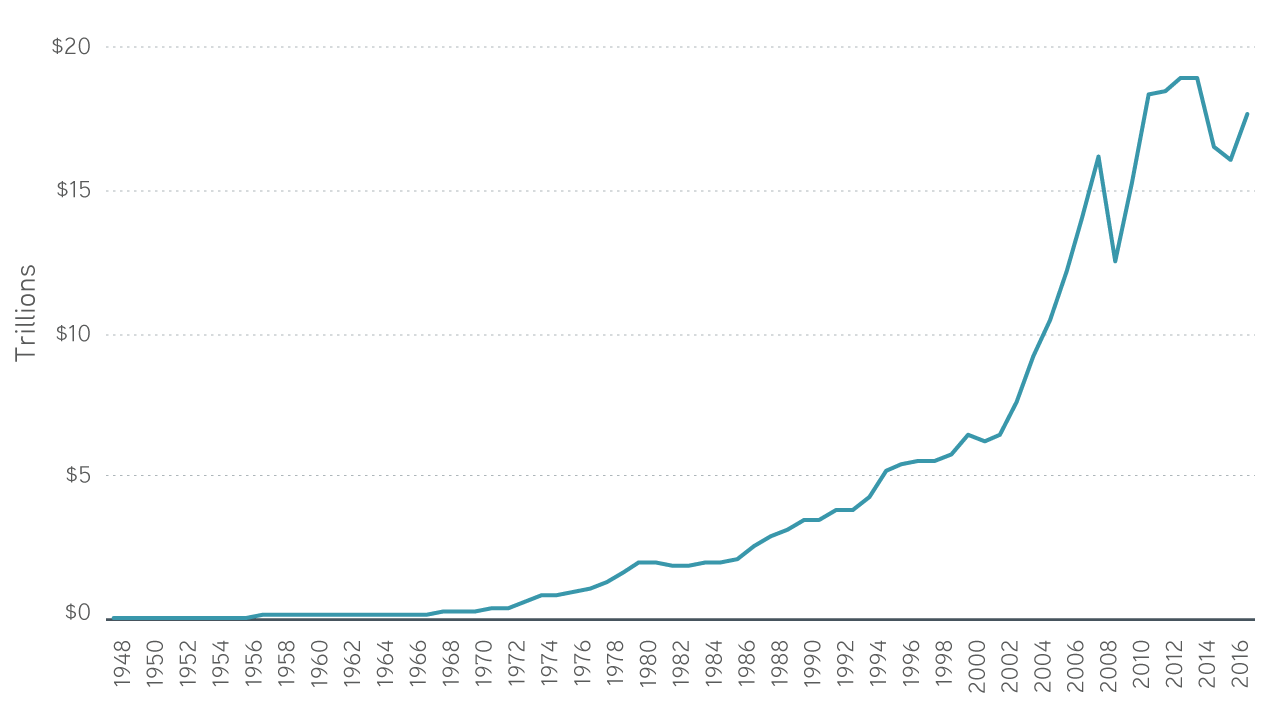 Source: World Trade Organization, 2019


However, trade hasn't benefited all parties equally. On the one hand, trade agreements have made it easier for US companies to source inputs to production from lower-cost foreign markets, allowing them to produce goods (and increasingly services) at a moderate cost. The result? Supply chains that stretch from Mexico to China to India.

On the other hand, many believe increased trade has caused a decline in US factory jobs as a share of total US payrolls. Perhaps. Yet this argument ignores the impact of innovation, which has resulted in the automation of many formerly high-paying factory jobs—and erecting trade barriers aren't likely to bring those jobs back. Nonetheless, the US-China trade dispute, the US withdrawal from the Trans-Pacific Partnership Agreement, and attempts to renegotiate NAFTA are symptoms of this pushback against free trade. Brexit will only add to the pile.
It's having an effect: In its January 2019 World Economic Outlook, the International Monetary Fund reduced its global growth forecast for 2019 and 2020 by 0.2% and 0.1%, respectively. The first reason listed for this reduction is the negative effects of tariff increases enacted by the world's two largest economies, China and the United States. The report concludes by noting that the risk to growth is to the downside particularly if more trade impediments are enacted.
How trade disputes could affect equity markets
Equity markets get it. The rising trade disputes have put downward pressure on equities. Trade tensions between the US and China began last July, when the US started collecting a 25% tariff on 818 Chinese products valued at $34 billion. The Chinese responded by imposing a 25% tariff on 545 US products also valued at $34 billion. From that date through the end of 2018, tariffs were ratcheted up in multiple stages, to the point where the US has applied tariffs to $250 billion worth of Chinese products and China has responded with tariffs on $110 billion in US products.

How did the markets react? From July 6—the date the first set of tariffs took effect—through the end of the year, the S&P 500® Index was down 8.3% while Chinese equities (as measured by the CSI 300 Index) were off over 9%. Were tariffs the only cause? Likely not. But it seems fair to say they were a major contributor. The market rebounded in the first quarter of 2019 after China and the US agreed to a truce on additional tariffs (and, to be sure, after Federal Reserve chairman Jerome Powell's dovish comments on interest rates).


The bottom line
Is the pushback on free trade a short-term blip in a longer-term growth trend, or is it a reversal of a long-established world order? If it's the latter, what does that mean for global growth and capital markets? It's not a stretch to say that impediments to trade—including Brexit and the US-China trade war—are also likely impediments to growth. That outcome could present headwinds for global equity markets—driving further volatility and jeopardizing a US bull market now entering its 11th year.