Ask most investors, and they'll tell you October 8–12 was a no good, horrible, very bad week. They're not wrong.
The S&P 500® Index lost more than 4% of its value—over 3% on Wednesday alone—in a broad sell-off in reaction to, depending on whom you ask, worries about trade, interest rates, tech-stock valuations, or all three. But did the downside wind that slammed the bull-market door shut for the moment also open a window to something potentially valuable?
Amid market volatility, a tax opportunity
Let's not forget that, despite last week's slide, we've been in a historic bull-market run. Many investors' portfolios had appreciated greatly during the decade-long streak, which meant fewer securities trading at a loss. Which in turn meant, if an investor had sold securities at a gain, there was perhaps little to help offset the taxes due that year on said gain.
But now, with last week's sell-off, if investors have securities trading at a loss, there's an opportunity to make good and timely use of those losses—a tax-management process called tax-loss harvesting.
What is tax-loss harvesting?
When securities are trading at a loss, selling them creates a realized tax loss investors can use to offset a capital gain realized in the same year. They can then be replaced with a similar set of securities (traded carefully to avoid tripping the IRS's wash-sale rules) to preserve an investor's exposures to the desired market sectors or factors.
But what if the market recovers?
All the more reason for tax-sensitive investors to harvest and lock in losses now. Waiting for a recovery could mean missing out on prime opportunities to capture losses. Even if you can't use them all this tax year, you can carry them forward indefinitely, giving you a pool of losses that can help offset realized gains long into the future.
Other investors are taking advantage of this opportunity. In the week ending October 12 alone, Parametric harvested more than $44 million in net losses for more than 4,500 Custom Core® accounts. The chart below shows the spike in activity around loss harvesting last week. You can see a similar spike back in February, when we saw similar market volatility.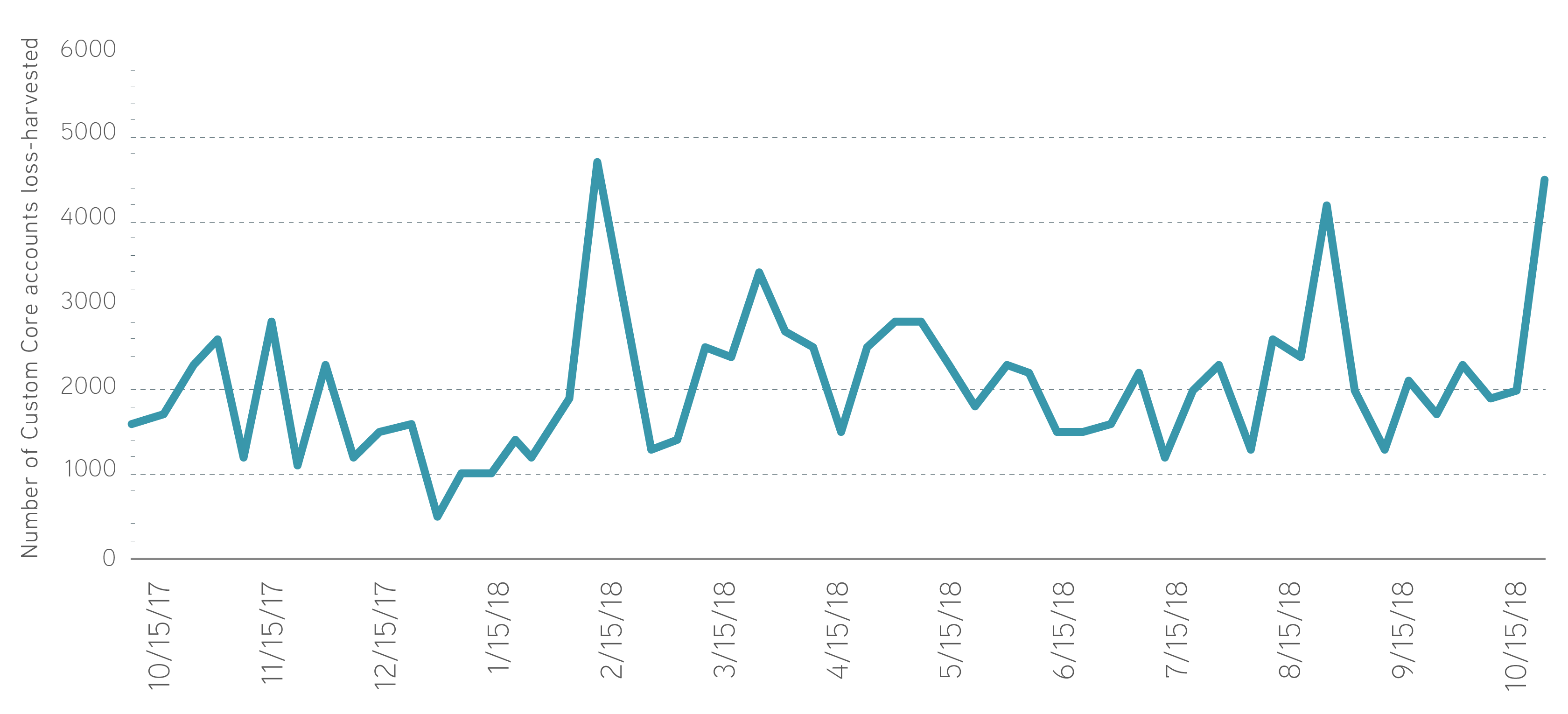 Source: Parametric
The bottom line
If you have securities trading at a loss, now is the time to consider tax-loss harvesting. You may not enjoy market swoons like the one we experienced last week, but you don't have to stew in frustration either. You can be proactive, storing losses and rebalancing your portfolio in a way that will help no matter how many no-good, horrible, very bad days are still to come.
> Concerned about market volatility? Find resources to help you smooth out the ride.