As portfolio customizations increase in the equity market, bond investors seek an equivalent method.
Investors over the last decade have increasingly turned to exchange-traded funds (ETFs) in an effort to target passive exposure to specific equity sectors. At the same time, financial advisors and their clients continue seeking cost-effective alternatives to ETFs—especially opportunities that add value through customization and tax-loss harvesting in separately managed accounts (SMAs). Not surprisingly, interest in customized individual solutions has turned to fixed income allocations and shined a spotlight on the possibility of a similar approach to managing bond portfolios. In response, Parametric developed an investment process that manages an investor's fixed income SMA based on their particular objectives and guidelines.
Regardless of the asset class, the investment objective of direct indexing remains the same: to provide similar risk and return experiences relative to the investor's chosen benchmark. However, the structural differences between the two equity and fixed income markets—liquidity, constituent characteristics and number, and minimum trade size—demand that portfolio managers rely on different ways to achieve those goals. Optimization proves to be the most effective method for constructing a low-tracking-error equity portfolio, but the stratified-cells approach is a more practical way to construct a bond portfolio. While the stratified-cells methodology is quite common in fixed income, it's customarily been employed in commingled vehicles like index-based mutual funds and ETFs.
What are the differences between equities and bonds?
Although there's significant overlap in issuers between the S&P 500® and an investment-grade (IG) corporate bond index, there are also key distinctions due to differences in the underlying markets. Fixed income indexes tend to contain many more securities than equity indexes. For example, the ICE BofAML US Corporate Index contains over 8,000 constituents, many of which don't trade daily. This difference is the result of public companies typically having only one class of stock, while IG issuers may have many bond issues outstanding with vastly different coupons, maturities, issue dates, and liquidity.
Monthly rebalancing can materially change the characteristics of a bond index depending on the size of the new issuance calendar and the number of bonds removed that no longer meet the index criteria for inclusion. As a result, an IG corporate bond index will have a higher turnover than a comparable equity benchmark. Since the cost of trading a corporate bond is also higher than the cost of trading the company's stock, it's important to minimize transaction costs by limiting turnover and using a liquidity screen that focuses on bonds with relatively low bid-ask spreads.
Even though it's possible to transact in fractional shares, IG corporate bonds typically require trades with a minimum par of 2,000 and increments of 1,000 afterward. This limits the number of positions that can be practically owned in an SMA. While still well diversified, a customized fixed income portfolio may have more concentrated positions than an equity SMA. To mitigate higher idiosyncratic risk, it's important to employ forward-looking fundamental research aimed at providing downside principal protection.
Why does the stratified-cells method work better in fixed income?
Given the complexity, liquidity, and fragmented nature of fixed income benchmarks, the full index replication approach often used to construct equity portfolios is impractical. While many index-based equity strategies employ an optimization process, stratified-cells methodology may be more suitable for fixed income portfolios. It has the same goal of delivering an index's market exposure with lower tracking error and greater flexibility.
The stratified-cells framework divides an index along three dimensions—duration, industry, and spread—that act as the main drivers of fixed income returns. It then constructs a diversified portfolio of bonds with the same exposure to each cell that compares with that of a chosen benchmark. The objective is to group bonds of similar characteristics and select approved issues that will perform in line with all the other bonds in their stratified cell. This rules-based approach produces transparent trade recommendations that take into account the unique liquidity, trading, and index characteristics of the bond market.
Stratified-cells methodology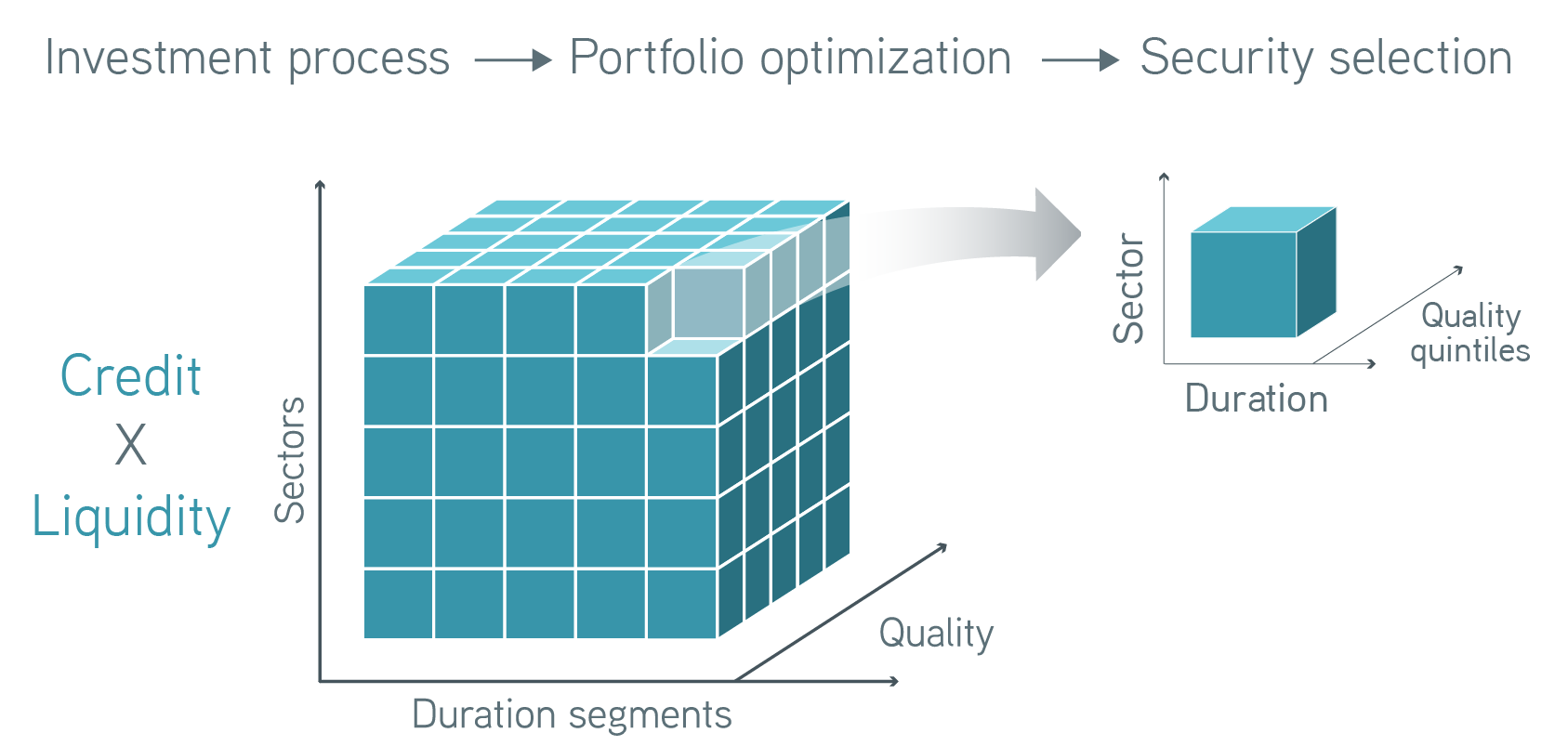 Source: Parametric, 5/31/2020
The goal is to construct a portfolio that produces the desired exposure and investor outcomes with more stability and liquidity than the broad fixed income market. Investors should therefore expect the portfolio to deviate somewhat from the benchmark return. When it comes to testing actual portfolios in various market conditions, stratified-cells implementation can, on average, realize lower tracking error than comparable ETFs.
The bottom line
Financial advisors have long appreciated the benefits of SMA strategies for clients seeking targeted equity exposures customized to suit their particular goals and values. Given the broad acceptance of these equity products, a fixed income methodology that shares the same objective and principles seems like an obvious next step. It can be implemented using a hybrid stratified-cells approach designed specifically for the bond market's unique liquidity, trading, and index rules. Such an approach is required in order to produce a scalable and transparent fixed income SMA strategy that provides financial advisors with the client solutions they require.