Currency hedging is straightforward for developed-market international equity portfolios. Learn why this isn't the case for emerging markets.
Emerging market (EM) investors experienced a sizable drawdown in prices over the first quarter of this year. The MSCI Emerging Markets Index, a common benchmark used in the asset class, finished the quarter down 19.05% in local terms as investors fled risky parts of the global market in search of safer alternatives to weather the COVID-19 pandemic. As a result, many EM currencies also experienced significant declines against the US dollar, leading to further losses for US-based investors who were exposed to those currencies. Measured in USD, MSCI EM was down 23.60% over the period.

To minimize risk from fluctuating foreign exchange rates, it's common for investors in developed market equities to hedge the currency exposures that result from investing outside of one's home country. A currency-hedging strategy lessens the impact of foreign currency risk on international equity returns. These strategies have become increasingly popular as investors in search of higher returns and diversification allocate larger portions of their portfolios to foreign equities.

Investors may think this approach can also work for EM equity portfolios. But currency hedging in EM portfolios is an entirely different ball game. Let's look at why this game might not be worth playing.


Hedged EM strategies are expensive
Implementing a currency hedge for developed equity portfolios is fairly easy. A deep and liquid currency forward market makes the cost to implement a currency-hedging strategy relatively low. An investor interested in a hedged MSCI EAFESM exposure would pay fewer than 10 basis points (bps) in additional fees versus an unhedged exposure.
This isn't the case for emerging markets. Trading volumes for many EM currencies are small relative to those for developed currencies. EM countries have historically had lower levels of international trade and foreign direct investment than developed economies, making a natural market for currency forwards much slower to develop. Capital controls enacted by some local governments have stymied liquidity from improving. In our experience, additional costs can often exceed 50 bps in some of these markets, while barriers to efficient implementation have meant that nearly one-third of MSCI EM currencies can't be effectively hedged.
Another factor to consider is that a currency forward or future is typically required to remove currency exposure. The pricing of such instruments is beyond the scope of this blog post, but it's worth mentioning that local interest rates play an important role in that process, especially for deliverable currencies. Short-term interest rates in many EM countries are significantly higher than short-term rates in the US. This interest rate differential can represent an additional cost when removing currency exposure, especially if the ultimate goal is to replicate the local MSCI EM. MSCI publishes a hedged version of their EM index that reflects a mechanical method to hedging currencies via one-month currency forwards and is a reasonable proxy to actual results an investor might experience. Over the last two decades, the hedged version of MSCI EM has fairly consistently trailed the local version of MSCI EM, with an average underperformance around 2% per year.

Is it currency hedging or timing the market?
Beyond being relatively expensive, the impact of currency hedging in EM portfolios depends greatly on the overall return of EM equities in a specific period. In the following chart, we compare the historical rolling three-year return for MSCI EM in local terms, used as a proxy for hedged currency exposure, against MSCI EM in USD, our proxy for unhedged exposure. The USD version reflects changes in foreign currencies versus the US dollar, while the local version ignores these impacts. A point above the line indicates the hedged index outperformed the unhedged index, while a point below the line indicates the hedged index underperformed. The points show that hedging currency exposure hurts EM investors in a strongly upward-moving market but helps investors in a flat to downward-moving market.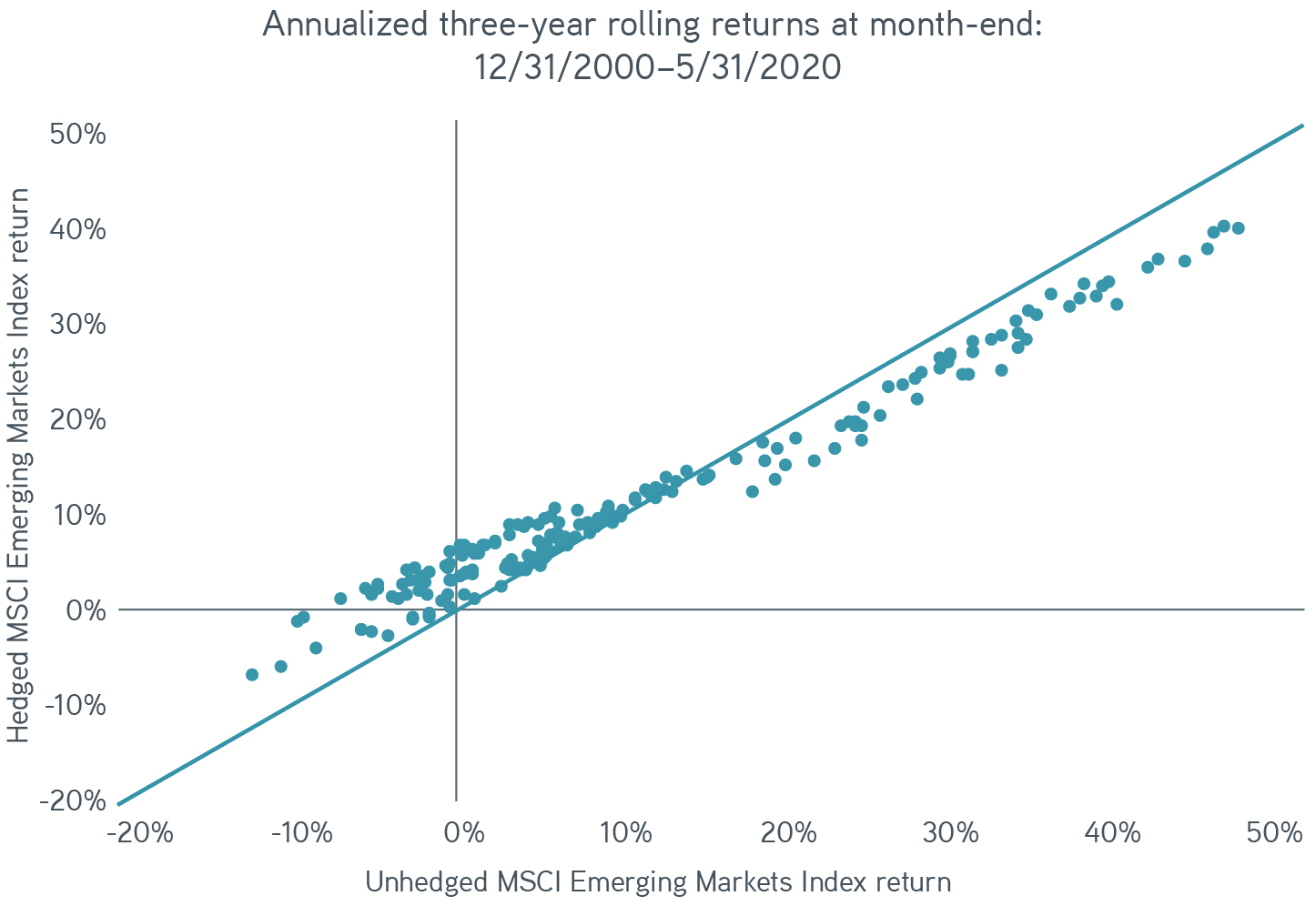 Sources: Parametric, MSCI, Bloomberg, 5/31/2020. Hedged MSCI Emerging Markets Index represented by the MSCI Emerging Markets Net Total Return Local Index. Unhedged MSCI Emerging Markets Index represented by the MSCI Emerging Markets Net Total Return USD Index. For illustration purposes only. Not a recommendation to buy or sell any security. It is not possible to invest directly in an index.
Hedging EM currencies essentially waters down market exposure in that it reduces the magnitude of all returns. A rough proxy for hedging EM exposures would be to simply hold less EM exposure, which is equivalent to making a call that markets will be weak to negative in the future. Timing the market correctly and consistently is extremely difficult; we believe it's just as difficult to consistently make calls on when or when not to hedge your EM exposure.
The bottom line
It's operationally challenging to hedge many EM currencies, and it's expensive to hedge the others. The impact of hedging currency in emerging markets appears to be equivalent to making episodic market calls in the short term. Because we believe it's impossible to consistently make accurate predictions of the direction of EM equities, we see little reason to implement an EM currency hedging strategy.
For a fuller perspective on currency hedging in emerging markets, download our whitepaper.