Municipals capped off the 2010s by posting their highest annual return since 2014, with broad-market muni indexes up 7.54% in 2019.
Performance across all fixed income sectors surprised to the upside following the Federal Reserve's policy reversal toward rate cuts amid concerns around slowing global growth and the impact of US-China trade tensions.
While a declining rate environment acted as the key driver of returns, municipals also benefited from elevated demand from their primary investor base: individuals in high tax brackets. The cap on the state and local tax (SALT) deduction for higher-income earners, implemented as part of the 2017 Tax Cuts and Jobs Act, created a greater appreciation for munis as a tax-avoidance tool. The volatility at the end of 2018 and growing recession fears at the start of 2019 caused investors to turn to munis as a safe haven. The result was 52 consecutive weeks of muni mutual fund inflows, totaling $93 billion, eclipsing the record of $77 billion set in 2009. Much of the flows also came in the first half of the year, when new issue supply ran below historic averages.


Our 2020 forecast for municipals
Demand for municipals should remain strong as investors continue to find value in attractive tax-adjusted yields and downside protection amid potential future volatility. Positive flows into mutual funds should continue; however, they're likely to slow from their record levels. Most estimates call for a 10% increase in supply, which should be easily absorbed by a combination of investor appetite and routine reinvestment of principal and interest. Finally, assuming the 2020 election outcome maintains the status quo of a divided federal government, we don't foresee any major legislative changes impacting the muni market over the near term. In short, the supportive muni-specific supply-and-demand factors that drove 2019's results should remain in 2020.
The Federal Reserve appears to be on hold through 2020 following three midcycle "insurance cuts" that have brought the target range between 1.5% and 1.75%. Several factors may lead both growth and inflation to exceed expectations in 2020, among them:
Low unemployment

Improved consumer confidence

Cooling trade tensions

The Fed expanding its balance sheet

Renewed "risk-on" sentiment
Combined with the possibility that overseas central banks abandon their unprecedented monetary experiment of negative interest rate policy in favor of fiscal stimulus, we could see modestly higher yields in 2020. It's difficult to predict whether we'll see the "material" change required by the Fed to adjust rates higher. But any surprise to the upside away from the status quo could get the market thinking that way.
The combination of positive muni supply-and-demand technicals and modestly higher yields results in a 2020 total return forecast defined as coupon minus some price depreciation. We remind investors that higher rates result in higher income levels and higher longer-term rates of return despite diminished returns in the near term. A move to a slightly higher rate environment would therefore be a welcome development in 2020.
Despite lower expected returns, there are a number of reasons municipals should remain part of a diversified asset allocation strategy in 2020.
Reason 1: Attractive tax-adjusted yields
For investors subject to high federal and state tax rates, particularly following the SALT deduction cap, munis offer more yield compared with their taxable counterparts. As a result, they remain a valuable building block of a portfolio designed to maximize after-tax income and return. If investors are in a high tax bracket and committed to having some duration in a portfolio, munis are an attractive source.


Tax-equivalent yield by fixed income sector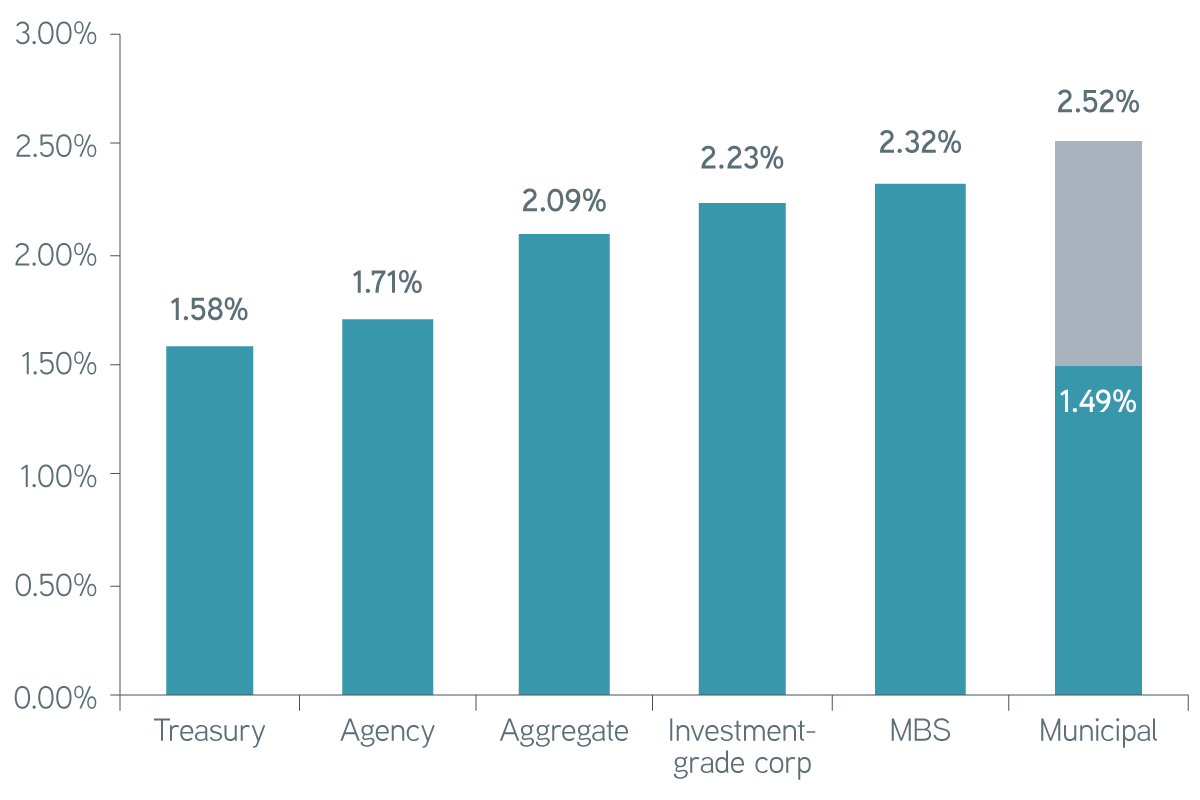 Source: Bloomberg, 1/28/2020. For illustrative purposes only. Not a recommendation to buy or sell any security. All investments are subject to the risk of loss.


Reason 2: Diversification
Municipals tend to exhibit less volatility and low to negative correlation to both equity and equity-like risk found in certain fixed income sectors. This makes the asset class particularly attractive in our view as equities continue to notch all-time highs.


Five-year correlation with municipals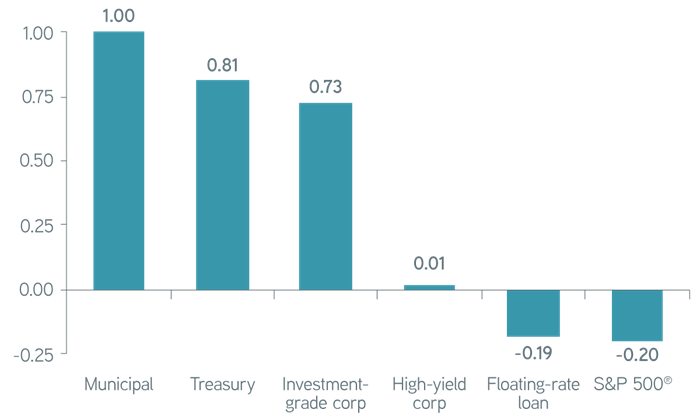 Source: Bloomberg, 12/31/2019. For illustrative purposes only. Not a recommendation to buy or sell any security. All investments are subject to the risk of loss.


For investors worried about an equity sell-off, it's a worthwhile reminder to see how munis performed over the five largest equity drawdowns of the past decade. The below chart shows the five largest equity declines since January 2009 compared with muni bond gains during the same periods. The S&P 500® Index plummeted an average of 19.39%, while the Bloomberg Barclays Municipal Bond Index returned an average of 3.47%.


Municipal bond performance during equity drawdowns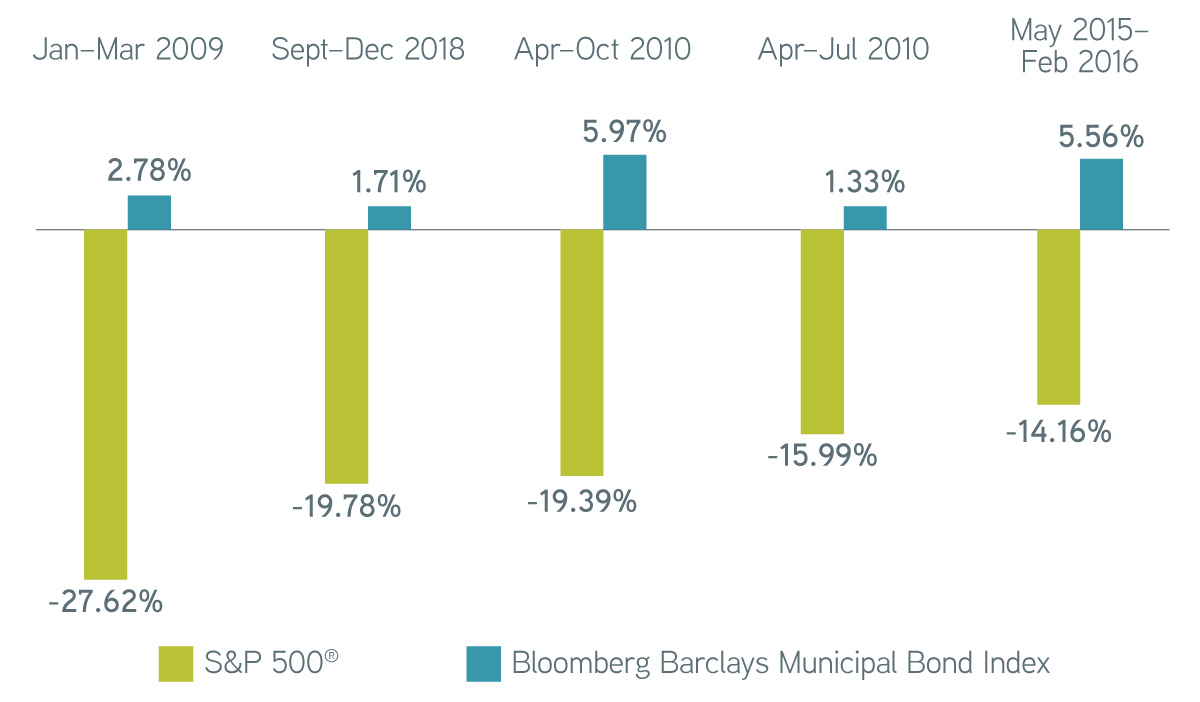 Sources: Bloomberg, S&P, 12/29/2019. For illustrative purposes only. Not a recommendation to buy or sell any security. All investments are subject to the risk of loss.


Reason 3: Strengthening credit
Broadly speaking, muni credit is stable and improving. Upgrades outnumbered downgrades in Q3 2019 for the ninth quarter in a row. Issuers have been able to take advantage of US growth, since many states saw revenues increase. At year-end 2018, state revenues were 12.6% ahead of their prerecession peak on an inflation-adjusted basis. States are using these revenues to build reserves and take steps to address pension funding issues. While certain states (like Illinois) will continue to capture headlines, many states (like New York) are in excellent condition. Median debt plus adjusted pensions as a percentage of GDP declined substantially, from 8.3% in 2011 to 5.1% in 2018. Adding other post-employment benefits, the ratio dropped from 11.5% in 2011 to 6.9% in 2018. Revenues should continue to increase modestly as state GDPs move in line with US economic growth and states continue to see positive impacts from the 2017 Tax Cuts and Jobs Act.
Another credit positive for the asset class is the shrinking size of the muni market. The most recent Securities Industry and Financial Markets Association (SIFMA) data shows a reduction of -0.8% in muni debt outstanding from Q3 2018 to Q3 2019. The US corporate bond market has grown by 4%, or $365 billion, over the same period.
Our recommended municipal bond positioning
Municipal investors don't need to venture beyond intermediate maturities to realize a majority of the yield available in the entire curve. Short- to intermediate-term maturities may be the right choice for the attractive absolute yields they provide, given their moderate interest rate risk. As of February 2020, a muni investor could capture 80% of the yield available on the 30-year yield curve by going out just 15 years and 50% by going out just five years. We don't believe investors with longer-term investment horizons would benefit from dramatically shortening up.

We also believe the landscape favors professional management. Institutional execution, access to new issues, and professional credit oversight all may help maximize opportunities in an environment with lower yields and tight credit spreads. The fragmented nature of the muni market and the heavy presence of retail investors results in inefficiencies that active managers can exploit to achieve additional return.


The bottom line
Despite reduced return expectations in 2020, municipals should remain a valuable building block of an investor's portfolio due to their attractive tax-adjusted yields, diversification benefits, and improving credit characteristics. Given an uncertain economic environment, we recommend keeping some duration in a portfolio. For investors in high tax brackets, municipals are a great place to get it.