Born out of the hard lessons learned from early 20th-century market crashes and the First World War, the concept of a diversified investment fund was formalized under the Securities Act of 1933 and Investment Company Act of 1940.
Three types of funds were created: open-end funds, unit investment trusts, and closed-end funds (CEFs). Publicly traded CEFs typically raise capital once at an IPO before trading on exchanges. The CEF framework creates a durable investment structure because shares aren't created or destroyed to meet investor subscriptions and redemptions, which enhances capital stability. Value transmission relies instead on distributions over time, highlighting the importance of payout policy and the focus across stakeholders on income.

Unlike open-end mutual funds and ETFs, the CEF vehicle doesn't have a share creation and redemption process. CEF market prices tend to drift away from the underlying fair value per share, or NAV, to match the supply and demand for shares each day. The supply-and-demand mismatch frequently leads CEF market prices to trade below fair market value, creating the opportunity to buy and own risk exposure below the market-determined price. These dynamics can be pronounced during difficult periods.

With captive investment capital and stable payout policies, CEFs have weathered incredible turbulence. In Parametric's Enhanced Income strategies, we buy CEFs at below-market-determined values, which has created tailwinds for income and total-return investors. Systematic management through volatile periods has historically added further value to end investors.


Liquidity demand sparks early CEF drawdown
An acute demand for liquidity—seen across equity and fixed income segments over the last several weeks—has challenged prices across the board. These shocks have been reflected in declining CEF NAVs. Panic has also driven CEF market prices with little regard to the value of the underlying assets. The below figure shows the cumulative drawdown of the US CEF market, measured by the Morningstar US All Closed-End Fund Category Average Index, which is a market-cap-weighted index of all US-traded CEFs.


Morningstar US All Closed-End Fund Category Average Index: Cumulative drawdown at market price and NAV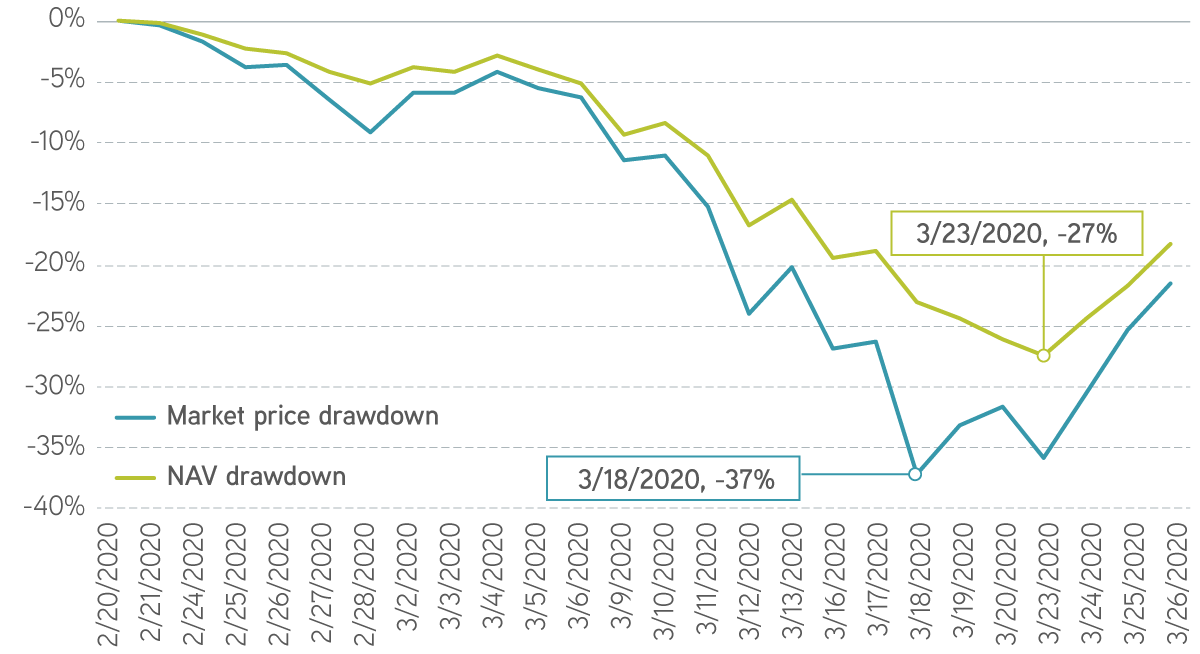 Sources: Morningstar, Parametric, 3/26/2020. For illustrative purposes. Not a recommendation to buy or sell any security. It is not possible to invest directly in an index.


Discounts broadly narrowed in the first week of March, exhibiting a market price underreaction, and then expanded rapidly in a market price overreaction starting March 9. Given the relative stability of projected distributions, weakness in market price is associated with expanding total distribution yield levels.


Morningstar US All Closed-End Fund Category Average Index: Daily discount and total distribution yields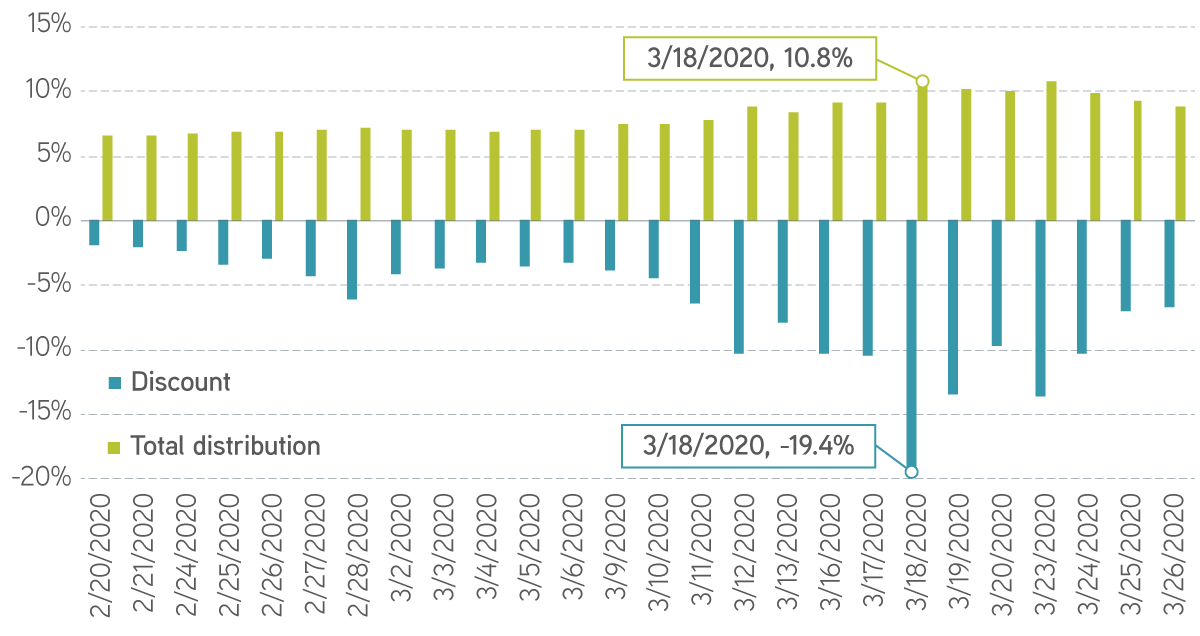 Sources: Morningstar, Parametric, 3/26/2020. For illustrative purposes. Not a recommendation to buy or sell any security. It is not possible to invest directly in an index.
Selling imbalances peaked on March 18 as CEFL and CEFZ—twice-leveraged exchange-traded notes investing across 30 target CEFs—saw note prices decline below $5, triggering a forced unwind of hundreds of millions of dollars in exposure to CEFs at any market price. The magnitude of the selling by these two ETNs alone was large and sudden enough to create dislocations across the entire CEF marketplace. Market makers stepped back for a day on nearly 500 CEFs, not just those targeted by these ETNs. Discounts briefly flashed at levels matching or exceeding the peak of the 2008 financial crisis. Fortunately, market makers returned to the CEF space on March 19, instilling some semblance of order and erasing a majority of accentuated discounts and deeply distressed market prices.
Returning confidence encourages smarter CEF pricing
As one-way selling pressures abate and monetary and fiscal stimulus efforts intensify, the healing process on the current drawdown is already underway. However, with the Morningstar All US Closed-End Fund Category Average at market price still down -22% from its February 20 peak, there's still a ways to go in terms of both underlying assets recovering and discounts normalizing. As markets remain fluid and lack a central planner to enforce CEF market price consistency, the opportunity to own risk below market prices remains robust. Although discounts are not as wide as they were on March 18, NAVs already reflect this year's rapid repricing of risk assets worldwide. In this sense, these discounts are on top of these heavily marked-down NAVs.
Parametric Enhanced Income Core Strategies: Discount and total distribution levels by asset class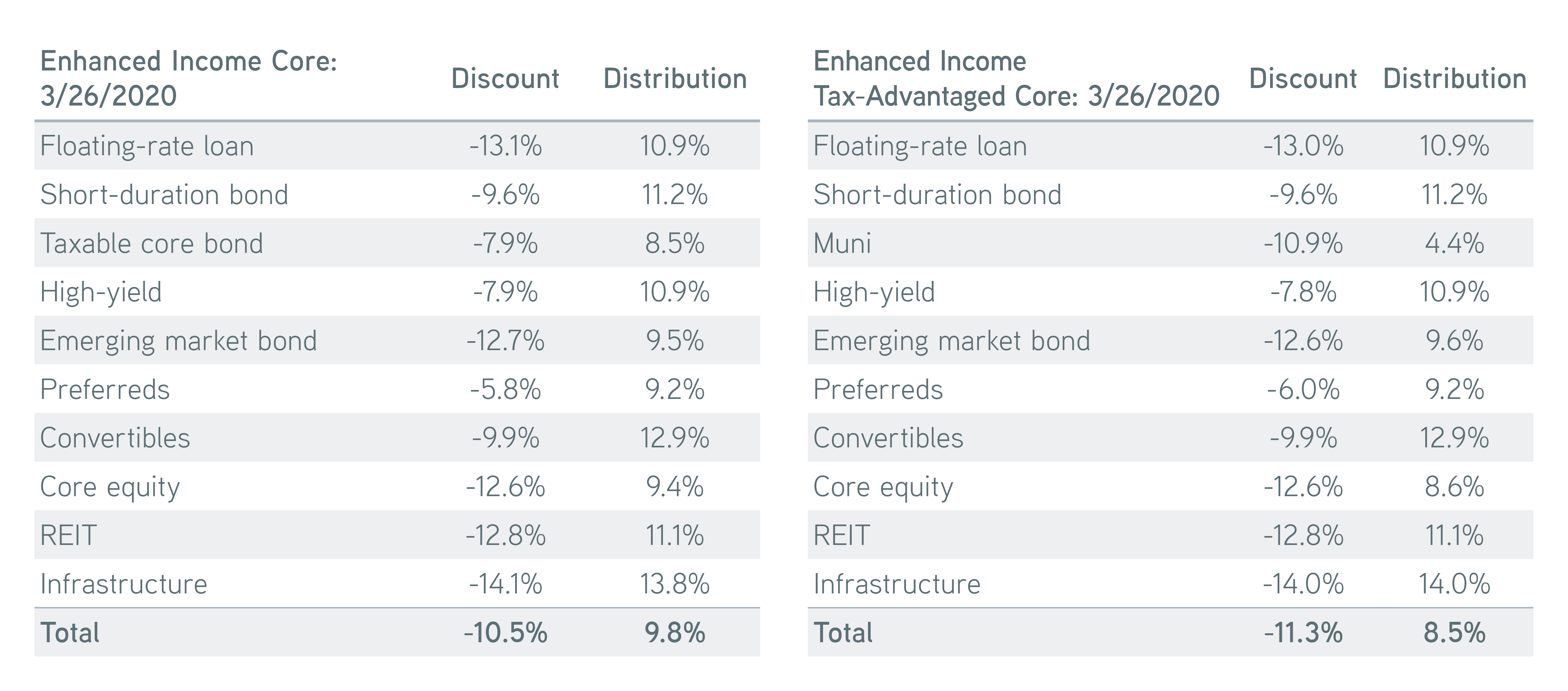 Sources: Morningstar, Bloomberg, Parametric, 3/26/2020. Model portfolio data is provided for illustrative purposes. Model portfolios are hypothetical and do not reflect the experience of any investor. Client holdings will vary. All investments are subject to risk of loss.



The success of Parametric Enhanced Income strategies is predicated on two pillars:
Risk exposures across entities, capital structures, and geographies will be compensated over the long term.

Paying less than the full price of risk enhances expected compensation.
As in prior crises, investors will eventually adjust to transitory and structural shocks. Returning market confidence encourages the transition from panic-induced pricing to higher-quality, more thoughtful analysis. The unprecedented scale and scope of both fiscal and monetary intervention are already helping investors to find light in the darkness of the last few weeks. Although downside fears dominate headlines, potential upside remains thanks to the possibility of faster vaccine development or even an improved prognosis for the impact of COVID-19.



The bottom line
Systematic management to diverse structural exposure targets ensures that investors can maintain consistent risk exposure via fundamentally attractive funds. Staying invested in tough times is psychologically difficult, but it's necessary to unlock the value captured within CEFs through recurring distributions. While hard times are surely ahead, the durable investment structure of CEFs offers a path to capture opportunity from volatility.