Overlay Services

Our Policy Implementation Overlay Service (PIOS) solution is a comprehensive, custom overlay that seeks to efficiently achieve an investor's policy objectives related to exposure management and securitization while helping minimize transaction costs.


Strategy Goals
PIOS® a comprehensive, custom overlay solution designed to help investors achieve customized policy objectives. Clients use PIOS® one or more of the following needs: securitize fund level liquidity, residual manager cash securitization, transition/reallocation exposure management, rebalancing, completion management, CAPS (Cross-Asset Portfolio Solutions), and interest rate management. With PIOS®, clients may utilize an array of investment instruments designed to achieve their objectives. Most clients employ exchange-traded futures in their overlay program. Other available instruments include, but are not limited to, over-the-counter derivatives, both bilateral and centrally cleared, ETFs, Treasury securities, and options.
Investment Philosophy
---
Challenge
Holding cash to facilitate liquidity needs results in tracking error relative to the investment policy and creates a long-term expected performance drag.
Potential Solution
Efficiently eliminate unwanted cash exposure through the use of an overlay program.
Expected Benefits
Increase expected return

Increase day-to-day liquidity

Simplify the management of inflows and outflows resulting in potential time savings for staff
---
Challenge
Asset class exposures which deviate meaningfully from long-term policy targets or short-term tactical preferences results in unwanted exposures and increased tracking error.

Potential Solution
Synthetic rebalancing of fund exposures in an efficient and cost effective manner back to desired allocation.

Expected Benefits
Reduced transaction costs

Timely and efficient reallocation of portfolio exposures

Reduction of tracking error
---
Challenge
Client desires to add or remove currency exposure in an efficient and cost effective manner.

Potential Solution
Employ currency overlay to efficiently maintain desired currency exposure.

Expected Benefits
Low cost

Transparent

Flexible and liquid
Other Custom Exposure Applications
---
Overlay Transition Management

Portable Alpha

Inflation Hedges

Interest Rate Management
Customized Fixed Income Management
Parametric's fixed income strategies help investors achieve their specific investment objectives by providing tailored management of fixed income exposures or simplify their Liability-Driven Investing (LDI) process.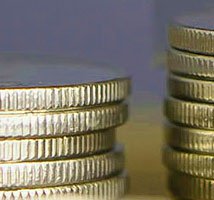 Liability-Driven Investing
Our Liability-Driven Investing (LDI) solutions seeks to simplify the process for plan sponsors.
Policy Implementation Overlay Services (PIOS) is offered by Parametric Investment & Overlay Strategies. For additional information please visit the Disclosure page.