Many institutional investors don't consider municipal bonds as part of their asset allocation.
They assume the bonds offer lower gross yields due to munis being exempt from taxes. Most munis are exempt, but a growing segment of the market is federally taxable. Increased new issuance and market yield dislocation in the wake of COVID-19 makes now an intriguing time for investors to consider adding taxable munis to their portfolios.

After a severe dislocation in March, the $3.8 trillion municipal bond market is on a steady path of price normalization. Despite the turnaround, there's still one segment of the market that's waiting to find its path: the $500 billion portion that's federally taxable.

This opportunity was identified in taxable municipals when new issuance more than doubled from the average run rate. As shown in the chart below, roughly $70 billion in taxable debt came to market in 2019 after the average issuance over the previous five-year period was about $30 billion. COVID-19 might have caused a hiccup in issuance earlier this year, but supply is picking up again—and the surge is expected to continue through the remainder of 2020. The market is expected to surpass $80 billion in total issuance, which presents an opportunity for investors.
The rise of federally taxable municipal issuance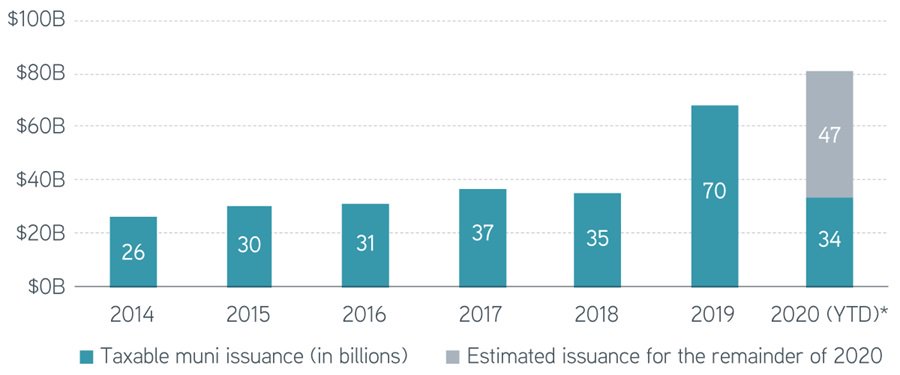 Source: Bloomberg, 5/31/20.
*Estimated issuance is annualized for 2020.
Issuers may choose to borrow on a taxable basis and pay a higher interest cost relative to tax-exempt issuance for a variety of reasons. The primary reason is that it allows for more flexibility in the use of loan proceeds. For example, taxable municipal debt can be used for working capital, to finance for-profit infrastructure or development (private business use), or to bolster unfunded pension plans.

Issuers can also issue taxable debt for cost savings on existing debt. As part of the Tax Cuts and Jobs Act of 2017, municipalities lost the ability to refund or refinance outstanding tax-exempt debt in advance with new tax-exempt bonds. However, the law still allows for refinancing to occur with new issuance of taxable debt. In the current environment of generally low interest rates, issuers can find meaningful savings by refinancing outstanding tax-exempt debt with taxable debt.
Attractive valuations for taxable munis
The combination of recent stress in the municipal market and the elevated supply has caused taxable muni yields and spreads to increase relative to US Treasuries and US corporate bonds. Prior to the surge in supply, taxable muni spreads were tighter than comparably rated corporates. This might have reflected the lower historical default rates of munis.

The chart below shows that 10-year AA-rated taxable munis, which yield 2.28%, have a spread above US Treasuries that's 56 basis points wider than similarly rated US corporates, which yield 1.72%. As investors continue to search for ways to enhance yield, taxable munis provide a compelling opportunity relative to corporate bonds without sacrificing credit quality or increasing duration risk.
The widening spreads of 10-year AA taxable munis over 10-year US Treasuries
Source: Bloomberg, 5/31/20. For illustrative purposes. Not a recommendation to buy or sell any security. All investments are subject to risk of loss.

With the continued growth of taxable muni market issuance—in addition to the recent pricing dislocations driven by market stress—institutional investors who have long written off munis should reconsider an asset class that can provide high credit quality, diversification, and attractive income compared with other taxable fixed income sectors.
Weaker Federal Support for Munis Sparks Stronger Demand from Crossover Buyers
May 21, 2020
by Nisha Patel, CFA, Director, Fixed Income Portfolio Management
Certain segments of the financial markets and the US economy have benefited disproportionately from federal aid. Liquidity facilities announced in April for the corporate bond market have helped to buoy valuations and push prices higher. The Bloomberg Barclays US Corporate Bond Index bounced back with an impressive monthly return of 5.24% in April, leading all fixed income sectors. Equities unsurprisingly had a strong month as well, with the S&P 500® returning 12.68% in April.
However, muni bonds enjoy less assistance from the Federal Reserve's Municipal Liquidity Facility (MLF), reflected in an April return of -1.26%, proxied by the Bloomberg Barclays Municipal Bond Index. While the scope of the MLF comes close to that of the Primary Market Corporate Credit Facility (PMCFF) for the corporate bond market, muni market investors have been skeptical of the MLF and the extent to which it'll help. A key difference between municipal and corporate credit facilities is that the corporate versions entail open-market bond purchases. Investors view this not just as support for issuers but also as support of market value. Corporate versus municipal market returns for April are a clear indicator of this difference in perception.
The need to increase supply has put additional pressure on the muni market. Retail investors are wary of putting money to work amid growing credit concerns. Elevated supply, combined with the disparity in federal support, has caused muni yields to cheapen relative to corporate bonds. Simply stated, municipals are very attractively valued. The table below highlights this relative attractiveness across the curve. On a tax-equivalent basis, 10-year AA-rated munis yield 36 basis points above 10-year AA-rated corporates—double the difference since the beginning of March.
10-year muni vs. corporate yields rated A and above




Source: Bloomberg, 5/19/2020. Tax-adjusted yield assumes tax rate of 40.08%. For illustrative purposes only. Not a recommendation to buy or sell any security.


With the relative value of munis this compelling, we've seen a surge in interest from crossover buyers such as banks and insurance companies. We believe any further weakness in munis—on either the supply side or the demand side—will be met with crossover buyer interest. If absolute corporate yields stay at current levels, the emergence of capital from crossover buyers should provide support for munis in the near term. With the help of professional credit oversight, yield dislocation created by uneven federal responses may present an opportunity for long-term muni investors.
As the Market Recovery Loses Momentum, Have Corporate Bonds Reached a Turning Point?
May 18, 2020
by Bernie Scozzafava, CFA, Director, Quantitative Research and Portfolio Management, and Tom Luster, CFA, Managing Director, Taxable SMA Strategies
Both credit spreads and Treasury rates have stabilized since mid-April, causing corporate bond returns to flatten after an exceptional rally. With the economy edging back toward reopening and the Federal Reserve's quantitative easing program entering its next phase, we aren't concerned by this lack of market momentum. While the balance between supply and demand has turned less favorable recently, we continue to view intermediate investment-grade (IG) corporate bonds in a positive light.
Putting aside the recent lack of progress, the recovery in corporate bonds has been remarkable. By the third week of March, the year-to-date (YTD) return of the ICE BofA/Merrill Lynch 1–10 Year US Corporate Index was -7.75%. The loss was driven entirely by wider credit spreads, which were partially offset by lower Treasury yields. The market essentially stopped functioning in mid-March, which prompted the Fed to announce a stunning array of programs designed to improve liquidity. The decisive intervention unsurprisingly flipped the market's risk profile, encouraging buying rather than selling, and credit spreads narrowed sharply. By the end of April, the ICE BofAML index's YTD total return was positive at 0.55%, and its yield to maturity of 2.54% was nearly identical to that at the beginning of the year.
Corporate bond demand returned but couldn't keep pace with accelerating new issuance, putting the rally on pause. New issuance has been so strong that YTD net supply is on pace to set a record for full-year net issuance totals. This has pushed spreads modestly wider, raising concerns of supply fatigue. However, we view the issuance as a positive. Companies are using sale proceeds primarily to add a liquidity buffer to balance sheets, not for dividends, buybacks, or capital expenditures. The new supply has consequently lifted net leverage ratios only modestly.
Increases in new issuance historically haven't put material pressure on secondary corporate bond prices. This is because extra supply tends to come in response to strong demand, enabling companies to finance at attractive rates. Companies today are less sensitive to rates and more concerned about their cash balances. The increased supply has nevertheless received solid demand, with newly issued bonds generally trading well in the secondary market.
The Fed's liquidity support announcement marked the turning point for IG and other credit assets. May 12 saw initial investment into credit ETFs, and the purchase of individual IG corporate bonds will begin as soon as the logistics of the Fed programs are finalized. While these purchases may not actively drive spreads tighter, they represent a significant and price-agnostic bid beneath the asset class, which should help provide liquidity if the market begins to trade lower again. The Fed has left little doubt in the meantime that it's the buyer of last resort, standing ready to intervene in the market to the degree necessary to support these assets.
IG credit spreads remain wide by historical standards despite the rally from their recent highs. Current spreads of roughly 2% over Treasuries are consistent with what the market has viewed as fair compensation in prior periods of severe stress or recession. Should credit downgrades increase or rates begin to rise, this 2% offers a significant performance cushion.
Despite these positives, uncertainty around the future path of the economy remains high. A lack of clarity regarding the pace and extent of economic reopening has caused numerous management teams to stop offering forward earnings guidance. Restoring consumer and business confidence against a backdrop of an unemployment surge and a GDP contraction of up to 30% will prove difficult. We agree with Fed chairman Jerome Powell's characterization of the prospects for the US economy as being "so uncertain as to be unknowable."
As we mentioned in aprevious blog post, it's been our experience that market trends never occur in a straight line, so the pause in this rally isn't surprising. Yet spread levels are attractive, the Fed is willing to offer nearly unlimited support to the markets, and corporate liquidity positions have improved. While we can't be sure what a future driven by COVID-19 will look like, we continue to view IG bonds favorably.
Read Politicians' COVID-19 Rhetoric with a Cool Head and a Deep Breath
May 11, 2020
by Evan Rourke, CFA, Director, Fixed Income Portfolio Management
In November 2016, long before the COVID-19 pandemic began, then-mayor of Dallas Mike Rawlings made the following remarks at a public hearing on pensions: "It is horribly ironic that a city that has enjoyed such tremendous success, a city that has made Texas so strong and proud, is potentially walking into the fan blades that look like bankruptcy.
At the time, Dallas enjoyed solid ratings from the major agencies: Aa3 from Moody's and AA from both Standard & Poor's (S&P) and Fitch. However, enough investors took the mayor's comments at face value that the relative trading spread of Dallas general obligation bonds widened dramatically. In some instances, Dallas bonds traded at lower prices than those of comparably structured bonds from BBB-rated issuers. Yet those with the time, resources, and skills to analyze the data concluded that the reality didn't match the mayor's rhetoric. Over the course of several months, the city's bonds rallied back to historical spreads. Four years later, Dallas remains solidly rated at A1 by Moody's, AA- by S&P, and AA by Fitch.
It's easy to see in retrospect that the severity of the mayor's language was less a reflection of the facts than a negotiating tactic with public service unions over pension contributions. Politicians of all stripes will use extreme language designed to garner attention and rally others to their causes. Some equally powerful political imagery came out of the height of the global financial crisis in December 2008 when then-California governor Arnold Schwarzenegger said, "Without immediate action, our state is headed for a fiscal disaster. . . . I compare the situation that we are in right now to finding an accident victim on the side of the road that is bleeding to death." But despite being one of the most procyclical states in terms of tax revenue, California would survive. In July 2009, the state legislature passed a budget that included $15 billion in service cuts, $8.1 billion from education.
Last month, New York City mayor Bill de Blasio said his city faces "dangerous" budget cuts and a "wartime" budget. At present, New York City is highly rated at Aa1/AA/AA and operates with an annual budget of more than $90 billion. The draft budget for the next fiscal year, beginning July 1, forecasts a $7.4 billion drop in revenue—roughly an 8% decline. Drawing on its experience with 2009's 5% revenue decline, the city intends to close the gap through budget cuts, hiring freezes, and reserve spending. The city has already identified $2.7 billion in budget cuts, and it has $5.9 billion in available liquidity. Perhaps this isn't truly a wartime fiscal crisis.
When Senate Majority Leader Mitch McConnell stated that he preferred allowing states to go bankrupt rather than provide federal aid, this was a negotiating position—not a credible policy alternative. Ignoring the difficulty of defining when a semisovereign entity with full taxing power and other significant resources is bankrupt, it was a legally questionable and politically untenable proposal. The necessary legislation would face stiff opposition in the Republican-dominated Senate and would never pass the Democratic-led House. Should it somehow manage to pass, it would likely be struck down in a court challenge based on Article 1, Section 10, of the Constitution.
Political rhetoric will always be more volatile than policy outcomes. Investors should keep that in mind as they digest the headlines. The ability to analyze actual data can give investors a tremendous advantage so they can avoid overreacting in an anxious time. For municipal bond investors, the advantages of professional management and credit oversight have never been more apparent.
Fed's Muni Aid Program Treats the Symptom, Not the Cause
May 1, 2020
by David Grean, CFA, Associate Portfolio Manager
The Municipal Liquidity Facility (MLF) announced by the Federal Reserve on April 9 has captured the attention of market participants and investors alike. This program is a significant step toward normalcy in our market and toward helping municipalities manage the economic impact of government orders for large swaths of the US population to remain at home.
The MLF is a $500 billion purchase program seeded by a $35 billion investment from the US Treasury via the Coronavirus Aid, Relief, and Economic Security (CARES) Act. Working directly with issuers, the Fed will purchase all types of new-issue anticipation notes with maturities of 36 months or less and a credit rating of investment grade as of April 8, 2020. These purchases are intended to help with short-term financing in anticipation of future cash receipts from taxes, general revenues, planned debt issuance, and other revenue streams. Pricing will be dictated by the issuer rating at the time of purchase and will reflect an appropriate credit spread plus an additional 10 bps origination fee. It's important to note that borrowing under this facility is a short-term recourse loan, not a grant. The proceeds from these loans are unrestricted and can be used for general purposes, which shores up short-term liquidity for issuers.
Eligibility is limited to general governments such as cities, states, and counties, constrained to one issuer per, for an amount up to 20% of "own-source revenues." Under the original proposal, all states would be eligible as well as cities with a population greater than one million and counties with a population greater than two million. In the face of political and media pressure, the scope was broadened on April 27 to cities and counties with 250,000 and 500,000 residents, respectively. As well, the window for borrowing was extended from September 30, 2020, to December 31, 2020.
Other issuers could indirectly benefit from the MLF, since eligible entities can request to issue additional notes on behalf of "political subdivisions and instrumentalities that are not eligible for the facility," according to a Fed press release. In our interpretation of the rule, these additional funds wouldn't count toward the own-source revenues cap. It also puts the credit decisions down to the cities, states, and counties rather than forcing the Fed to judge the relative importance of the tens of thousands of active municipal issuers.
Because of the crisis, tax revenues should be significantly impaired. This is nothing new for municipal issuers; according to the Brookings Institution, state taxes fell 17% and personal income taxes fell 27% in Q2 2009. The MLF should provide issuers the liquidity to continue to pay bills and employees and to manage through the period until the economy is fully functioning again and revenues begin to ascend to pre-coronavirus levels—assuming the US will return to some economic activity by mid- to late 2020 and gradually improve through 2021. In the immediate future, this is also an important stopgap for municipal issuers, who have experienced an unexpected delay in tax revenues due to the extension of the filing deadline from April 15 to July 15 of this year. The MLF also should bolster investor confidence due to the implicit assurance of debt service for the next two years. This has helped reestablish a sense of normalcy to both primary and secondary markets.
What the MLF doesn't resolve are potential long-term fiscal health problems brought on by sustained underwhelming revenues. Bear in mind that these are loans, which give the Fed a future claim on the resources of issuers accessing the MLF. State and local governments experiencing significant revenue declines will have to practice austerity, deplete reserves, or do both to help make up for any lingering decline. In addition, the MLF doesn't address issuers' long-term liabilities such as pensions and other post-employment benefits. Funded ratios at the outset of this crisis stood at peak post-2008 levels, and many funds have adjusted their discount rate assumptions lower, which are positive tailwinds for issuers entering this period. However, many pension systems remained significantly underfunded. A 15% to 20% stock market decline increases those liabilities.
Some details still need to be clarified. For example, we believe that if the Metropolitan Transit Authority—a nongovernmental agency—gets $4 billion under the terms of the MLF, it wouldn't count toward the 20% revenue cap for the state of New York. If it does, or if there's no workaround, that will limit New York's flexibility. How will states account for this debt? Do these loans count toward this limit for states with balanced-budget statutes? Will this impact technicals in the muni market by reducing new issuance on top of the monthlong hiatus we just experienced? These are details we're watching closely.
While this package is significant, swift, and a step in the right direction, it will ultimately prove to treat the symptom rather than the cause. This further underscores the need for in-depth, expert fundamental analysis when investing in municipals. Proceed, but do so with caution.
Corporate Spreads Rebound amid Increasing Investor Demand
April 23, 2020
by Bernie Scozzafava, CFA, Director, and Tom Luster, CFA, Managing Director, Taxable SMA Strategies
There's been a sea change in the tone of the corporate bond market over the past couple of weeks. Investor sentiment has made a 180-degree turn away from the glum reaction that plagued the market less than a month ago. The Fed's latest program rollouts are helping to transform a credit market driven down by fear and panic into one that has investors clamoring for gains.

Given the overwhelming sell-off in March, investors may be surprised to see that the yield on investment-grade bonds is now 2.6%, which is comparable to the 2.5% that we saw at the beginning of the year. Intermediate corporate bonds continue to offer good value despite tighter spreads. Liquidity has even improved dramatically, giving investors another reason to revisit their investment-grade bond allocations.

As the Fed continues to expand its corporate bond buying programs to stimulate investor demand, we should expect to see corporate spreads continue to tighten—albeit at a slower pace. Let's review both the market downturn and partial recovery before we share our views on the three possible scenarios we think may unfold going forward.


Recap of the March sell-off
As concerns grew over the impact COVID-19 would have on the economy, US Treasury rates fell and credit spreads widened. A collapse in oil prices further fueled the sell-off in corporate bonds amid fear that drove investors to raise cash. This resulted in record redemptions from investment-grade mutual funds. At the same time, companies were pursuing a similar strategy of building cash reserves, which led to a record for new issuance. This supply-and-demand mismatch weighed heavily on the market, causing spreads on intermediate corporate bonds to jump from 78 basis points (bps) at the start of the year to over 400 bps by mid-March.


Corporate bond market recovery
As we ushered in 2020, intermediate investment-grade corporate bond yields were at 2.5% after falling for most of 2019. Yields remained fairly consistent but plummeted to 1.8% when US Treasury rates dropped in early March. This record low quickly gave way to a 10-year high as sudden recession fears caused spreads to gap higher. After the Fed breathed some life into the market with its aid programs directed at corporates, we saw mid-April yields resemble those at the beginning of the year, but with spreads nearly triple their year-end level. The mid-April change is remarkable given the 10% drawdown experienced in mid-March.

Since March 23—the day the Fed announced plans to expand its quantitative easing program to include corporate bonds—credit markets have staged a strong recovery that has continued into April. After having a year-to-date (YTD) decrease of more than 7% on March 23, intermediate corporate bonds have now broken even for the year. Additionally, sector inflows have swung back into positive territory. While the entire investment-grade corporate bond market should benefit from the Fed's plan to buy as much as $250 billion in bonds with maturities of less than five years, spreads on the front end of the curve should benefit the most going forward.

As shown in the table below, it would be impossible to appreciate the magnitude of the March sell-off and spread widening by simply comparing the yield available on April 17 to that on December 31, 2019. This is due to a retracement of roughly 50% of the March widening in spreads—along with lower US Treasury rates—which resulted in yields on intermediate corporate bonds largely returning to levels seen at the beginning of the year.


Intermediate corporate bonds, YTD





Market outlook and scenarios
The markets may have gone into recovery at an improbable pace after experiencing historic drawdowns, but we think the market still offers good value to investors. We see three possible scenarios unfolding for interest rates and spreads as the markets continue to stabilize:

Fast rebound. This scenario presents a bullish case in which the economy reopens faster than anticipated and growth quickly recovers. In this scenario we'd expect the Treasury rates to rise while spreads narrow. This would make spreads act as a shock absorber, resulting in corporate bonds outperforming US Treasuries.

Slow rebound. This scenario would mirror the slow growth environment that followed the 2008 credit crisis. Slow growth may signal a delayed restoration of consumer confidence. We'd expect this scenario to result in a lower-for-longer rate environment that should be a positive for corporate bonds while investors search for attractive yield alternatives.

COVID-19 returns. This last scenario would lead to a prolonged economic downturn. If this were to happen, rates would likely remain low while spreads continue to widen. This scenario has two qualifiers worth mentioning. The first is that—with the exception of the 2008 credit crisis—the current market is already near peak spread levels seen during past sell-offs. The second is that over 50% of the market is made up of large, highly rated A–AAA companies with access to financial markets.


Broader market perspective
At this juncture in the recovery, we're finding it easier to sell bonds than to buy them since the market is anticipating the Fed implementing its buying programs soon. Additionally, market liquidity is improving and transaction costs are starting to restabilize. These market developments make it a favorable time to invest. At the same time it may also prove to be a good time for investors to take a step back and reassess their asset allocation to corporate bonds while we see how the market takes shape in the coming weeks.
Can Corporate Bonds Benefit from the Federal Relief Programs
April 2, 2020
by Bernie Scozzafava, CFA, Director, and Tom Luster, CFA, Managing Director, Taxable SMA Strategies
Multiple factors are at play in the corporate bond market creating fear and uncertainty among an increasing number of sellers struggling to raise cash. There's the expected economic effects of the coronavirus. There's also the free fall of oil prices. It's even gotten to the point where some trading counterparts are now unable or unwilling to add investment-grade corporate risk to their balance sheets. For those investors looking to raise cash in their corporate ladder portfolios, liquidity has improved slightly over the past week. Transaction costs, however, remain elevated, with the possibility of exceeding 3.0%. These costs are exponentially higher than the typical 0.1% we're used to seeing.

Investors across all fixed income asset classes—from US Treasuries to emerging markets—are being forced to adjust to this new liquidity environment. Our trading team has adapted to this fast-moving market by employing new and innovative approaches to generating liquidity to meet all requests from our ladder investors. We note that the price volatility and the lack of dealer participation are—in many ways—more dramatic than what we experienced during the 2008–2009 financial crisis when the corporate bond market was one-third of its current size.


Corporate market action: Yields, spreads, and returns
The data below illustrates the significant and especially abrupt market downturn, followed by a partial recovery. After setting a record-low yield of 1.90% on March 5, the intermediate investment-grade corporate bond market registered 11 straight days of negative returns, nearly pushing the month-to-date loss into double-digit territory by March 23. The rapid deterioration of investor confidence caused credit spreads—which rarely exceed 250 bps—to jump from 110 bps to 395 bps, a level previously seen only during the credit crisis.

To put the magnitude of this price action into perspective, the credit crisis resulted in a record-setting max drawdown of 14.6%, which took place over the course of 282 days. The recent sell-off sparked by the coronavirus produced a max drawdown of 10.7% over 17 days. In a distant third comes the tight monetary policy that led to a max drawdown of 5.9% over 98 days in 1994.






New Fed programs established
With the coronavirus pandemic spreading throughout the US and recession fears disrupting financial markets, the Fed reacted with a series of policy actions and proposals to stem the tide of liquidity flowing out of the corporate bond market. In addition to reestablishing some of the programs that proved effective at restoring confidence during the 2008 credit crisis—such as the Troubled Asset Relief Program and the Money Market Mutual Fund Liquidity Facility—the Fed is using its full range of authority to support the flow of credit to American families and businesses.

Two of these new quantitative easing programs are aimed directly at the corporate bond market—the Primary Market Corporate Credit Facility (PMCCF) and the Secondary Market Corporate Credit Facility (SMCCF). Established to support large employers, the PMCCF ensures that credit will be available to investment-grade bond issuers, and the SMCCF will be used to purchase outstanding bonds in the secondary market to provide additional liquidity for investment-grade corporate bond investors.

Corporate bond prices have reacted favorably to these financial programs aimed at keeping investment-grade issuers operating through the crisis. The quick passage of a substantial stimulus bill helped fuel a partial recovery through the end of March. While trading flows have improved, liquidity is still a long way from normal.


Broader market perspective
We believe it's encouraging that the intermediate investment-grade corporate bond market finished March on a strong note. During the last six trading days of the month, the market returned 4.8% and credit spreads tightened over 100 bps. Despite this movement, the current spread of 306 bps is historically cheap, and may still provide an attractive entry point. While it's been our experience that market trends never occur in a straight line, we believe investors will be rewarded for staying the course during these volatile times.
Municipal Bonds: Where We've Been and Where We May Be Headed
April 1, 2020
by Jonathan Rocafort, CFA, Managing Director, SMA Portfolio Management
Following a record sell-off and snapback, municipal bond investors may be wondering whether a historic buying opportunity has come and gone. Though the asset class has staged a dramatic turnaround following a surge in yields, we believe bargains still exist. Yields remain well above the recent lows. Relative value is compelling. Additionally, unprecedented actions by the Fed and the $2 trillion coronavirus bill should support liquidity and address near-term fiscal challenges. Volatility may persist as muni mutual fund outflows continue and credit concerns linger, but we believe demand for municipals should remain strong as investors continue to find value in attractive tax-adjusted yields and downside protection amid potential future volatility.

Let's review what has transpired over the past three weeks, where that leaves us today, and the opportunities we see in the wake of this historic move.


Before the sell-off started
Muni yields fell to all-time lows on March 9. This contributed to the speed and magnitude of the sell-off as retail demand faded at the start of the month.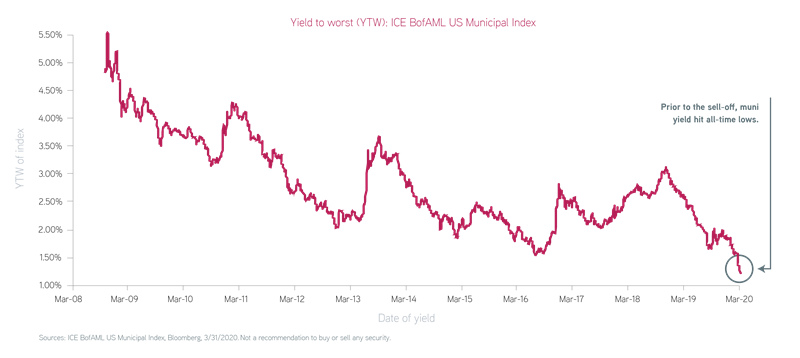 In 2019 the municipal bond market posted its highest annual return since 2014, with the ICE BofAML US Municipal Index up 7.74%. The cap on the state and local tax deduction for higher-income earners—implemented as part of the Tax Cuts and Jobs Act of 2017—created a greater appreciation for munis as a tax-avoidance tool. The result was 52 consecutive weeks of muni mutual fund inflows totaling $93 billion and eclipsing the annual record set in 2009. This market strength continued into 2020, with an additional $23 billion flowing into muni mutual funds through the end of February. Strong demand—combined with falling Treasury yields—put the ICE BofAML US Municipal Index up 3.17%, year to date (YTD), through February 28. This combination also sent the 10-year AAA muni yield under 1% for the first time in history. On March 9 a 10-year national AAA muni had a yield of only 0.81%—an all-time low.



Why did municipals sell off, and how significant was the move?
As concerns over the coronavirus and its economic impact began to grow, muni mutual funds—particularly high-yield funds—began to see large redemptions over the second week of March. This ended a streak of 60 consecutive weeks of inflows. With retail investors balking at yields inside 1%, the first wave of forced selling was met with little support. Dealers were forced to back up their bids significantly as their balance sheets swelled and Treasury volatility made hedging a challenge.

Falling prices only made matters worse. Redemptions picked up steam. According to Refinitiv Lipper, investors pulled $12.2 billion out of muni funds during the week of March 16, almost triple the previous record. With dealers full, the rout resulted in a liquidity crunch reminiscent of 2008. By March 20 the yield on a 10-year AAA muni increased to 207 basis points (bps), to 2.88%, since the lows on March 6. In addition, the ratio of a 10-year AAA muni to a 10-year US Treasury had set an all-time record, surpassing 300%. The ICE BofAML US Municipal Index had declined 11.66% over the two-week period from March 6 to March 20 as its yield spiked to a six-year high.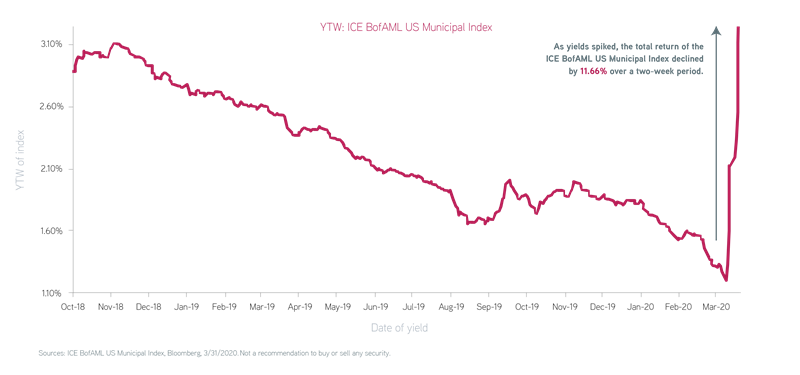 How the coronavirus liquidity crunch compares with other historic sell-offs
The coronavirus liquidity crunch proved to be a more dramatic move compared with other historic sell-offs, including the 2008 financial crisis, the 2010–2011 sell-off following Meredith Whitney's call for a surge in muni defaults, the 2013 taper tantrum, and the period following the 2016 presidential election. The magnitude of the yield move, the resulting performance drawdown, and the extent to which munis cheapened relative to Treasuries exceeded all those historic moves. Like the current sell-off, the weaker markets rattled nerves. They were also often viewed by muni market participants as an attractive entry point. As highlighted in our March 23blog post, we believe a similarly attractive entry point has emerged.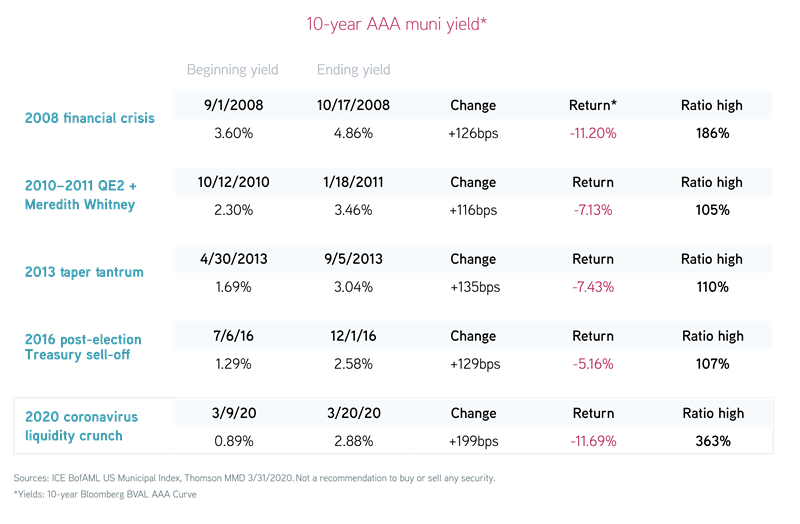 Why did the market turn around so quickly?

Following the historic rout the week of March 16, the week of March 23 began with high-quality muni yields exceeding those of similar corporates for the first time in this cycle. Additionally, the muni-to-Treasury ratio was in excess of 300%. The stage was set for savvy investors to emerge and offer support for something too tempting to ignore: high-quality bonds at fire-sale prices.

On March 23 the Fed announced unprecedented measures to shore up muni liquidity, including one to expand the existing Money Market Mutual Fund Liquidity Facility to include a wider range of securities, such as municipal variable-rate demand notes. In addition, the $2 trillion coronavirus bill was coming into focus, with at least $350 billion in aid, grants, loans, and funding for municipal sectors and entities. As a result of the bill, the market began to find support at yields of 3%–4% for high-quality AA names from direct SMA buyers and crossover buyers such as banks and insurance companies. An enormous amount of capital materialized in a short period of time, sending high-quality muni yields down 165 bps over the week and the ICE BofAML US Municipal Index up 8.67%. This was a staggering comeback from the liquidity-induced rout that plagued the market during the previous two weeks.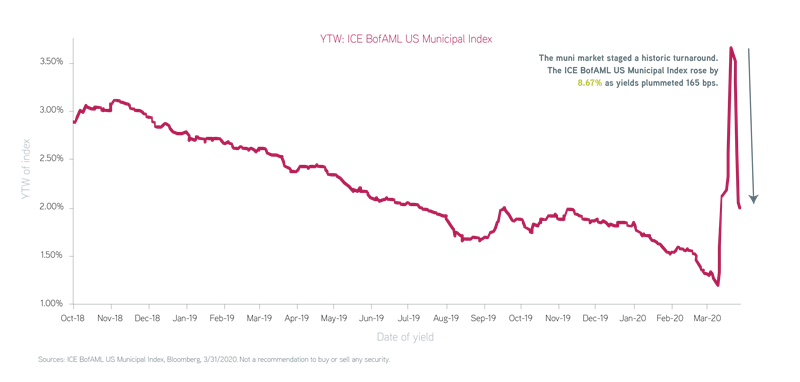 Let's look at the yield changes over the sell-off, the historic turnaround, YTD, and where current yields are compared with the historic lows on March 9.






Where are we today?
While the rebound has removed the extremely oversold condition from the market, we think the current environment still offers favorable relative value when compared to Treasuries and corporates. Investors still have the opportunity to invest at attractive real rates of return, especially considering the disinflationary pressure of the pandemic. We also remain approximately 60 bps higher in yield compared to the lows on March 20.





For those investors thinking they missed the opportunity, we remind them volatility is likely to continue. A number of factors may lead to higher yields and continued volatility in the near-term, including:
Continued muni mutual fund outflows

An uptick in new issue supply

The potential of less support from crossover buyers such as banks

Perceived heightened credit risk

Direct buyers and SMAs balking at lower yields given heightened credit risk
We see value in the trading opportunities created by market volatility. For those looking to add alpha, we recommend our intermediate and long active strategies. For investors seeking the performance and definition offered by a ladder, investors can capture 86% of the available yield on the curve in the 14-year maturity, so we believe that a one-to-14-year ladder represents good value. Wary investors can spare themselves some volatility with a one-to-eight-year or one-to-10-year ladder at the cost of some yield.
Following a record sell-off and snapback, a historic buying opportunity has not necessarily come and gone. Yields remain well above the recent lows and relative value is attractive. Volatility is likely to continue and should provide investors with attractive entry points and relative value trading opportunities.
For Municipal Bonds, Falling Prices and Rising Yields
March 23, 2020
by Christopher Harshman, CFA, Director, Portfolio Management
Not since 2008 have financial markets witnessed their current level of volatility, which is coursing through nearly every asset class. In municipal bonds, after a strong start to the year, early March brought dislocation from Treasuries amid a market-wide flight to safety as global health concerns continued to escalate.

High-yield muni mutual funds in particular have seen large redemptions, prompting aggressive selling into light liquidity. This is reminiscent of 2008, when even high-quality assets were sold as investors wanted to move to cash—and today again the result has been rapidly falling prices and rising yields as the market seeks to find its footing.

While there may indeed be longer-term credit considerations, the current liquidity crunch is technical in nature and is pressuring valuations. What will end this cycle will be a combination of reduced selling pressure and an increase in retail investor demand, likely to be spurred by high-quality assets at fire-sale prices and yields. (For example, the end of last week witnessed short high-grade California yields above 3% and intermediate high-grade New York yields above 4%, tax free.)

Yields on high-quality municipal bonds, relative to yields on US Treasury bonds, are now at unprecedented levels. The chart below shows how yields have risen since the recent low of March 6 and how the ratio of benchmark AAA muni yields to US Treasury yields has risen as well.





Source: Bloomberg, Thomson Reuters, 3/20/2020. For illustrative purposes only. Not a recommendation to buy or sell any security.


Despite the Fed taking action to stabilize money market funds last week, tax-free variable rate demand notes benchmarked to the SIFMA rate—akin to LIBOR-linked securities in the corporate market—have seen yields rise rapidly to historic levels. Again, this is a reflection of a lack of demand and strained liquidity in the muni market. For longer-dated AAA fixed-rate municipal bonds, the graph below isolates the 10-year yield ratio over the last 30 years (10-year AAA municipal bond yield divided by the 10-year US Treasury yield), putting the current market environment into context.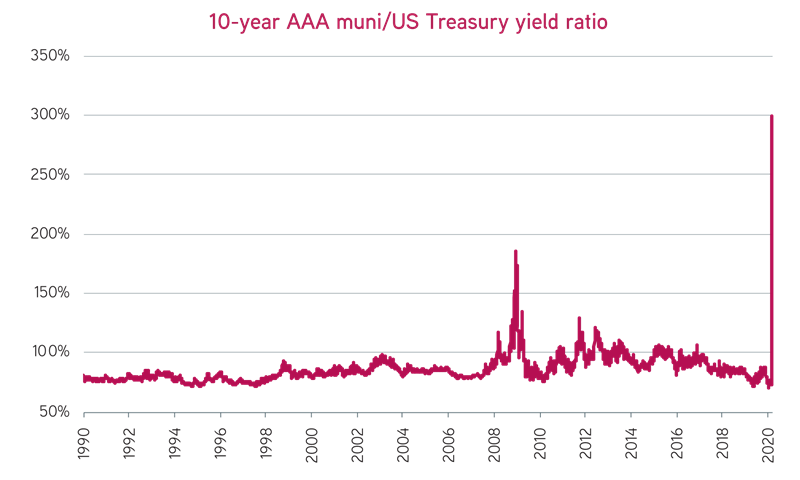 Sources: Bloomberg, Thomson Reuters, 3/20/2020.


We believe the current volatility may persist. However, history shows us that extreme distortions in municipal valuations over the short term may give long-term investors a compelling entry point.

There are two primary things for investors to consider at the moment. The first is the market dislocation resulting from fear and uncertainty, leading to reduced market liquidity and high volatility. The second is the fundamental credit concern about the severity and duration of this health crisis and the ultimate long-term effects on the economy.

We see opportunity in the volatility. We believe the economy will recover. In municipals, many individual sectors will have unique considerations, but overall we believe high-quality issuers will weather the storm. (We'll discuss the credit-quality effects of the crisis in a forthcoming blog post later this week.) And we're encouraged by the fact that, once the dust settles, an unprecedented amount of coordinated fiscal stimulus stands ready to restart the global economic engine. The short term may indeed bring more volatility—but investors can use the current environment to set the foundation for future positive investment outcomes with municipal bonds.
Can Strategy Stability Outlast Market Volatility?
March 20, 2020
by Bernie Scozzafava, CFA, Director, and Tom Luster, CFA, Managing Director, Taxable SMA Strategies
The sell-off in the equity market sparked by the coronavirus has spilled over to the intermediate investment-grade (IG) corporate bond market, resulting in nine straight days of negative returns. Such a stretch has happened before, but this time the cumulative decline was a record -9.8% for IG bonds, which are the primary building blocks for corporate ladders. While the 2008 credit crisis produced larger price declines, they occurred over a longer period of time. When markets experience such precipitous price action, it's natural for investors to be concerned that there will be further losses, so they look to raise cash.

Despite this fear, there's been a historical trend of markets overshooting on the downside, which can prove to be rewarding for investors who continue to hold through such volatile periods. In other words, the higher yields available today on IG bonds could prove an attractive time to invest.


Market decline driven by liquidity concerns
When it comes to selling during times of extreme volatility, it's only a good practice if you have a near-term cash need, your portfolio requires rebalancing, or there are better opportunities in other markets. For those looking to sell, liquidity is available. The drawback: Trading costs can now exceed 3% when they've normally been hovering around 0.10%. This increased cost isn't limited to corporates—the US Treasury market is struggling to find liquidity in this time of unprecedented market action.

Efforts to control the spread of the coronavirus in the US were implemented rapidly and are having an immediate negative effect on the economy. Individual investors have been focused on making sure they have sufficient liquidity to carry them through this global pandemic. Large corporations have reacted in much the same way, with many companies borrowing on their credit lines to ensure they have sufficient liquidity to maintain operations or to weather the storm. While this provides short-term relief, it puts additional pressure on the financial system, which has been compounded by the collapse of oil prices.


Record redemptions
Investors were all set to have a banner year in 2020, with fund inflows reaching record highs during January and February. The coronavirus outbreak has since caused fund flows to reverse direction, leading to record redemption—and at an alarming rate. During the past week, the broad category of IG funds experienced an outflow of over $40 billion, which was four times the last largest redemption amount set just a week prior. Both mutual funds and ETFs witnessed significant withdrawals, causing the latter to trade at discounts to net asset value not seen since the 2008 credit crisis. This trend may continue to materialize throughout the market until the impact of COVID-19 fades.


Record yields
Amid the head-spinning volatility of the past few weeks, IG bonds set a record-low yield of 1.8% on March 5. Since then, the yield has more than doubled—rising to 4.3%—exceeding the prior 10-year high of 4.1% and well above its average of 2.9% over that period. Yields are now the highest we've seen since we started building corporate ladder portfolios in 2012.


Upside opportunity
Markets don't like to operate with uncertainty, but under the current circumstances it's unclear for how long consumer behavior will be affected by efforts to control the spread of the coronavirus

If policymakers have learned anything from the 2008 crisis, it's that unprecedented times call for decisive and forceful responses to restore investor confidence and to stabilize financial markets. We're seeing this approach being implemented now with the Fed cutting rates to nearly zero and implementing quantitative easing.


The bottom line
Making significant changes to portfolio positions in the middle of this market turmoil could prove to be expensive and leave investors on the sideline when prices recover. We suggest being patient. Don't let volatility dictate financial decisions. This is a time to assess financial situations and goals and to make any adjustment to portfolios with extreme care.

At the same time, we believe current yields represent an attractive entry point. We see markets normalizing over time as historic measures are being taken to combat the threat of COVID-19 across the globe.
Are Municipal Bonds Poised for a Comeback?
March 18, 2020
by Jim Evans, CFA, Chief Investment Officer, Fixed Income
After setting a record low of 0.78% at the beginning of March, the yield on a 10-year AAA municipal bond has increased to 1.86%, a one-year high and in line with a five-year average. The size and speed of the move is similar in nature to sell-offs witnessed in 2008, 2010–2011 (the "Meredith Whitney" period), and the 2013 Taper Tantrum. Many muni participants look on those weaker markets as having been an attractive entry point. A similar opportunity may be emerging.


What's happening with municipal bond yields?
Throughout January and February, municipal yields were dragged down in sympathy with Treasury yields. However, municipals are a retail-dominated product, and individual investors began to balk as the yields on 10-year investment-grade municipals dived under 1%. While evaluation prices went up, liquidity thinned and the market ceased to facilitate trade. Muni mutual fund and ETF outflows began the second week of March and continue this week. Combined with retail selling driven by both profit taking and rebalancing, the market is seeing more sellers than buyers. As a result, dealers and market participants have backed up their bids and yields have spiked dramatically.


The good news about muni yields
Muni yields reflect real rates of return that we find compelling. With absolute yields back to long-term averages, munis can resume their place as an attractive source of after-tax income and as a diversifier to equity and equity-like risk found in other areas of fixed income. This may be particularly valuable in this environment. In addition, market moves over the past two weeks have cheapened munis' relative valuations versus taxable vehicles to a point rarely witnessed in history. Muni investors are typically rewarded with outperformance when we get to these types of valuations.
While this turmoil persists, we see these factors as supporting investment-grade municipals and corporates:
We expect Treasury yields to be low and close to zero for quite some time.

We view investment-grade municipals and corporate yields as attractively valued.

We anticipate further unprecedented fiscal and monetary support from the US government and the Fed to support corporations and municipalities.
Daily updates
While the market is undergoing exceptional volatility, we'll post the change in yields from the previous Friday and the daily valuation of municipals and corporates. Liquidity will likely change significantly from day to day.

On Tuesday both municipal and corporate bonds continued to exhibit wide bid-offer spreads. For those looking to rebalance or liquidate, particularly with smaller lots, liquidity is available but may result in a -3% to -10% discount from the pricing service evaluation. We're seeing the same liquidity this morning.


Daily yield update




Municipal and Corporate Bonds May Help to Weather the Storm
March 17, 2020
by Jim Evans, CFA, Chief Investment Officer, Fixed Income
While the market is undergoing exceptional volatility, we'll post the change in yields from the previous Friday and the daily valuation of municipals and corporates.
On Monday and into this morning, both municipal and corporate bonds are exhibiting wide bid-offer spreads. For those looking to rebalance or liquidate, particularly with smaller lots, liquidity is available but may result in a -2% to -7% discount from the pricing service evaluation. This isn't limited to munis and corporates, even US Treasuries are suffering from a lack of liquidity. Generic 10-year Treasuries are quoted with a $0.30 bid-ask on electronic trading platforms; the bid-ask is normally about one one-hundredth of that.
This morning the US Federal Reserve reinstated their commercial paper funding facility that was used during the financial crisis. This is an impactful move and should provide significant liquidity for any corporation in a cash crunch.

Daily yield update



Municipal and Corporate Yields Appear Attractive amid Turmoil
March 16, 2020
by Jim Evans, CFA, Chief Investment Officer, Fixed Income
COVID-19 has caused substantial upheaval in the financial markets, and municipal and corporate bonds haven't been immune. Last week all fixed income markets outside of Treasuries had bouts of illiquidity and significant underperformance versus Treasuries. Bonds showed wide bid-offer spreads as of Monday morning; we expect wider spreads and persistent volatility to come.
Investment-grade markets stabilized on Thursday after the US Federal Reserve announced it would provide $1.5 trillion in short-term loans to banks in return for Treasuries. Over the weekend, before world markets opened on Sunday, the Fed cut interest rates by a further 100 basis points (bps), bringing the target federal funds rate to the zero-to-25-bps range for the first time since 2015.
For the week, two-, five-, 10-, and 30-year municipal yields rose 62 bps, 76 bps, 80 bps, and 83 bps, respectively. The table below shows the spot yields as of March 13 on A-rated municipals, valuations versus Treasuries, and valuations versus A-rated corporates. It also shows the average valuations from 2019. Municipals appear attractive to us across the board.



Corporate bonds likewise saw a significant sell-off last week, with yields in the two-, five-, 10-, and 30-year rising 53 bps, 63 bps, 64 bps, and 73 bps, respectively. Corporate bonds relative to Treasuries also seem to be very attractive.

While this turmoil persists, we see these factors as supporting investment-grade municipals and corporates:
We expect Treasury yields to be low and close to zero for quite some time.

We view investment-grade municipals and corporate yields as attractively valued.

We anticipate further unprecedented fiscal and monetary support from the US government and the Fed to support municipalities and corporations.
We believe investment-grade municipal and corporate bonds may provide more attractive income and return opportunities relative to Treasuries of comparable maturity. In our view, professional credit oversight will be very important going forward to assist with avoiding credit deterioration.