A Biden victory could mean changes to everything from individual tax rates to capital gains rates. We look at how it could alter investor behavior.
We're six weeks away from Election Day 2020—somehow both a short period of time and an eternity in the world of politics. With both parties' national conventions complete, we now look to the presidential debates beginning at the end of September to see whether and how those head-to-head exchanges will change the electorate's views—all of which is to say that there's still plenty of time for gaffes and other unexpected revelatory moments.
Much of the election's home stretch is likely to focus on the issues that have dominated the news cycle over the past several months—and rightly so: the coronavirus pandemic and its economic impact, the ongoing protests for racial justice, accusations of a "rigged" election amid alleged foreign interference, partisan debate about mail-in ballots, and so on. So it's less likely that we'll hear a great deal about a topic that usually gets a lot more attention in an election cycle: tax policy. And while taxes affect everyone, investors generally pay closer attention, since changes to tax rates often have a significant effect on returns—especially if those rates go up.
Of course, if Donald Trump wins again, that doesn't figure to happen. Although light on details, President Trump's tax policy suggestions for a second term include reducing the top capital gains rate from 20% to 15%, indexing capital gains to inflation, and expanding the Opportunity Zones program created under the 2017 Tax Cuts and Jobs Act (TCJA). Regarding the 2017 legislation, the Trump campaign has yet to address how it plans to continue its provisions, many of which begin to wind down or expire starting in 2022. What's clear, however, is that none of the suggestions put out by the campaign involve an increase in taxes.
In this blog post we focus instead on the potential tax policy changes related to a shift to a Biden-Harris administration for two reasons. First, as of this writing the Biden campaign appears to have the edge in the electoral college over the Trump campaign, at least according to the majority of polls. Second, although proposals by either camp are just that—indicative proposals for tax policy and therefore subject to change by both the authors and the legislative process—the Biden proposal represents a more significant departure from the status quo.
How would a Biden tax plan change rates?
The Biden campaign has put forward four main tax policy changes worth analyzing, all of which involve an increase in taxes. First, the campaign proposes reversing the 2017 tax cut for top earners by increasing the income tax rate from 37% to 39.6%, a return to Obama-era rates. The additional net investment income tax (NIIT) of 3.8% would also remain intact, for a combined top federal rate of 43.4%.
Second, for households with adjusted gross income (AGI) of more than $1 million, Biden proposes removing preferential treatment for assets held more than a year by taxing realized gains and losses at regular income rates rather than at lower capital gains rates. Notably, not all earners in the highest income bracket ($518,400 to $622,050, depending on filing status) will also meet the threshold at which long-term preferential treatment is disallowed.
Third, the Biden campaign proposes abolishing the step-up in cost basis for an inherited investment and a reversion to the pre-2017 estate tax exemption level of $3.5 million.
And fourth, a point we'll touch on below in our section on fixed income, the Biden campaign proposes to increase the corporate tax rate from 21% to 28%.
How would Biden's tax policies affect investors in passive SMAs?
The first two changes noted above are easy enough to model. The third is the murkiest to analyze. It's unclear how—or even whether—a lower estate tax threshold would interact with the removal of a step-up in cost basis. It's also unclear whether an inherited investment would qualify as a change of beneficial ownership and a compulsory taxable event or whether gains could be deferred indefinitely. However, most estimators have assumed the plan would resemble an Obama-era proposal (never adopted) that would have taxed capital gains at death. The elimination of step-up would reduce the incentive for the owner to continue deferring gains, at least if the investor thought there wouldn't be any future reversal of such a policy.
That said, let's take a closer look at the cumulative potential effect of the first two changes—higher income tax rates coupled with taxing long-term gains at those higher rates rather than at current capital gains rates. To model what could happen, we used a Monte Carlo simulation, conducting 10,000 simulated trials of optimized large-cap portfolios versus a low-turnover benchmark, rebalanced quarterly over 10 years. We repeated the trials across three different expected return environments and for three different average stock volatility environments.
We repeated the trials for three tax regimes: the current tax environment under the Trump administration, a reversion to the Obama-era tax regime, and the prospective Biden tax plan. We assumed the investor is in the highest marginal income bracket, with an AGI of more than $1 million, we included the NIIT surcharge, and we assumed the investor is tax averse and inclined to donate securities to avoid liquidation taxes.
The charts below indicate the interquartile range of annualized tax alpha results for the three tax regimes for various volatility and market-return assumptions. A few important notes on these simulated results:
Higher tax rates generally increase the value of tax management.

The loss of preferential treatment for long-term holdings generally increases the value of tax management.
The loss of preferential treatment disproportionately increases the importance of gain deferral versus tax-loss harvesting in low-volatility and high-return environments.

Conversely, the loss of preferential treatment in highly volatile and low-return environments significantly increases the range and opportunities for tax-loss harvesting.

Median tax alpha across all scenarios increases by an average of 40 basis points (bps) annually. The proportion attributable to tax-loss harvesting varies, but on average it's three-quarters of the additional benefit.
Simulated tax alpha interquartile range for three tax regimes in varying volatility and market-return scenarios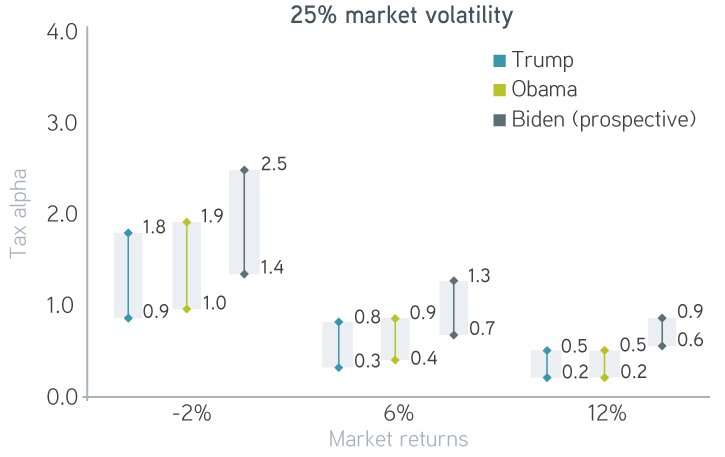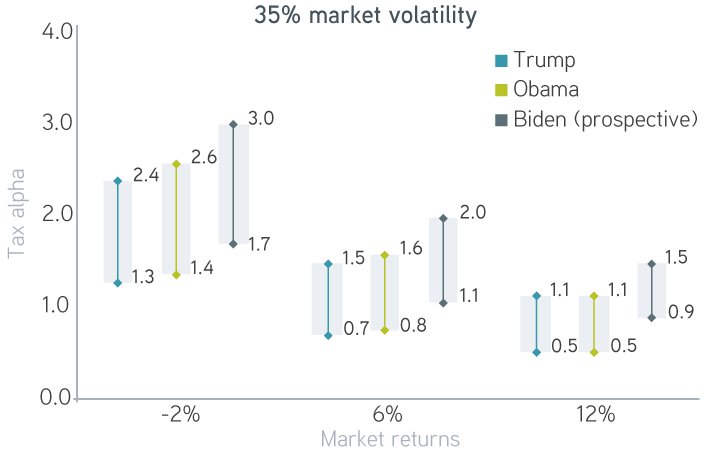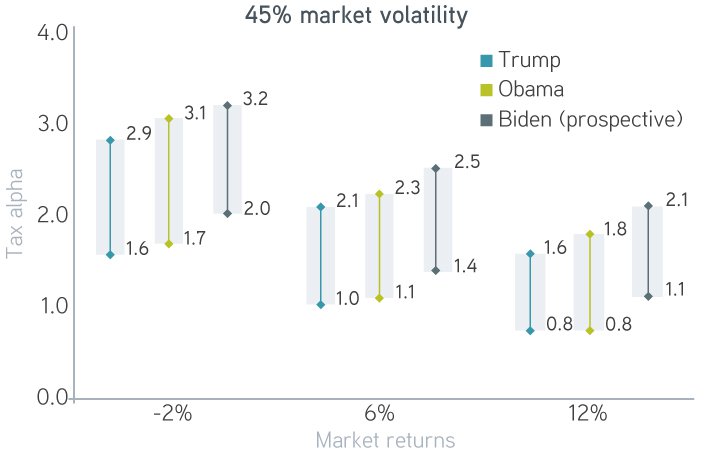 Source: Parametric. This Monte Carlo simulation uses the following assumptions: a dividend return of 2%, index turnover of 5%, and a 10-year time horizon. The simulation is run 10,000 times, and the results shown reflect the interquartile range (25%–75%). Tax alpha is shown net of 35 bps in fees and 10 bps in two-way turnover (10 bps total cost/100% portfolio turnover) transaction costs. After-tax returns reflect all realized taxes in the period and are presented based on the highest marginal federal tax rates and include the 3.8% NIIT. This results in tax rates that vary by tax regime as indicated. We assume that all dividends are qualified and realized gains are taxed as either long term or short term, depending on the holding period, except for the Biden regime, which taxes all dividends at regular income rates. Security volatility varies as indicated, ranging from 25% to 45%. Simulated performance is provided for illustrative purposes. It does not reflect the actual experience of any investors and does not project or estimate the performance of any investment strategy offered by Parametric.
How would Biden's proposed tax policy changes alter investors' decisions?
Many investors in benchmark-tracking SMAs may find that standard approaches to tax-loss harvesting continue to provide an effective balance between tracking error and tax benefit. As a result, most are unlikely to feel a need to alter this approach under a prospective Biden tax regime.
However, others will want to take a more nuanced approach to tax management and slightly alter their strategy. For example, the combination of the higher rates and the loss of preferential treatment for long-term holdings may encourage some to shift to a more aggressive approach to tax-loss harvesting, with a preference for tax management over benchmark tracking as gain deferral becomes increasingly important and the ability to trim overweight positions becomes more costly. An aggressive approach to tax management allows for larger security bounds and ultimately higher predicted tracking error, so investors taking this approach should expect larger pretax benchmark deviations from month to month.
Furthermore, investors may opt to intentionally take gains as a onetime or ongoing strategy. Those at or near the $1 million AGI hurdle, where the loss of preferential treatment kicks in, may opt to opportunistically realize long-term gains in years when they're below the threshold and take a more aggressive tax-management posture when they're over the threshold, constantly monitoring income and revising the approach depending on their income for the year.
Still other investors will be watching the election outcome closely to consider a strategic gain realization in the event of a forthcoming change in administration and subsequent change in tax regime. Since the tax changes won't be implemented overnight, investors can take advantage of the current lower long-term capital gains rates by realizing long-term gains now and reinvesting the proceeds. The refreshing of basis provides more opportunities for losses in the future, which will be more valuable with higher rates and increase the basis of the account. Refreshing basis has the added benefit of lowering the gains and taxes due at death if the step-up is eliminated.
Similarly, we expect this change to increase the amount of charitable gifting for the tax-aware investor. The donation of appreciated assets and the replenishment of the portfolio with cash refreshes cost basis, which both increases future tax alpha expectations and lowers the tax burden at the time of death if step-up is eliminated. The benefits of gifting with cash replenishment are amplified when done in a systematic fashion to regularly remove tax lots at the largest gains and replace with cash.
What about bonds?
Investors in fixed income SMAs should also pay attention to a change of residents in the White House. The municipal market is particularly sensitive to tax rate changes, especially tax increases. For example, starting in 2017, as a result of the TCJA, despite the top bracket being reduced to 37%, high-net-worth investors sought muni bond exposure as a result of the state and local tax (SALT) cap.
Under a Biden presidency, and particularly under Democratic control of Congress, a proposed reversion to the 39.6% income tax bracket for the highest earners could increase demand for municipal bonds, resulting in lower yields and higher prices—thus increasing their value for existing investors. The SALT cap could also be repealed, and this could be a negative for muni investors. However, with the individual tax rate returning to its pre-Trump level, the actual effect on bond prices or yields would likely be negligible.
Another significant change involves Biden's proposal for the corporate tax rate to increase to 28%. This may lead corporations to add some muni exposure. Although the corporate rate isn't as high as it was in the pre-TCJA era, we believe the increase in demand from corporations may result in price appreciation of existing bonds.
Lastly, similar to equity SMAs, fixed income SMAs' ability to tax-loss harvest on a year-round basis will prove to be beneficial for high-tax-bracket investors seeking to offset gains. Biden's proposal for all capital gains to be taxed as ordinary income for those earning more than $1 million may lead these investors to further seek out tax-loss harvesting options.
Under a second Trump term, muni demand will remain high due to the current SALT cap and the low chances of further tax reductions for individuals. However, tax-exempt investors have more to gain under a Biden presidency, since the high likelihood of either an individual or corporate tax rate increase could improve the relative value of their fixed income holdings and increase the demand for tax-exempt investments.
The bottom line
It's important to reiterate that none of what we've discussed above has been enacted into law and that these potential changes are conditional on the election outcome and are subject to the legislative process. Regarding the legislative process, the question arises as to how soon a tax law would be enacted and whether that law would be applied retroactively, as some have in the past. If Democrats end up controlling both houses of Congress, we could see an effective tax regime change in 2021. However, the consensus is that in light of the economic impact of the 2020 health crisis, a significant tax bill would likely take a backseat to COVID-19 recovery and other stimulus. Tax policy changes would take most of next year to complete and would likely have an effective date at the beginning of 2022.
Still, higher overall tax rates and the loss of preferential long-term treatment of capital gains for top earners under a prospective Biden administration would increase the value of tax management for investors in passive SMAs of both the equity and fixed income varieties. Many investors may not need to pivot their approach to tax-managed investing, but, with a near doubling of the long-term capital gains rate, others will be much less willing to realize long-term gains than in previous tax regimes. For these investors, aggressive loss-harvesting mandates, strategic gain realizations, and a regular program of systematic gifting with cash replenishment may be effective ways to manage higher overall tax rates.
With additional contributions from Jeremy Milleson, senior investment strategist.
This material contains simulated performance data, which is hypothetical and should not be relied on for investment decisions. Hypothetical, backtested, or simulated performance results have many inherent limitations. No representation is being made that an investor will or is likely to achieve profits or losses similar to those shown. In fact, there are frequently sharp differences between hypothetical performance results and the actual results subsequently achieved by any particular investment strategy or trading program.