Headlines warning investors of a dividend apocalypse dominate the financial press. Rather than let emotions overrun logic, allow the data to inform the true extent of stressed dividend payers within the context of broad market indexes.
As the second-quarter earnings season moves into the rearview mirror, we can construct the mosaic covering both dividend change frequency and magnitude.
Dividend payer apocalypse?

Sources: FactSet, Parametric, 5/31/2020. For illustrative purposes only. It is not possible to invest directly in an index.
As of May 31, 58 companies in the S&P 500® have suspended or reduced dividend payouts. A common yet superficial treatment focuses on this number to quantify impact: More than 11% of S&P 500® constituents revised cash return plans downward in 2020. Digging deeper, those 58 companies account for only 4.2% of S&P 500® exposure. The much broader Russell 3000 index exhibits similar results. Even in the Russell 1000 Value index, which includes some firms that typically trade at a discount to peers, the proportion of issuers (about 14%) and index exposure (less than 7%) decreasing dividends still doesn't paint a picture of incipient dividend devastation.
The next layer of analysis brings yields—both realized and expected—into focus, linking the impact of dividend suspensions and reductions on portfolio cash flow metrics. A dividend yield based on regular dividend payments and excluding special dividends is more comparable to indicated yields, which omit as-of-yet unannounced special or irregular dividend payments. Differences between trailing and forward yields on the same date lay bare the net impact of all dividend payers at the portfolio level.
Quantifying dividend payout reductions on cash flows

Sources: Bloomberg, Parametric, 5/31/2020. For illustrative purposes only. It is not possible to invest directly in an index.
The difference between regular and indicated dividend yields, both before and after the recent dislocation, paint a similar picture of modestly impacted portfolio cash flows. For the S&P 500®, the indicated yield nearly matches the trailing 12-month yield at both year-end and at the end of May. The Russell 3000's breadth, with increased exposure to relatively smaller and less well-diversified firms, increases the impact modestly. The shock is most acute in already out-of-favor Russell 1000 Value names: At 2.80%, the portfolio's future cash flow is expected to be less than 25 basis points or about 8% less rosy than the 3.04% cash flow over the last year. The chart below illustrates historical cuts over time to highlight timing and dispersion.

Dividend cuts in 2020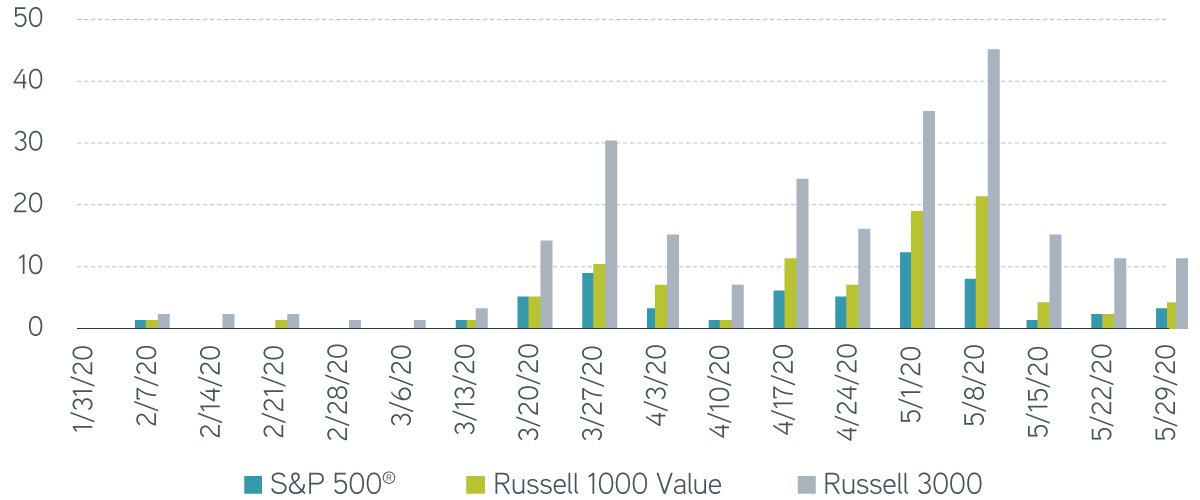 Sources: FactSet, Parametric, 5/31/2020. For illustrative purposes only. It is not possible to invest directly in an index.
Like any other year, 2020 started with a few dividend cuts for firm-specific reasons. Market stresses reached the boiling point during the week of March 16, coinciding with Google trend data showing peak searches for coronavirus happening from March 12 to 16 as firms started to process a real-time stress test of their operations. At the same time, states began to impose restrictions on various levels, including lockdowns and shelter-in-place orders. Some companies, especially those in brick-and-mortar retail and travel, saw revenue disappear overnight as state and local governments forced them to close their doors.
In an odd twist of fate, the timing of the COVID-19 outbreak in America synced up almost perfectly with the regularly scheduled calendar of Q1 earnings calls. Many companies took the liberty to offer up cuts as regular business updates during already-scheduled conference calls. While we can't expect to know the motivation for disseminating information this way, one can speculate that management read the tea leaves and thought the impact of announcing a cut might be buffered if included with routine quarterly updates. Outside of a few big names like Boeing, Macy's, and Carnival preannouncing due to underlying business conditions and external pressures, most companies seemed content to sit back and hope for some form of herd immunity to stock price impact by making cuts during the news-heavy earnings cycle.
The overall impact of announced dividend cuts and suspensions doesn't seem so bad. Cap weighting not only blunts the effect of reductions by smaller constituents; it also enhances the aggregate index results as larger companies—such as Microsoft, Apple, and Johnson & Johnson—raise dividend payouts. Larger companies with diverse and relatively stable revenue streams should naturally be able to weather downturns far better than their smaller peers.
Simply put, the firms comprising over 95% of S&P 500® exposure that are sustaining or growing payouts should make up for the aggregate dividend reductions by the year's end. Although dividend cuts and suspensions are significant firm-level decisions, the impact in context is far lower than one would surmise based purely on headlines—surely disappointing, but not tragic.
In Cap-Weighted Indexes, Don't Be Misled by the Largest Shares
June 1, 2020
by Tom Lee, CFA, Chief Investment Officer, Equities and Derivatives
When investors talk about equity markets, they most often speak in terms of cap-weighted indexes such as the S&P 500® or the Russell 2000. What's often gone unmentioned is the divergence of performance of the individual shares within the index, which we call market breadth. The spotlight is starting to shine more brightly on market breadth as the COVID-19 pandemic sorts out winners and losers. Market breadth has narrowed since the onset of the pandemic, which means a select few stocks are performing well while many are struggling. Opportunities become concentrated in a smaller and smaller cohort of companies, which analysts consider a negative trend.
A May 22 article in Barron's points out that the NASDAQ Composite, which tracks more than 3,000 stocks, is the poster child for narrow market breadth. According to the article, the index's 10 largest stocks by market cap, all of them tech stocks, dominate the index as a whole, pushing the composite up nearly 4% year to date through the May 22 close. However, the typical NASDAQ stock is down almost 19% year to date. Barron's uses data from Bloomberg to calculate a wide difference in valuations resulting from the divergence in returns: The top 10 stocks trade at 29 times their estimated 2021 earnings, while the typical NASDAQ stock trades at 16 times its estimated 2020 earnings. This scenario doesn't come without opportunity for skilled stock pickers who might find value in some less popular and less expensive NASDAQ companies.
The recent focus on market breadth brought me back to a paper published by Hendrik Bessembinder in 2017, provocatively titled "Do Stocks Outperform Treasury Bills?" Bessembinder used data from the Center for Research in Security Prices to measure the lifetime returns for over 25,000 individual stocks that traded between 1926 and 2015. Among his findings:
Only 42.1% of stocks have a holding-period return (based on when shares entered and exited the CRSP database) higher than T-bills.

The median stock trades for just over seven years.

Collectively the stocks studied have created $32 trillion of wealth over the 90-year study period.

Approximately 0.33% of the stocks studied account for half the above wealth creation.

Approximately 3.84% of the stocks studied account for nearly all the above wealth creation.
If these results surprise you, think about a name like Xerox, which was one of the high-flying tech stocks of its time. Today, Xerox has an aggregate market cap below $4 billion—about 0.3% of Microsoft's market cap. For a more recent example of how equity markets can destroy wealth, not just create it, look no further than Warren Buffett's sell-off of Berkshire Hathaway's airline holdings just this month.
Viewed over a long window, markets have never been very broad. There have always been many poor performers and a few diamonds in the rough that really create wealth. Stock pickers have the hard job of finding that small percentage of stocks that drive wealth creation—a challenging task regardless of the market environment. Those of us who can't find the diamonds in the rough are best served by investing in a diversified equity portfolio that hopefully captures some of the fast growers of the future.
Tax-Loss Harvesting During the Pandemic: An Update
May 28, 2020
by Rey Santodomingo, CFA, Managing Director, Investment Strategy, and Andrew Subkoviak, CFA, Senior Investment Strategist
It feels like an eternity ago, but it's been roughly two months since we wrote about a downturn before the market approached bear market territory. A lot has transpired since that time. Markets are posting daily returns that could readily be confused for monthly returns—and monthly returns for annual returns. The first quarter of 2020 was one of the worst in decades. Toward the end of March, drastic monetary and fiscal policy measures eased investor anxiety amid the economic shutdown caused by the pandemic. Despite record numbers of initial unemployment claims and irregularities in oil markets, large-cap US equities swiftly rebounded in April, with the S&P 500® Index returning 12.82%—its best monthly return in more than 30 years.
As swift and stunning as the initial plunge was, it was countered in spirit and magnitude by a partial recovery in April. More than half of March's losses were recovered over the course of April. We previously mentioned that the best parties leave us with the worst hangovers. Was April's recovery a temporary hair of the dog offered up by the Fed—or an enduring signal that the worst has passed? Most investors who chose to stay in equities are surely glad they did after April's returns, but what comes next?
We're sticking to our guns. We believe it's most prudent to continue pausing, taking deep breaths, and keeping four things in mind.
Long-term index returns are the goal
Over the long term, equity markets are expected to deliver a meaningful excess return over less risky investments such as Treasury bonds. In the short term, there will be downturns and there will be volatility. A separately managed account (SMA) can take advantage of this short-term volatility by harvesting tax losses when available and reinvesting the proceeds of these sales to support the objective of long-term equity returns. It's worth also keeping in mind that the loss harvesting one does now in an SMA resets cost basis and sets the portfolio up for more potential tax losses in the future.
This strategy doesn't change in this environment
Since the market peaked on February 19, volatility has spiked and subsided. However, volatility remains elevated due to significant uncertainty with how things will go in the second half of 2020. But that doesn't mean the strategy should change. As the situation continues to evolve, it's important to pay close attention to relative risks by ensuring that security exposure, industry, sector, and fundamental characteristics are monitored closely. This is to ensure that market returns are captured and that cautious, systematic loss harvesting continues. The fundamentals still apply: Since no one can time the market, it's important to maintain full market exposure at all times.
Don't worry about missing out on losses
After an initial loss-harvesting trade, the market may fall further and an investor may notice additional losses in their portfolio. Or they may believe that if a loss isn't harvested immediately, they'll miss the opportunity. Keep in mind that on any given day the losses in a portfolio could either be reduced or continue to deepen. Capturing a loss on one day could result in forgoing a deeper loss if the market continued to fall.
Watch for wash sales
Under its wash-sale rules, the IRS disallows a tax loss if the investor purchases the same security (or equivalent) within 30 days (before or after) of the sale date. As a result, it's typically most efficient to trade accounts when there are no outstanding wash-sale restrictions—on a monthly basis at most. This is one reason SMA investors may see unharvested losses in their portfolios. It usually means the SMA manager is trying to navigate the wash-sale trade restrictions and avoid the risk of nullifying the loss-harvesting benefit.
The bottom line
2020 has thus far been a fruitful period of tax-loss harvesting for equity investors. But the swift recovery in April was a reminder that it's important to maintain equity exposure that closely resembles the underlying target—minding relative risk exposures.
From Parametric's perspective, the period of time since the market peak in February has been the busiest in our history. We harvested losses in client accounts over 90,000 times—representing over 22 million trades—resulting in realized tax losses of more than $7 billion. Using a blended tax rate, we estimate that these tax losses could create a tax benefit of approximately $2.5 billion for our clients—all while maintaining pretax performance.
So while market conditions like the one we're experiencing are stressful for investors, there's still something positive they can do for the long-term health of their SMAs. Loss harvesting allows investors to reap valuable tax benefits while still positioning their portfolios for when markets turn around again—as they did in April.
Will Responsible Investors Be Heard in Virtual Shareholder Meetings?
May 27, 2020
by Gwen Le Berre, Director of Responsible Investing
However, going virtual may have consequences for the 2020 proxy season's annual shareholder meetings. A long-standing tradition is to open the floor to attendees, allowing all shareholders to question executives and express their views. This may be considerably more difficult in our new business environment.
Until COVID-19 forced investment professionals out of their offices, the vast majority of shareholder meetings were held in person. Typically shareholders and senior managers gathered in a room where executives gave updates on their company's strategy and highlighted routine management proposals. At this point in the meeting, shareholder proponents who filed resolutions presented their proposals, followed by a vote and the announcement of the results. Other shareholders present then had a forum to ask additional questions of the board or management.
Faced with the spread of COVID-19, more than 95% of US companies decided to hold virtual shareholder meetings instead. Some companies initially decided to postpone their previously scheduled in-person meetings; most eventually switched to a virtual meeting. The Walt Disney Company's March 11 shareholder meeting was one of the last in-person US shareholder meetings of the 2020 proxy season. Given the uncertainty surrounding the extent of the pandemic, it's possible that virtual shareholder meetings will be a permanent fixture going forward.
Virtual shareholder meetings give investors an easy way to tune in without having to travel to the physical meeting location. Companies can also save money by forgoing various expenses, including venue rental and travel for board members and executives. It also helps some companies open their shareholder meetings to the public. A shareholder can log in to a meeting with a control number allowing them to ask questions; a member of the public can also log in and listen in. Uber's virtual meeting attracted some 400 attendees, about half of whom logged in without a control number.
Virtual meetings also have significant drawbacks—and not just the possibility of technical problems. Critics fear that a company may filter out inconvenient questions and stifle shareholders. For example, some companies require investors to submit questions in writing in advance, which can limit possible discussion topics and interactions between shareholders and managers. These risks aren't lost on the Council of Institutional Investors, which sent a letter to the Securities and Exchange Commission's Investor Advisory Committee highlighting some of the shortcomings of virtual meetings.
For the moment, the impact of the virtual switch on the 2020 meeting agenda has been minimal. Most companies' proposal-filing deadlines had passed by the time COVID-19 became a pandemic. However, if companies continue to hold virtual shareholder meetings after the crisis abates, investors should watch out for efforts to suppress their input. Their scrutiny of how the corporate world responds to the crisis, particularly in terms of employee health and safety, is more important than ever.
Most companies adjusted remarkably fast to virtual shareholder meetings. However, there are some growing pains to address. Shareholders shouldn't have to struggle to log in and have managers answer their questions. Companies should demonstrate transparency by providing a list of all submitted questions. Both shareholders and managers ought to welcome these types of meetings, which would give remote attendees the same ability to participate as they would have had in person.
Cross-Sectional Volatility: A Double-Edged Sword for Investors
May 13, 2020
by Rey Santodomingo, CFA, Managing Director, Investment Strategy
Investors have read a great deal about spiking market volatility and the Cboe Volatility Index (VIX). While these are popular discussion points, there is a lesser-known but valuable volatility measure: cross-sectional volatility or cross vol.
Market volatility measures the day-to-day ups and downs in the overall market. Cross-sectional volatility measures the dispersion of security returns or the extent to which companies' share prices react differently to market events. When all stocks move up or down together, cross vol is lower; when stock prices move in different directions, cross vol is higher.
We pay a lot of attention to cross vol, because it's a signal from the market that there could be good opportunities for tax-loss harvesting. But heightened cross vol can increase tracking error for tax-managed portfolios.
S&P 500® return dispersion

Source: Parametric, 5/1/2020. Cross-sectional volatility measures the dispersion of asset-weighted security returns. For illustrative purposes only. Not a recommendation to buy or sell any security. It is not possible to invest directly in an index..
Amid the COVID-19 pandemic, cross vol has spiked to levels not seen since the 2008 global financial crisis. In March 2020, cross vol hit a 10-year high of 42.36%—more than double the five-year trailing average. Cross vol remained elevated in April at 29.3%. Looking a little deeper, we can attribute the source of the dispersion.
S&P 500® sector performance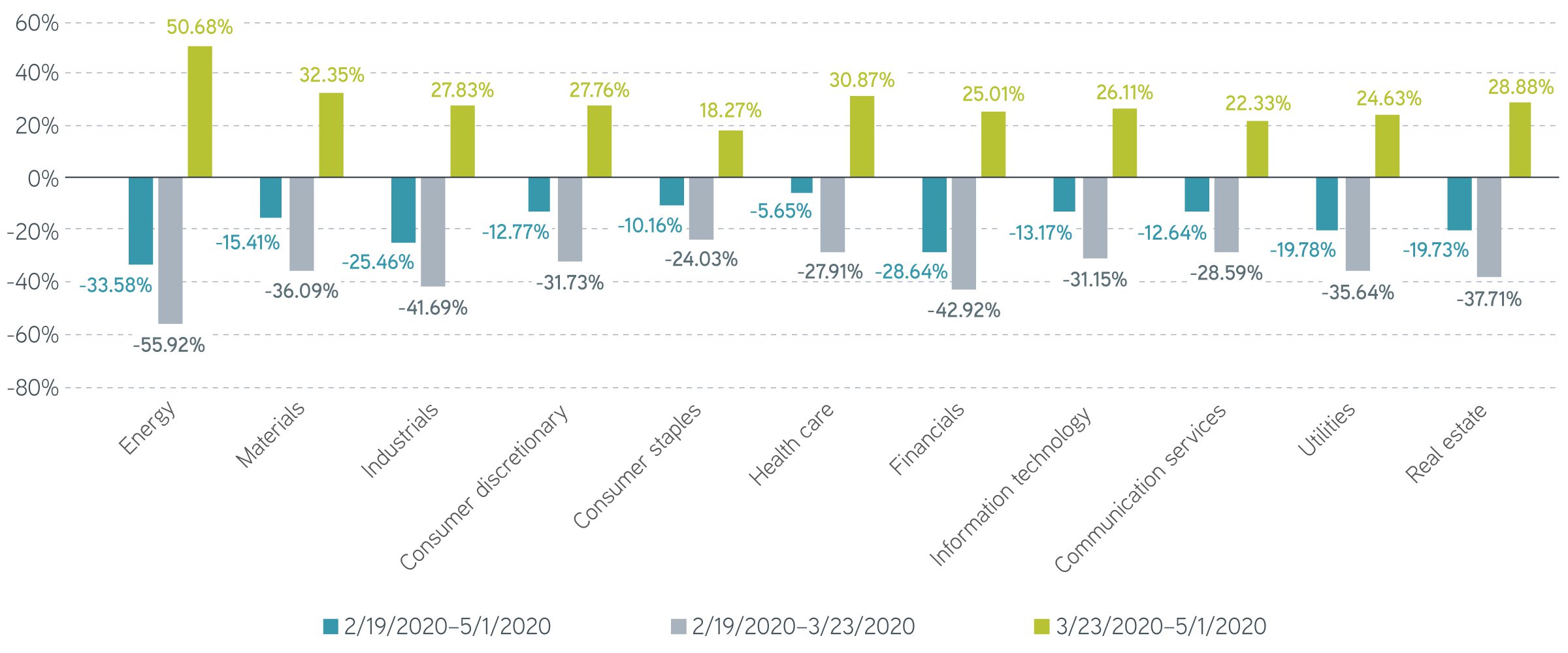 Sources: Parametric, S&P, FactSet, 5/1/2020. For illustrative purposes only. Not a recommendation to buy or sell any security. It is not possible to invest directly in an index.
Returns across different economic sectors throughout the pandemic have been widely dispersed. Health Care and Consumer Staples have fared best, losing only -5.65% and -10.2% respectively. Energy, Financials, and Industrials have fared worst, losing -33.58, -28.64%, and -25.46% respectively. This high cross-sectional volatility points to tax-loss harvesting opportunities within these sectors. However, tax managers must be careful to manage tracking-error risk during periods of high cross vol. While Energy was the biggest loser during the early weeks of the crisis, it also saw the biggest rebound, returning 50.68% after the market bottomed out on March 23. The potential for rebound makes cross vol a double-edged sword: great for tax management but challenging for investors who fear high tracking error.
Can Dividend Income Investors Endure Payout Cuts
May 11, 2020
by Mark Milner, Investment Strategist, and Rey Santodomingo, CFA, Managing Director, Investment Strategy
Established companies have long been judged by dividend distribution as an indicator of fiscal health. Returning cash to shareholders can measure the financial strength and profitability of a going concern. Unfortunately, prevailing market conditions due to the COVID-19 pandemic have led to widespread cuts of dividend payouts. Government-mandated shutdowns and stay-at-home orders have enveloped the well-being of many companies in a cloud of uncertainty.
As interest rates drifted lower since the 2008 financial crisis, investors sought out alternative sources of yield, including dividends. Income-oriented investors may still be able to generate consistent cash flows through dividend income strategies. As of December 31, 2019, more than 80% of the S&P 500® companies paid a dividend—with over half yielding more than 10-year US Treasuries.
In theory, yields on stocks and bonds are similar, but the two are different in practice. A bond's coupon relies on contractually obligated payments from a borrower to a lender. Dividend payments derive from a company's ability and willingness to return excess capital to shareholders. Despite these differences, dividends have been erroneously viewed as a guaranteed payment used to generate a consistent income stream. Companies understand this dynamic and make every effort to maintain and raise their dividend payments to appease investors and signal overall business stability, but payout policies are put under the microscope when times get tough.
Of the many challenges facing investors today, the specter of dividend cuts looms large. Dividend reductions or eliminations have the capacity to reshape the investing landscape. Dozens of companies in the consumer, energy, and real estate segments have suddenly and unexpectedly ended up in precarious financial positions with the recent rash of dividend reductions or eliminations.
Sample of cap-weighted indexes




Sources: Parametric, FactSet, 4/30/20. For illustrative purposes. Indexes are unmanaged. It is not possible to invest directly in an index.
By examining the dividend cuts from the table above, we find that the impact should be considered across an investor's portfolio. As of April 30, 35 members of the S&P 500® have announced cuts or suspensions—with more likely to come. In the context of the S&P 500®, these reductions represent only a few basis points of reduction in regular dividend yield.
These cuts may have disproportionately impacted some equity-income-focused allocations, but a dividend income strategy that can successfully execute a structured rebalance may increase the projected yield. This allocates weight via the rebalancing process while subsequently reducing weight in stocks that have seen excess price appreciation. This process may allow portfolio managers to harvest rebalancing premiums.
Portfolio managers continue to monitor the impact cuts will have on investor cash flows. While many companies have already made the difficult decision to cut dividends, there are three focus areas that may drive future cuts:
Deteriorating financials
The financial health of a company is historically the leading impetus for both positive and negative dividend changes. Despite current market conditions, that sentiment remains true.

Companies forced to shut their doors and forgo revenue will increasingly struggle to return nonexistent cash flows. This may eventually lead to difficult capital allocation decisions.

Many of the most acutely exposed companies have already cut payouts. We expect to see more firms in economically challenged industries follow suit in the near future.
Political and regulatory pressure
Governments and regulatory bodies around the world have asked companies not to pay dividends during the COVID-19 crisis.

The Bank of England and the European Central Bank recommended that banks suspend dividend payments to bolster the capacity to absorb additional losses.

Headline risk and general public perception—in addition to investor perception—may have an outsize role in the decision for companies to maintain or increase dividends.
CARES Act loan recipients
The Department of the Treasury is making direct loans to impacted businesses via its Exchange Stabilization Fund. Part of the loan criteria includes a provision barring stock buybacks or dividend payments. Three categories of business have been authorized to receive payments: passenger air carriers and related businesses, cargo air carriers, and businesses important to maintaining national security. While the first two categories are fairly straightforward, the third is intriguingly ambiguous. A strict interpretation of the wording may imply defense contractors are also prohibited from paying dividends if they receive funds. A more liberal lens may apply the provision to food producers and suppliers, utilities, telecommunications providers, and businesses in the health care universe. The potential impact is vast and unknowable at the moment. Given the other strings attached—including those around executive compensation—firms may be hesitant to take CARES Act loans. Sudden shifts in the commercial landscape or investor risk preferences—like those witnessed in the last eight weeks—may drive holdout executives to prioritize survival over all else.
While the prospect of further dividend cuts and suspensions is certainly worth monitoring, the aggregate market impact has yet to cause a seismic shift in income-oriented investing. That said, those that maintain tax-aware, equal-weighted dividend income portfolios, and systematically rebalance them, may be able to reduce their risk. This will help investors take advantage of the opportunities, no matter the market conditions.
The Size and Speed of a US Recovery May Depend on Consumers
May 4, 2020
by Tom Lee, CFA, Chief Investment Officer, Equities and Derivatives
Two subjects are top of mind for all investors: the severity of the US economic slowdown and how long it will take to recover. There's no easy way to predict either with any certainty. But we can provide some insight into what form the economic recovery may take.
Let's start by looking at where things stand today. The federal government announced on April 29 that GDP shrank by 4.8% on an annualized basis—larger than most prior estimates and the biggest recorded drop in GDP since Q4 2008. What makes this announcement concerning are the warnings from economists that Q1 is just the warm-up act for the much larger drop predicted for Q2. The New York Fed produces a nowcast that uses a wide range of economic data inputs as they become available. This model estimates that Q2's GDP is expected to come in around -8%.
Quarterly real GDP growth (annualized)

Source: Federal Reserve Bank of St. Louis, 5/1/2020
Bear in mind that the New York Fed's nowcast is not a forecast; it takes economic data into account only when it's released. Given the severity of the exogenous shock hitting the broader US economy, it's fully expected that this nowcast estimate will deteriorate in the coming months. The Conference Board, a business membership organization that publishes a number of popular economic indicators, forecasts a decline in real GDP in Q2 by 33%. In other words, the drop will be sharp. That outcome seems to be a foregone conclusion.
The next question to consider is how long we should expect to wait for a recovery. In statistical terms, the possibilities include but aren't limited to the following:
Quick V-shaped recovery (three to six months)

Longer U-shaped recovery (six to 18 months)

Medium-term L-shaped recovery (two to three years)

Longer-term L-shaped recovery (five to 10 years)
There's little that we can monitor to give us insight into how any recovery will unfold. However, the best indicators will focus on consumer behavior. As the St. Louis Fed points out, the US economy is consumer driven, with two-thirds of the economy's growth attributable to personal consumption. The actions of the consumer—such as a willingness and ability to return to shopping malls, restaurants, hotels, and event venues—will be key to determining how long the US economic contraction will last.
China is ahead of the US in terms of its progression through the pandemic. If we use Chinese consumer behavior as an indicator, it's unlikely that US citizens will be in any rush to return to a more normal consumption pattern soon. This outcome dovetails well with comments from several Fed officials earlier this month predicting that recovery is unlikely to come quickly. It also explains why the Fed spent the past month cutting interest rates to near zero and rolling out unprecedented lending support.
However, aggressive monetary action from the Fed and fiscal action from the government may change consumer behavior in the US. The US has been one of the world leaders in implementing stimulus measures, far ahead of countries like China. That stimulus could give consumers the confidence to go out and spend. Paying close attention to how quickly this happens will provide some insight into how long the economy will take to recover.
Pandemic stimulus response by country






Source: International Monetary Fund, 4/27/2020
Tax Return Deadline Extension and After Tax Returns
April 20, 2020
by Rey Santodomingo, CFA, Managing Director, Investment Strategy
Investors who missed filing their tax returns on April 15 were no doubt relieved to hear that the IRS extended the deadline to July 15. The extension was announced on March 17 amid growing concerns over the COVID-19 pandemic, which sent the market into a free fall less than a month after hitting its peak on February 19.
Filing taxes has become an increasingly complicated endeavor. We're thankful for the extra time everyone has to file their tax returns this year. However, filing season reminds us of the unfortunate disconnect between reported investment returns and tax costs. Investment manager quarterly performance reports reflect the price changes of securities held during a period, but they don't show the tax costs of the trades made in the account. Each sale of a security creates a realized capital gain or loss and an associated tax cost or benefit.
It's often not until the end of the year—when investors have a chance to view their year-end tax return statement—that the capital gains tax comes to light. At this point it can be difficult to attribute the capital gains tax to the investment strategy or manager triggering those costs. Parametric bridges the gap between the investment return and the tax return by calculating after-tax investment returns. This reflects the price changes of securities held and the tax costs and benefits associated with our portfolio management.
The July 15 extension gives us more time to prepare our tax returns, but it also provides the potential to postpone the consideration of taxes in our investments. After-tax returns are important to consider because taxes—which are similar to fees—introduce a drag on investment returns. While investment managers report all pretax returns, we're among the few reporting after-tax returns. Measuring and monitoring these costs help investors mitigate the same costs in the future.
Spelling Out the Fed's COVID-19 Support Programs
April 20, 2020
by Tom Lee, CFA, Chief Investment Officer, Equities and Derivatives
The Coronavirus Aid, Relief, and Economic Security Act—better known as the CARES Act—passed Congress on March 25 and continues to make news inside and outside the financial industry. Less attention has gone to the nine different lending facilities that the Fed has rolled out in recent weeks, with a total investment of $215 billion. It's important for investors to understand the purpose of these lending facilities, which together have the capacity to contribute $2.3 trillion in support to the $21 trillion US economy. We've prepared a guide to navigate the alphabet soup of acronyms used to reference these lending programs.
Primary Market Corporate Credit Facilities (PMCCF)
Treasury investment: $50 billion
Implied leverage: 10X
Maximum leveraged capacity: $500 billion
Summary: The Fed purchases investment-grade and high-yield bonds, including fixed income ETFs, fallen angels, and syndicated loans. The goal is to support credit flow to companies that might otherwise be cut off from capital markets. The PMCCF equates to roughly 8% of the USD-denominated investment-grade and high-yield markets.
Secondary Market Corporate Credit Facilities (SMCCF)
Treasury investment: $25 billion
Implied leverage: 10X
Maximum leveraged capacity: $250 billion
Summary: The Fed purchases investment-grade and high-yield bonds, including fixed income ETFs, fallen angels, and syndicated loans. The goal is to support credit flow to companies that might otherwise be cut off from capital markets. The SMCCF equates to roughly 4% of the USD-denominated investment-grade and high-yield markets.
Main Street New Loan and Main Street Expanded Loan Facilities (MSNLF and MSELF)
Treasury investment: $75 billion
Implied leverage: 8X
Maximum leveraged capacity: $600 billion
Summary: These facilities work in unison as a single program for public-private partnerships between banks and the Fed. The banks make loans to small and medium-sized businesses. The Fed defines these companies as having up to 10,000 employees or $2.5 billion in 2019 revenues. The Fed has 95% participation in the loan, while the lender retains 5%. Loans will range between $1 million and $25 million and have a four-year borrowing term.
Municipal Liquidity Facility (MLF)
Treasury investment: $35 billion
Implied leverage: 14X
Maximum leveraged capacity: $500 billion
Summary: The Fed purchases short-term municipal paper directly from individual states, the District of Columbia, cities with a population greater than one million, or counties with a population greater than two million. State issuers may use the proceeds to support local cities and counties. The goal of this program is to facilitate lending to large public entities in the municipal market that can then lend to others. To put the size of this program in perspective, there was approximately $4 trillion in muni issuance for the 12 months ending in February 2020.
Paycheck Protection Program Liquidity Facility (PPPLF)
Treasury investment: Not applicable
Implied leverage: Not applicable
Maximum leveraged capacity: $350 billion
Summary: The Fed matches funds to banks taking Paycheck Protection Program loans as collateral.
Term Asset-Backed Securities Loan Facility (TALF)
Treasury investment: $10 billion
Implied leverage: 10X
Maximum leveraged capacity: $100 billion
Summary: The Fed purchases securities backed by student loans, auto loans, credit card loans, Small Business Administration loans, and other assets issued on or after March 23. US companies with eligible asset-backed securities (ABS) and a primary dealership relationship may borrow from the facility in exchange for ABS collateral.
Primary Dealer Credit Facility (PDCF)
Treasury investment: Not applicable
Implied leverage: Not applicable
Maximum leveraged capacity: Not applicable
Summary: The Fed provides credit to primary dealers in exchange for a broad list of collateral-for-term funding for a maximum of 90 days.
Money Market Mutual Fund Liquidity Facility (MMLF)
Treasury investment: $10 billion
Implied leverage: Not applicable
Maximum leveraged capacity: Not applicable
Summary: The Fed provides additional liquidity to money funds by lending to banks against short-term (12 months or less) collateral purchased from prime money funds, single-state funds, or other money funds. This facility seeks to reduce pressure on dealer balance sheets by funds seeking to meet redemptions from money-market share purchases.
Commercial Paper Funding Facility (CPFF)
Treasury investment: $10 billion
Implied leverage: Not applicable
Maximum leveraged capacity: Not applicable
Summary: This facility is designed to complement the MMLF. The Fed will directly purchase three-month USD-denominated commercial paper at a spread over the three-month overnight index swap rate plus 110 basis points. It's important to note that there are no strings attached—such as a requirement to cut dividends—for the issuer to tap this facility.
A March Collapse and an April Surge: Which Produced Stronger Volatility?
April 16, 2020
by Michael Zaslavsky, CFA, CAIA, Senior Investment Strategist
In the past two months, investors have witnessed both the fastest decline and the fastest rise in the S&P 500® since the Great Depression. From its peak level on February 19 through the trough of March 23, the index fell 34% in 23 business days. Through April 14 the index shot up 27% in just 15 business days. To put this into perspective, the largest movements over the same lengths of time during the 2008 financial crisis were, respectively, -28.5% downward and 22% upward.
Coincidentally, both the March 23 collapse and the April 14 surge registered annualized volatility of approximately 110% over their respective periods. Yet reactions in the financial insurance markets, which are proxied by the Cboe Volatility Index (VIX), painted a different picture: The VIX settled at 61.6 during the March 23 collapse but a significantly lower 37.0 during the April 14 surge. We can begin to understand this divergence by looking at shorter-term volatility measures. I mentioned in my March 2 update that while past isn't always prologue, recent market gyrations are generally the best data with which to make short-term predictions.
In terms of equal-weighted trailing one-month realized volatility for the two dates in consideration, we get 88% on March 23 and 76% on April 14. All trailing realized volatility metrics, unless otherwise noted, assume an equal weighting to the daily moves that are included in the sample set. Our standard one-month trailing realized volatility metric includes in the formula an equal weighting to the most recent 21-day trading period. Think of this as a simple average.
In its subjective estimate of forward-looking volatility, the financial insurance market intuitively places a greater emphasis on the most recent data points. For an option market maker, the final five days in our 21-day example might be most relevant. To respect this empirical sensitivity appropriately, we can evaluate what's known as exponentially weighted realized volatility in the one-month period. In essence, this backward-looking metric places the greatest emphasis on the most recent data point in the period and has an exponentially declining weight on the prior data points. We measure the degree of deemphasis with a metric known as lambda, which is 0.94 in our estimate.
Given this definition, let's see how the refined weighting scheme changes the realized volatility measure. For the March 23 collapse, we see trailing one-month realized volatility of 93%, up five percentage points from the equal-weighted measure. For the April 14 surge, we see trailing one-month realized volatility of 66%, down 10 percentage points from the equal-weighted measure. Therefore we can say that volatility was accelerating in March but is decelerating now. While the absolute moves we described earlier produced identical annualized volatilities of 110%, the daily granularity-based metrics paint a different picture.
It's no surprise that we've seen the volatility markets play out the way they have when we consider the inducement of unprecedented fiscal and monetary stimulus. What's left to be seen in the future is if that stimulus has a bite that lasts—a bite that can overcome the bearish pressures of a real economy shrinking at a pace never before seen in history. Those pressures will likely keep a floor below volatility at these recent levels.
Risk-On: Agile and Responsive Exposure Management Through Overlay Services
April 16, 2020
by Dan Wamre, CFA, Senior Portfolio Manager
The COVID-19 pandemic wreaked havoc on virtually all markets last month. But some institutional investors are starting to think about market recovery and the implications of how their funds are currently structured. Once investors have decided that markets are safe for reentry, many will look to gain exposure to underweighted asset classes as quickly as possible. Using overlay services can help these investors respond more quickly to opportunities created by market recovery.
As the pandemic curve continues to flatten, the race to develop a COVID-19 vaccine continues in earnest. As Americans begin to receive stimulus checks, the Federal Reserve and the US Treasury are both taking steps to ensure economic recovery. The markets have reacted favorably to all these changes in the past few weeks, and talks of recovery foretell a light at the end of the tunnel. We can see this in the actions of institutional investors as they look to rebalance out of fixed income and into equity, increase equity allocations going forward, and entertain the use of leverage to increase their exposure to equities. Overlay strategies can help institutional investors with each of these actions by providing tools for rebalancing, moving to new asset allocation targets, and adding leverage to a portfolio.
An overlay program can effectively implement rebalancing trades, which reduce asset class overweights and add exposure to underweighted asset classes. Investors who want to increase allocations to equity can do so quickly and efficiently through an overlay. This gives them the ability to wait until opportunities arise for trading physical assets in their portfolio. Finally, the capital efficiency of futures and swaps used in an overlay program allows investors to easily express a view of the markets by applying leverage. This can add an increased expected return to portfolios by opportunistically taking advantage of recovering markets.
The recent extreme market environment has presented challenges to institutional investors that are unprecedented. Though talk of recovery may feel a bit premature, investors will want to be positioned to participate when it comes to fruition. An overlay program provides the tools necessary to help investors reenter the markets in an agile and responsive manner.
Trading Through Hardships Provides Opportunity for Systematic Income Strategies
April 13, 2020
by Alex Paulsen, Director of Research
Fiscal and monetary intervention—in addition to the surprising benefits of social distancing measures—have led to improved market sentiment. The change in tide during early April has contributed to dramatic reversals in some of the segments that were impacted by March's COVID-19-induced downturn. As closed-end funds (CEFs) and dividend-paying firms assess the path ahead, payout policies are being revised. The ensuing shifts in investor composition create unique opportunities for systematic strategies.
The healing process is underway for CEF investors, but recovery is still in progress for holdings that fell from February's high-water mark. As total distribution levels per share continue to get revised downward, some fund sponsors are adjusting to the expectation of lower returns. Mechanical distribution policies seeking fixed-percentage levels are also adjusting to new and lower prices amid the revision.
April brought the first wave of sponsors announcing CEF distribution cuts. These cuts may help inform expectations for future CEF payouts, but not all funds will make concurrent cuts. Additionally, not all investors will respond consistently to the cuts. This presents opportunities for the Parametric Enhanced Income strategies to add value through diversification, shock mitigation, and capturing incremental value by trading systematically through the wreckage. As a reminder, augmented CEF distribution policies don't change the fundamental value of the underlying net assets, but they do attenuate the speed of value transmissions to end investors from inside the fund.
For Parametric's Dividend Income Strategy, systematic diversification and rebalancing proved to be a prescient response to recent volatility. Our approach systematically rebalances to equally weight economic sectors and durable dividend payers in each sector. This equally weighted approach acknowledges that all dividend-paying firms face a unique risk associated with dividend policy adjustments. Unfortunately, many of the most consistent dividend payers have little or no dividend cut history to estimate impact or probability. This specific risk is even more impactful when markets are fluid and under incredible stress. Equal weighting offers a robust risk containment strategy to an unknowable future shock.
The speed and impact of COVID-19 sent firms the world over through an extreme stress test. Conserving cash flow may ultimately prove a prudent response to the unknown. Short-term fears have driven incredible price realizations. The periodic, emotionless rebalancing of the Dividend Income Strategy at quarter-end mechanically reinforced the equally weighted targets, creating a bias to sell down less impacted firms and to buy more impacted firms.
From an income perspective, a conservative estimate of projected strategy yield went from under 3.7% on March 30 to over 4.2% after rebalancing—a surge of over 40 basis points. The recent rebalance is shaping up to be a tailwind to projected cash-flow strategies despite the market backdrop of dividend omissions and reductions.
As markets continue to improve, payout headwinds can pivot to tailwinds if the feared structural damage turns out to be less impactful. Elements of a quick recovery may have improved market sentiment, but spells of volatility are likely far from over. Systematically trading through rough waters has been an evergreen source of opportunity but not without periods of discomfort. The longer it takes to return to some semblance of normality, the more opportunity Parametric has to add value to portfolios.
Is the Oil Plunge Good News for Responsible Investors?
April 9, 2020
by Jennifer Sireklove, CFA, Managing Director, Investment Strategy
Responsible investors and the fossil fuel industry have a contentious relationship. Some investors outright object to the industry's end product; other investors are concerned about the way they conduct business, from labor conditions and worker safety to human rights and ethics in their global operations. Either way, many ESG-aware portfolios tend to have an underweight to energy companies and have benefited from the plunge in oil prices during the first quarter. Although this is a much-needed glimmer of good news for some investors, we'd be cautious of banking on this trend for the long run.
The price of West Texas Intermediate (WTI) crude fell a breathtaking 65% in the first quarter. Although prices have bounced back somewhat since the end of March, they're still off by about 60% from where they entered the year, making this one of oil's steepest and fastest declines in the last two decades. The price war between Russia and Saudi Arabia was a contributing factor; however, far more consequential was the truly unprecedented drop in demand. By some estimates, with significant portions of the global population on lockdown and the entire airline industry at a standstill, global demand has fallen by 20% in the space of a month. Without commensurate reductions in supply, a sharp reduction in the market-clearing price is the natural consequence.
However, once the COVID-19 pandemic is brought under control and economic activity normalizes, it seems hard to imagine we won't see some rebound in oil prices. We can't know by when or how much, but prices can rise as abruptly as they can fall. What we find remarkable in our own research is how quickly the effects of oil price gyrations can dissipate in a fossil-free portfolio over the longer term, for better or for worse. Over periods of three to five years, the returns of a fossil-free portfolio and a portfolio fully invested in energy companies tend to be completely indistinguishable, with deviations in the underlying commodity price offsetting one another.
But what if demand remains subdued and lower oil prices are here to stay? If economies adjust to prolonged lockdowns and businesses are forced to embrace remote and virtual work, some of these adjustments might stick, which could reshape long-term demand for fossil fuels. However, this could also actually work against a green energy transition to some extent. Abrupt declines in oil prices can make carbon-based energy products more competitive against renewable energy production. Furthermore, to the extent that oil and gas companies can play a role in investing in renewables, this might become harder if their balance sheets come under pressure. This doesn't mean that there aren't creative ways to continue to decrease humanity's reliance on fossil fuels—only that low oil prices actually do those efforts no favors.
In our view, the longer-term trend toward recognition of climate change as a serious matter and the role of investors in helping to address it remains in place. However, investors should be aware that the recent gyrations in energy stock prices could be driven by more short-lived demand destruction. Even longer-term demand destruction might produce some anticipated bumps in the road to progress. We'll be watching these trends closely.
How Fair-Value Pricing Affects Mutual Fund Returns
April 9, 2020
by Greg Liebl, CFA, Senior Investment Strategist
When uncertainty creeps into financial markets, a common outcome is that daily swings in stock prices become much greater as investors react to their best estimate of what the future might look like. One strange outcome of the uncertainty caused by the COVID-19 pandemic can be seen in emerging market mutual funds.

Passive funds that are registered in the US but own emerging market stocks can experience large deviations in their daily return versus the benchmark they track. We saw this in March, when daily returns for the Vanguard Emerging Markets Stock Index Fund (VEIEX) began deviating more widely from its benchmark as volatility picked up. These are curious results, since the index fund is merely a passive representation of the benchmark. A logical conclusion might be that something has clearly gone wrong in that process.


Excess return of Vanguard Emerging Markets Stock Index Fund vs. benchmark




Sources: Vanguard, FTSE Russell, Bloomberg, 4/3/2020
In reality, these larger-than-expected divergences are more likely to be driven by a common adjustment for mutual funds called fair-value pricing. Mutual funds registered in the US are required by the Securities and Exchange Commission to address pricing differences that may arise from the various time zones of global equity markets. Foreign equities included in the fund may trade on an exchange that closes before the close of trading in the US, when a mutual fund's net asset value (NAV), or closing price, is calculated. During the period of time between when the foreign market closes and the US market closes, the price of a foreign security may change, possibly due to company-specific information or market-wide events. All mutual funds registered in the US are subject to these rules, whether they're passively or actively managed.
Fair-value pricing incorporates these changes into the fund's daily NAV to ensure the most accurate price for each security is reflected. This can result in a temporary deviation between the fund's daily return and the benchmark's daily return, which we'd expect to normalize when the foreign market opens for trading. When markets become more volatile, it's not uncommon for the daily fair-value pricing adjustment to become more volatile itself. Wild swings in US markets that take place after many foreign markets have closed can exacerbate the adjustments a fund has to make. This relationship can be viewed in the below graph, which plots the daily US market returns for 2020, proxied by the S&P 500®, on the x-axis and the corresponding difference in daily returns for VEIEX and its benchmark, a proxy for the fair-value pricing adjustment, on the y-axis. It appears that greater daily swings in the S&P 500® were associated with a greater deviation between the index fund and its benchmark.
S&P 500® daily return and daily excess return of VEIEX vs. benchmark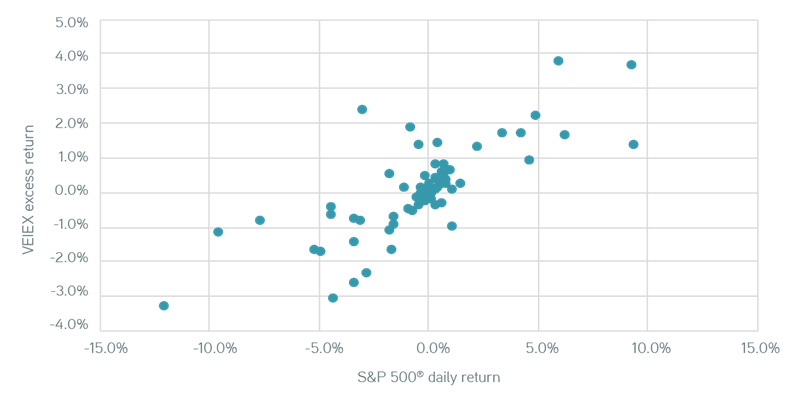 Sources: Vanguard, FTSE Russell, S&P Dow Jones, Bloomberg, 4/3/2020

As volatility has picked up in response to the many unknowns of the coronavirus, so too has the dispersion of the daily fair-value pricing adjustment that many mutual funds are forced to make. Be assured that this isn't an indication of anything unusual. It's a routine way of ensuring that the most up-to-date information is incorporated into each security's pricing.
China Shows Surprising Resilience, but Will It Last?
April 2, 2020
by Jennifer Sireklove, CFA, Managing Director, Investment Strategy
One of the more surprising aspects of the global stock market sell-off amid the COVID-19 pandemic has been the relative strength of Chinese equities. Year to date through March 27, MSCI's China Index, which is made up of Chinese companies in the flagship MSCI Emerging Markets Index, was down only 11%, making it the best-performing country in the index and one of the best-performing countries in the world. The MSCI Emerging Markets Index ex-China was down about 31% over this same period. In developed markets, the MSCI EAFE® and the S&P 500® were each down more than 20%.
By many measures, China's onshore market has held up even better, where declines have been limited to single digits for both the Shanghai and Shenzhen Composite Indexes, the two main trading bourses for A-share companies. Some market participants have pointed to the unusual trading dynamics in that market, where retail investors make up about 80% of trading activity, as a possible source for the recent buoyancy. The theory goes that millions of would-be workers have been stuck at home to fight the spread of the virus, and with nothing else to do, they may be buying stocks.
This level of outperformance would be notable for any country in this environment, but it's especially unexpected from the country that was at the epicenter of the current pandemic. That's not to say that Chinese equities have been immune to the anxiety-inducing price drops that the coronavirus has inflicted on markets around the globe, which local participants experienced firsthand following the reopening of trading on February 3 after the extended Lunar New Year break. Markets opened down over 9% that morning but went on to trade higher throughout the remainder of the day. Rather, what's been most striking is that that's the worst it's been. While other markets have seen precipitous drops in reaction to the virus's lethal combination of infectiousness and deadliness, and the necessity of a near-halt to economic activity, Chinese equities have held relatively steady, even rebounding throughout February and early March.
Although it appears the stringent lockdown of Wuhan and the surrounding Hubei province proved effective in limiting the spread of the virus, it seems hard to consider China completely out of the woods just yet. Like all countries, it faces the possibility of a second wave of reinfection. But this is potentially compounded for China by what appears to be a continued reluctance to officially acknowledge new cases of the virus and a demonstrated prior tendency to excoriate anyone who raises alarm. Furthermore, as the rest of the world works to halt the pandemic and shuts down large parts of their economies, demand for products made in China may also be on the wane.
While it's hopeful to see countries begin to slow the trajectory of new coronavirus cases, a real stop to the pandemic and an economic rebound seem to rest on faster and more widespread testing, which is still forthcoming. Heightened uncertainty seems likely to dominate until then. We continue to believe that diversifying across countries, sectors, and market caps, combined with a disciplined rebalancing process, is the best way to manage these risks.
COVID-19 Market Volatility Elevates ADR Spreads Around the World
March 30, 2020
by Rey Santodomingo, CFA, Managing Director, Investment Strategy, and Andrew Subkoviak, CFA, Senior Investment Strategist
The bid-ask spread—defined as the price at which a market maker will offer a security to a buyer minus what they'll accept from a seller—is an unavoidable component of an investor's transaction costs. This is true of all securities in all markets. Over the years as markets have evolved, trading has become easier and volumes have increased, resulting in a long-term trend of narrowing spreads that effectively lower transaction costs for investors. But as global volatility has increased due to the COVID-19 crisis, so have spreads. For American Depository Receipts (ADRs) alone, they've climbed four to five times higher than normal in Asia and twice as high in Europe and the Americas, by some estimates.
ADRs are securities that provide US-based investors with relatively easy access to foreign equity markets. Direct investment in foreign stocks typically requires registration in each market. Due to the costs—and, in some cases, higher information disclosure requirements—this isn't an option for most investors. ADRs provide a convenient alternative and have become a popular method to gain international exposure at the individual security level. However, these securities often incur higher trading costs and offer less liquidity than other US equities.
The size of an ADR's spread is related to the degree to which an ADR's home country market hours overlap with US market hours. In Asia, where there's no overlap with US markets, spreads are highest, historically averaging 40 to 50 basis points (bps). Average spreads in Europe (20 to 25 bps) and the Americas (10 to 20 bps) are historically lower. Amid the sharp daily and intraday swings associated with the COVID-19 crisis, market makers need to protect themselves by increasing the spreads at which they offer transactions.
Market makers often hedge this risk by short-selling securities to offset the exposure. Unfortunately, in response to current volatility, some foreign markets have instituted temporary restrictions on short sales, forcing market makers to increase spreads to compensate. As long as investor anxiety is high, we can expect these elevated spreads to persist.
Parametric manages many accounts for clients using ADRs to gain exposure to international markets. Access to the individual securities allows us to manage sector and country risk exposures carefully while providing customization and tax benefits through tax-loss harvesting. We have over 20 years of experience monitoring the spreads and costs of these markets and incorporating this data into our trading decisions.
During this period of heightened volatility, investors are still generally able to execute ADR transactions. However, due to the recent spike in spreads, it's important to think carefully about the resulting costs of large contributions or redemptions.
COVID-19 Revaluation Rocks Volatility Markets
March 30, 2020
by Michael Zaslavsky, CFA, CAIA, Senior Investment Strategist
In the last four weeks, we've seen a chaotic revaluation of risk assets. The 12.9% equity market sell-off on March 16 was the third-largest ever, behind only Black Monday of 1987 and the Great Depression of 1929. On the same day, the VIX® surged 25 points, the largest financial insurance repricing in history, as markets digested the possibility of GDP contracting 30% quarter-over-quarter and unemployment hitting 30%. Against that backdrop, liquidity dried up as many leveraged volatility exposures were forced to cover at the worst possible time.
Making things more difficult is the fact that banks have never been more regulated. After big banks were crucified over the 2008 financial crisis, global regulators were given a mandate to prevent any future bank bailouts. As a result, banks are unable to provide endless liquidity and market-making when every single buyer becomes a seller on short order. Meanwhile, rising transaction costs have made US Treasuries almost untradable.
We believe it's more crucial than ever to remain disciplined. The storm that we face today is scary, and the waves ahead look absolutely destructive. But we believe investors are able to earn a volatility risk premium, which measures implied versus realized volatility, precisely because the storm is scary. There's nothing to gain from watching each and every single wave approach and pass. Rather, there's so much to potentially gain from allowing the process to unfold naturally.
Our construction process has weathered the storm and stands to benefit as the repricing of financial insurance continues. We credit such strength to our diversification in option types (calls and puts), strikes (probability targeting), and entry and exit (calendar exposure). Our process targets options that have a fixed probability of expiring without a liability. This feature leads to an automatic safety margin adjustment in reaction to changing market regimes. We believe the forward-looking opportunity set has never been stronger. Premium collection has surged to five times the long-term average, and strikes have grown as wide as -18% to the downside on the S&P 500® and 16% to the upside. As a result, our current targeted option breakeven corridor is extremely wide.
There have been numerous headlines describing the collapse and liquidation of funds that were once touted as best of breed in the volatility space. The nature of short volatility is the generation of small, steady gains while bearing the potential risk of large but rare drawdowns. For this specific reason, we emphasize the importance of avoiding leverage through liquid collateralization when implementing under- and overwriting strategies.
Uncertainty begets volatility, and volatility begets further uncertainty. As this vicious cycle continues, we advise clients to capitalize on the opportunity to harvest premiums from the provision of financial insurance. At its core, the sale of volatility through options implicitly provides liquidity. That embedded liquidity is most valuable in a market that desperately lacks it.
Emerging Market Investors Grab Greenbacks and Bet on China
March 26, 2020
by Greg Liebl, CFA, Senior Investment Strategist
Much like their developed peers, emerging market equities have seen a sizable drawdown over the past two months as investors grapple with the global effects of COVID-19. The MSCI Emerging Markets Index has fallen roughly 30% from its January 17 peak, easily putting it into bear-market territory and wiping out gains accumulated over the past three years. Foreign investors have yanked $80 billion from emerging market countries in less than two months, topping outflows seen during the global financial crisis.
This flight to safety has caused a massive grab for US dollars. The Bloomberg Dollar Index, which measures the greenback against a basket of global currencies, increased abruptly over the last two weeks, hitting record levels on March 20. Its strength is causing major headaches for the many emerging market companies and governments that borrow in USD, effectively raising their borrowing costs and leaving them desperately searching for dollars to repay their debts. The US Federal Reserve has opened up temporary dollar swap lines to provide liquidity for foreign central banks.
Equity markets are forward-looking by design, which largely explains the somewhat muted response we saw to the initial COVID-19 outbreak in China. The assumption at the time was that the virus would be a temporary hit to Asian economic growth but wouldn't travel outside the region. As it became clear how wrong that assessment was, we've seen markets reprice lower in fear of the unknowns. It's hard to see volatility softening until we get a clear signal that the virus is coming under control.
In environments like this, it's hard to stop emotions from controlling trading decisions, whether from overestimating one's ability to time the market or simply being overcome by panic. Instead we look to harness this volatility through predefined rebalancing thresholds that trim capital from today's outperformers and redeploy it to areas of the market with the greatest room to run in the future. We're seeing more opportunities to do this as each country reacts to COVID-19 in its own way, causing dispersion among local equity market returns.
One place to watch will be China, where equities have actually held up better than most. Investors are betting on a V-shaped recovery owing to the quick actions of the Chinese government. To the extent we see some glimpses of normalcy returning to the Chinese economy and an indication that large-scale quarantines can pay off, we could see more broad support return to the global market.
Time for Plan Sponsors to Recalibrate Their Hedging Strategy
March 26, 2020
by David Phillips, CFA, Director, Liability Driven Investment Strategies
Two main components contribute to changes in pension liabilities: credit spreads and Treasury rates. The relationship between these components may confuse investors in volatile periods. The impact of the COVID-19 pandemic illustrates that confusion.
Amid high volatility in equity markets, credit spreads and treasury rates are moving in opposite directions, with 10-year rates falling 1% and spreads widening approximately twice as much. Since the end of 2019, yields from AAA to A have resulted in liabilities dropping approximately 10%. During this same period, Treasury rates alone would have pushed liabilities roughly 10% higher—but spread movements alone would have pushed liabilities 20% lower. The result is a net decline of 10% but a 30% back-and-forth swing in liabilities on a gross basis.
It's worth looking at the asset portfolio in the same context: credit spreads and treasury rates, particularly equities. In times when credit spreads have widened or narrowed materially, equities have returned large negative and positive returns, respectively. The same is true now: Equities have returned about -30% since the beginning of the year. Taken a step further, as liabilities have fallen with widening spreads, assets have fallen as much or more, depending on the size of the investor's equity allocation. Any additional credit spread allocation in the fixed income portfolio only makes things worse. At the same time, if the fixed income portfolio isn't fully hedging against falling Treasury rates, assets dependent on treasury rates won't fully offset the resulting increase in liabilities.
Consider two plans with a 50-50 mix of equity and fixed income, both starting at 90% funded. The first has fixed income allocated to credit; the second is allocated to Treasuries only. Credit has Treasury exposure as well as spread exposure, so the two plans have the same outcome resulting from rates. However, the additional spread exposure in the first plan can create a situation where the plan is effectively overhedged against spreads in conjunction with equities. In the case of the Treasuries-only plan, equities alone might cover all of the liability movement resulting from spreads, depending on the size of the equity allocation. If it's too low, the plan may still need some credit spread exposure on the fixed income side. On the other hand, a high enough equity allocation allows for lower credit spread exposure in fixed income, which helps in this environment. It could easily be the case that the first plan could fall to 75% funded while the second would have fallen to 85%. In either plan, increasing the Treasury rate hedge without increasing credit spread exposure can improve the resulting funded ratio.
Recent markets provide a window into pensions' alignment of assets to liabilities. Plans have an opportunity to see firsthand whether they've implemented LDI strategies effectively and where to make changes in the near and long terms. Market illiquidity may limit a plan's ability to make these changes quickly. But sponsors can take comfort that they can achieve their desired exposures—either toward or away from credit spreads and Treasury rates—by taking advantage of a derivatives overlay solution that allows them to act nimbly now and later.
The relationship of movements between equities and credit spreads may continue for some time. The direction of these movements is sure to change at some point; it's impossible to know when. In the meantime, understanding how surplus will change with movements in rates and spreads adds transparency to the outcomes we'll experience in the future.
Responsible Investors Come to Terms with COVID-19
March 26, 2020
by Jennifer Sireklove, CFA, Managing Director, Investment Strategy
In normal market environments, companies face pressure to be transparent about their routine business practices. This allows investors to assess the environmental, social, and governance (ESG) characteristics of the companies they hold. The perception of a poor record on income inequality, worker safety, and job security can be enough to raise red flags.
But this is far from a normal environment. The COVID-19 pandemic has brought new attention to these longstanding issues, forcing companies to change their methods of doing business as quickly as possible. Incorporating these changes into ESG research is only just beginning, with responsible investing experts taking their own deep dives instead of waiting for data to come to them.
One issue we see getting a special focus is the ability and willingness of companies to allow their employees to work remotely. Some companies have been slow to adopt work-from-home technologies and enable their workforce to use them on a regular basis. Thanks to COVID-19, investors may think of this slowness as less of an inconvenience than a safety failure. They may have a similar opinion of retailers that refuse to close their brick-and-mortar stores at a time when people in communities all over the world are under orders to remain at home.
These are just a couple of examples of actions that can help or hurt companies from an ESG perspective. Our advice to responsible investors has always been to construct a portfolio based on their own unique priorities and values, using the most objective information available. Unfortunately, objective information about COVID-19 responses is likely to be scattershot for some time. Just as patience is vital as we wait for the pandemic curve to flatten, it's equally vital for responsible investors to wait for the ESG world to adjust to this new reality.
One way for active investors to take more immediate action is through proxy voting. Resolutions are typically added to shareholder ballots months in advance, with little room for new additions as the vote draws closer. Investors who are concerned about a company's COVID-19 response should take a look at existing resolutions related to business continuity, health care access, and compensation protections. Proxy voting and shareholder engagement has the potential to start important conversations about positive and lasting corporate change.