Investment Stewardship
As a fiduciary, Parametric encourages companies to provide greater transparency around environmental, social, and governance (ESG) issues and rectify clear lapses in oversight. Clients trust us to represent their interests through our investment stewardship activities.
2022 Investment Stewardship Report
A combination of proxy voting and targeted shareholder engagement can help strengthen companies, protect shareholder capital, and benefit economies and communities. Learn more about our stewardship activities in 2022:
Our outreach to more than 150 companies on practice-improvement discussions

Our engagement with international companies on human trafficking

Our votes at 10,438 shareholder meetings in 89 countries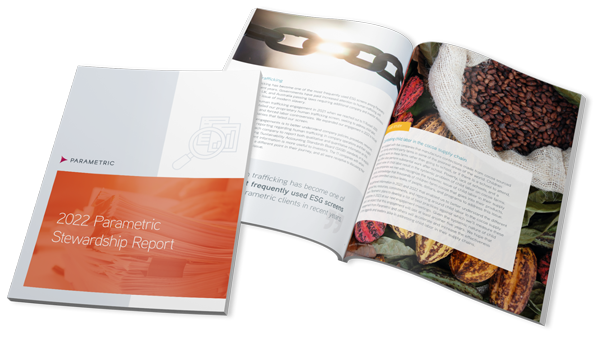 Human trafficking
We asked companies to report their efforts to eliminate child and slave labor across their supply chains.

Diversity, equity, and inclusion (DEI)
We encouraged large US companies to disclose workforce demographic data, enabling shareholders to measure, compare, and engage with companies on diversity.

Climate change
We supported proposals to report emissions reduction targets, fossil fuel financing and underwriting activities, and sustainable packaging or plastics use.