Cross-Asset Portfolio Solutions
Parametric Cross-Asset Portfolio Solutions (CAPS) enables institutional investors to take control of their portfolios through accessing a comprehensive, flexible, and customizable platform across a full spectrum of investment and risk-management solutions.

Markets are dynamic. Views can shift. Circumstances may change. How nimbly can your portfolio react? For many institutional investors, once they've allocated assets, adjusting exposures can be time-consuming, operationally cumbersome, and disruptive to both staff and the portfolio itself.
Investing entails risks, and there can be no assurance that investors will achieve profits or avoid incurring losses.
Why choose Parametric?
As of 6/30/2023
CAPS overview
Want a deeper dive into Parametric's Cross-Asset Portfolio Solutions?
Download our brochure.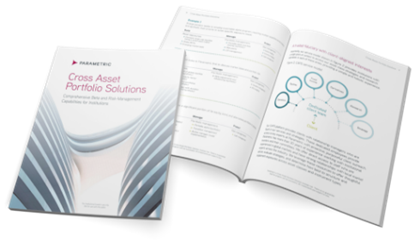 Intended benefits of Cross-Asset Portfolio Solutions

Ease of use
Learn more >>
Our goal is to provide institutions a single point of contact that can comprehensively manage risk, asset class exposures, trade execution, and operations.

Efficiency
Learn more >>
We cost-effectively obtain and augment customized portfolio exposure in a thoughtful, efficient, and prudent manner. Our focus is on risk management and keeping frictions to a minimum.

Flexibility
Learn more >>
CAPS provides a flexible, powerful means of scaling existing investment teams using our beta management and implementation capabilities that span equities, fixed income, currencies, and commodities.
Get in touch
Want to know more about our Cross-Asset Portfolio Solutions? Complete our contact form, and a representative will respond shortly.