Liability-Driven Investing
Parametric's Liability-Driven Investing (LDI) strategies are designed to help pension plans manage assets in concert with their liabilities. LDI is an exercise in investing assets to fund future liabilities while balancing the resulting risk exposures on a total plan basis.

Parametric LDI focuses on the total portfolio, enabling plan sponsors to better observe the total risk profile of assets versus liabilities and to create a more efficient liability hedge.
Parametric LDI is a suite of comprehensive, systematic, risk-managed solutions for all stages of the LDI process. Recognizing that each investor's LDI journey is unique, Parametric offers a broad range of solutions that can be customized to support the goal of funding future liabilities while balancing risk exposures on a total plan basis.
Investing involves risk. There is no guarantee that the strategy will be successful. All investments are subject to loss.
Explore more institutional solutions
Why choose Parametric?
As of 9/30/2023
How it works
Parametric LDI is tailored to meet the individual plan's needs. Through our pension and analysis program, we analyze plan liabilities and assets to understand key pension risks. We thoughtfully assess liability cash flows, yield curve suitability, and liability characteristics to design an effective hedging program that can incorporate cash, bonds, a completion overlay, and glide path management.
Parametric offers many options that help meet the evolving needs of a sponsor's LDI strategy.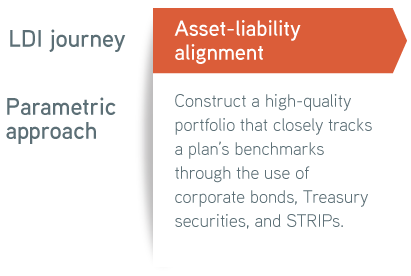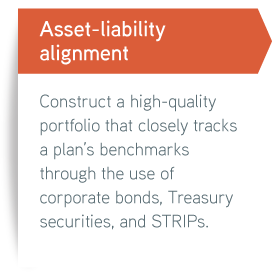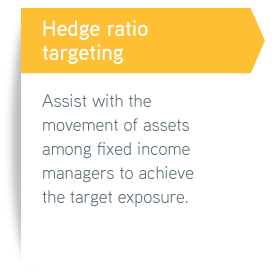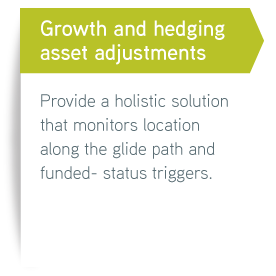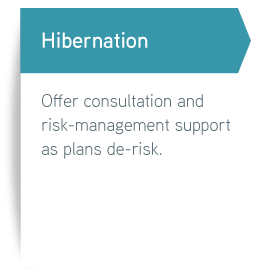 Intended benefits of Liability-Driven Investing

Innovative solutions
Learn more >>
LDI offers customization across physical and overlay programs based on our expertise across derivatives and fixed income. Pension plan managers can choose from standard or liability-aware benchmarks with dynamic hedge-ratio management.

A focus on risk
Learn more >>
Our risk-based analysis and monitoring program provides an in-depth view of assets and liabilities. We keep our focus on risk—or winning by not losing—throughout the investment process.


Experience and scale
Learn more >>
Parametric has more than 30 years' experience managing systematic, rules-based strategies. Our size, scale, and proprietary technology enable us to deliver customized, cost-effective LDI solutions for clients of all sizes, at all stages of the LDI journey.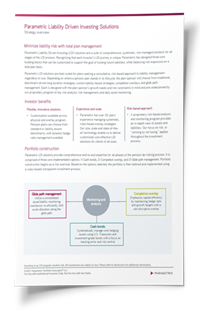 LDI strategy overview
Want a deeper dive into Parametric's LDI Strategy?
Download our strategy overview.
Download now »
Get in touch
Want to know more about our Liability-Driven Investing solutions? Complete our contact form, and a representative will respond shortly.