Volatility Risk Premium
The volatility risk premium (VRP) is the compensation earned by investors for providing protection against unexpected market volatility. Parametric's VRP solutions are a suite of strategies that seek to capture this unique and diversifying risk premium through the systematic sale of call and put options.
The VRP can be a persistent source of return over time that may allow investors to access attractive risk-adjusted returns and increase overall portfolio diversification.
Investing in an options strategy involves risk. All investments are subject to loss. Learn more.
Explore more VRP solutions
Capturing the VRP systematically without leverage
Equity index options may be thought of as financial insurance contracts, and investors pay a premium for insurance-like protection against unfavorable outcomes. The size of the VRP is driven by a range of behavioral, structural, and economic factors that may lead to an imbalance between buyers and sellers of index options.
A defensively structured portfolio can capture the VRP by selling fully collateralized options without introducing leverage. Our rules-based solutions favor diversification, accessibility, and transparency.
Why choose Parametric?
As of 9/30/2023
Which VRP solution is right for your client?
Parametric offers a range of VRP solutions using different combinations of collateralized equity index put and call options, which can be customized to meet your clients' portfolio objectives.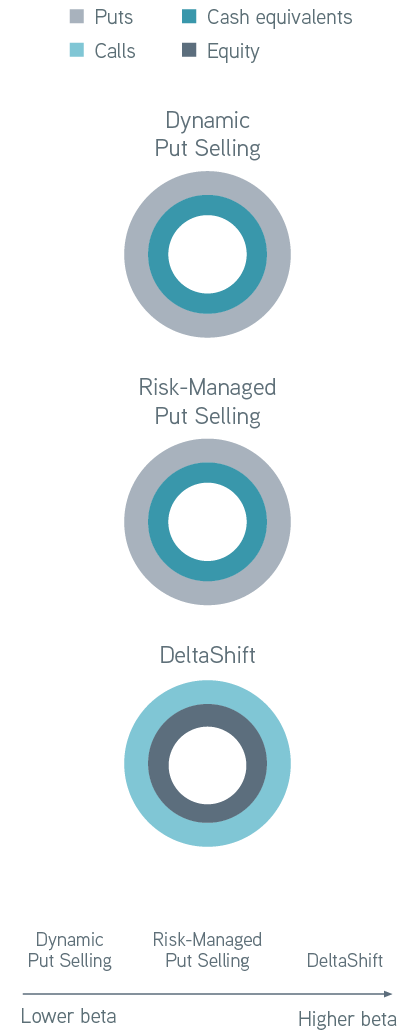 Frequently asked questions
How is the underlying portfolio constructed?
---
Portfolios have a base of equities, US Treasury bills, or a combination of both to create a range of risk-reducing or risk-seeking investment strategies, depending on the investor's goals.
How do you avoid leverage?
---
Our strategies focus on risk management in implementation and don't employ leverage. Instead, all options are fully collateralized.
Get in touch
Want to know more about our Volatility Risk Premium solutions? Complete our contact form, and a representative will respond shortly.