Weekly Fixed Income Update
Interest rates, inflation, central bank action—all these and more can impact fixed income. Stay on top of the market with our weekly update.
September 25, 2023



Macro update
Last week's economic data centered around the Federal Open Markets Committee (FOMC) meeting, where members voted to keep the overnight lending rate unchanged at 5.25% to 5.50% (Bloomberg, 9/25/2023).
The Fed also released its updated dot plot, which forecasts the overnight rate between now and the end of 2026. The FOMC now believes there will be two interest rate cuts next year. Chair Jerome Powell left the door open for the possibility of an additional interest rate hike this year, although the market currently discounts the likelihood of this occurring (Bloomberg, 9/25/2023).
This week we'll see the third revision of second-quarter GDP data and personal consumption expenditures (PCE) deflator data. Current expectations for the Core PCE deflator are 0.20% month over month and 3.9% year over year (Bloomberg, 9/25/2023).
September 7, 2023
Fixed income portfolio manager Kevin Lynyak explains why investors should be extending duration while yields are at unprecedented highs. Listen now:



Download transcript >>
September 15, 2023
Managing director John Dillon shares what he expects from the current municipal bond market. Listen now:



Download transcript >>
Municipal bond update


Benchmark AAA muni yields rose sharply across the curve last week, led by the very front end. The two-year yield rose by a striking 24 basis points (bps), while the five-, 10-, and 30-year yields rose 19, 16, and 13 bps, respectively. Year-to-date (YTD) tax-exempt yields are now sharply higher, with five-, 10-, and 30-year AAA yields up by 60, 52, and 50 bps, respectively (Refinitiv MMD, 9/22/2023).
The Bloomberg Municipal Bond Index lost 1.08% on the week, bringing YTD performance to just 0.15%. The Bloomberg US Treasury Index declined by 0.50% to -0.89% YTD (Bloomberg, 9/22/2023).
Municipal mutual funds reported outflows of approximately $636 million for the period, taking the YTD outflow total higher to approximately $10.8 billion (Refinitiv Lipper, 9/21/2023).
Five-, 10-, and 15-year A-rated municipal yields were 3.32%, 3.50%, and 4.16%, respectively, as of close on September 22. Related taxable-equivalent yields were 5.61%, 5.91%, and 7.03%, respectively, assuming the highest level of federal tax at 40.8% (Refinitiv MMD and Parametric, 9/22/2023).
Corporate bond update
US investment-grade (IG) corporate yields rose across the curve last week. Two-, five-, and 10-year yields rose eight, seven, and eight bps, respectively. Corporate yields are higher across the curve YTD, with two-, five-, and 10-year yields up 65, 34, and 39 bps, respectively (Bloomberg, 9/22/2023).
The ICE BofA 1–10 Year US Corporate Index returned -0.20% for the week and -0.85% month to date. The index performed outperformed like-duration Treasuries on an excess-return basis by 0.08% for the week and by 0.06% month-to-date (Bloomberg, 9/22/2023).
IG mutual funds and ETFs experienced inflows of $1 billion, a decrease from last week's inflows of $1.9 billion. Corporate-only funds experienced inflows of $638 million following last week's inflows of $916 million (JPMorgan, 9/22/2023).
Corporate one- to 10-year IG bond yields have risen 49 bps YTD and ended last week at 5.9%. (Bloomberg, 9/22/2023).
Investing in fixed income securities involves risk. All investments are subject to loss. Learn more.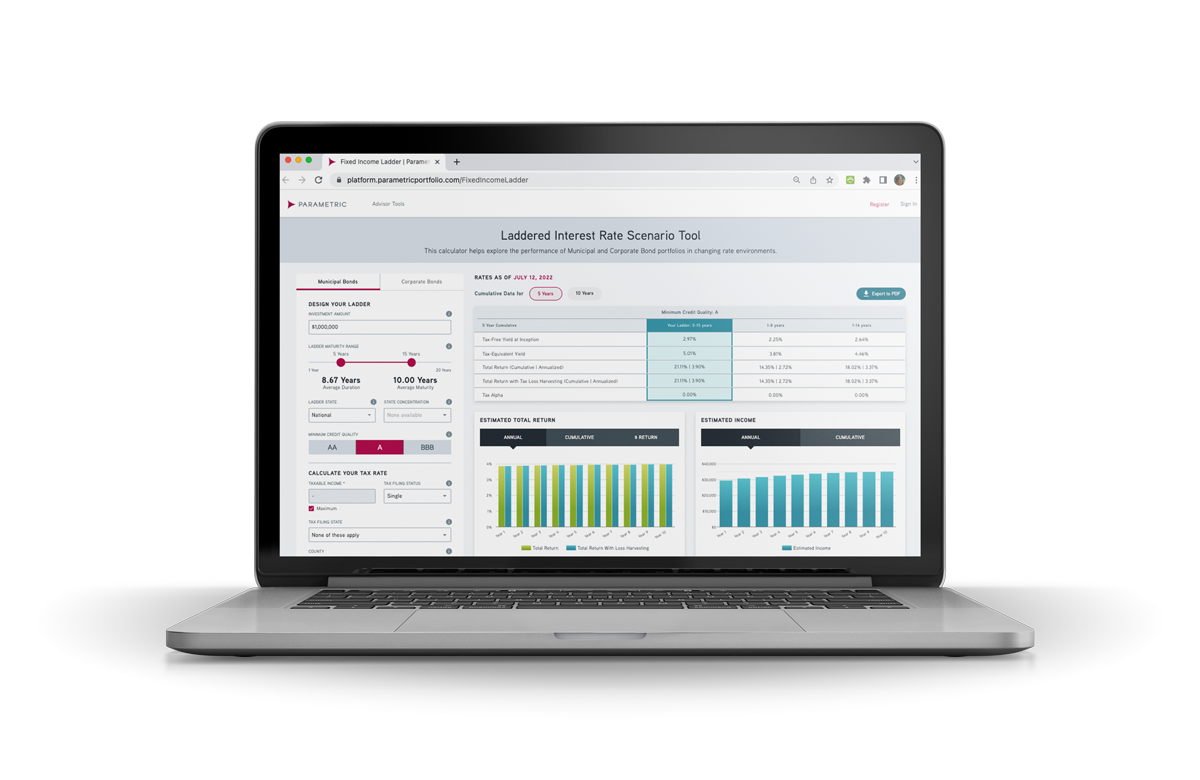 ADVISOR TOOL
Laddered Interest Rate Scenario Tool
Capture the performance of your laddered municipal or corporate bond portfolio in changing rate environments.
Get in touch
Discover how our fixed income solutions can address today's challenges. Request a sample portfolio or transition analysis.
The views expressed are those of the authors and are current only through the date stated. These views are subject to change at any time based upon market or other conditions, and Parametric and its affiliates disclaim any responsibility to update such views. These views may not be relied upon as investment advice and, because investment decisions for Parametric are based on many factors, may not be relied upon as an indication of trading intent on behalf of any Parametric strategy. The discussion herein is general in nature and is provided for informational purposes only. There is no guarantee as to its accuracy or completeness. Past performance is no guarantee of future results. All investments are subject to the risk of loss. Prospective investors should consult with a tax or legal advisor before making any investment decision. Please refer to the Disclosure page on our website for important information about investments and risks.