Tax management should happen all year, not just in December. What opportunities are you missing?
Custom Core® Equity
Parametric's Custom Core solution lets your clients invest according to their style preferences, responsible investing criteria, and tax considerations.

Customized solutions are powerful portfolio-management tools, but they can be time-consuming to implement. Our Custom Core solutions make custom direct indexing simple and scalable, freeing up time to grow your business and deepen client relationships.


Custom Core is a passive portfolio of stocks that adheres to a client-chosen benchmark, delivered as a separately managed account (SMA). With SMAs clients own each individual underlying security directly, allowing them to have a high degree of personalization based on their situations and needs.
Explore more Custom Core solutions
Next-level advisor tools and

comprehensive reporting
Get deep insights into your clients' portfolios. Our secure platform for advisors features an easy-to-use interface with robust reporting and tools.*
* Not all tools are available to all advisors. Tools require login. Register today.
All our tools allow you to build and evaluate portfolios customized to your clients' unique situations.
> Portfolio Lab
Benchmark Builder

ESG Screen Analyzer

Transition Analysis Explorer
> Tax Alpha Simulator
> Custody Fee Calculator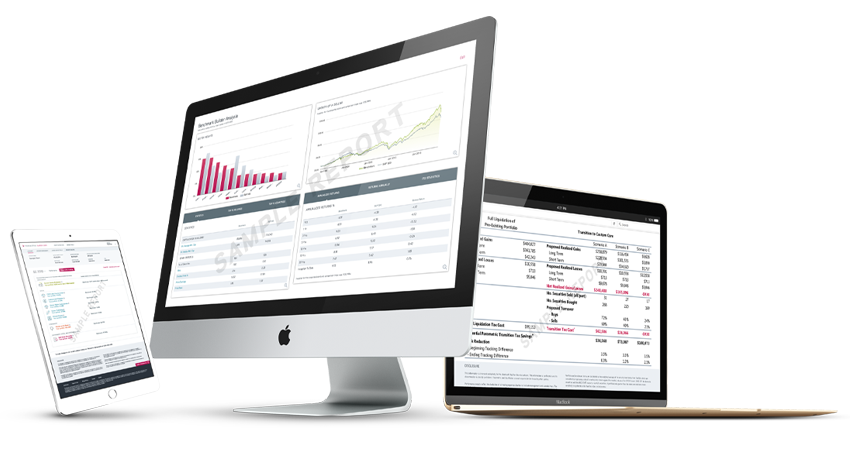 Why choose Parametric?
As of 9/30/2023

Design the exposure
Learn more >>
Select a licensed benchmark, a Parametric strategy, or a blend of the two to create a custom benchmark.

Customize
Learn more >>
Create customized exposure or investment styles via factors, tax management, responsible investing options, and more.

Continuous management
Learn more >>
Our proprietary optimization process continuously manages for both risk and tax-management opportunities.

Frequently asked questions about Custom Core
How do I create a Custom Core portfolio for my clients?
---
Start by choosing an equity base, such as a licensed benchmark, one of our own strategies, or a custom blend. This way your clients get exactly what they want in a single portfolio without having to buy multiple ETFs to achieve the same thing.
What customization can be applied to Custom Core portfolios?
---
Clients can customize their portfolios by investing in their chosen base and eliminating the companies or sectors that don't align with their religious, environmental, or social principles. Your clients can also access research-driven environmental, social, and governance (ESG) exposures through our partnership with Calvert, a global leader in responsible investing.
How does Custom Core actively manage taxes?
---
Taxes can be a bigger drag on returns than investment fees or trading costs. We continuously monitor investments for tax-loss harvesting opportunities, which can be used to offset capital gains within Custom Core or in other parts of your clients' portfolios.
Can my clients use factor investing with Custom Core?
---
Yes. We offer a range of single-factor or multifactor strategies available for our Custom Core portfolios. Clients can also create their own customized factor blends.
How does Parametric manage transitions?
---
Advisors get an easy-to-understand transition analysis to use with their client, detailing the trade-offs between tracking error and taxes from realized gains.
How do I get insights into my clients' Custom Core portfolios?
---
We've built a secure platform for advisors with an easy-to-use interface and robust reporting tools.* Find out how our Benchmark Builder, ESG Screen Analyzer, and Tax Alpha Simulator allow you to gain deep insights into your clients' portfolios. Learn more.
*Not all tools are available to all advisors.
Intended benefits of Custom Core Equity

Flexibility
Learn more >>
Choose a licensed benchmark, a Parametric strategy, or a custom blend to create a portfolio that meets your clients' desired exposure.

Customization
Learn more >>
Add factors, responsible investing criteria, or risk management overlays for even greater customization.

Tax management
Learn more >>
Third-party research has shown that tax management can add 1%–2% in after-tax excess returns.*

Charitable gifting
Learn more >>
Clients can gift individual securities from their Custom Core portfolios in a tax-efficient and risk-controlled manner.
* Shomesh E. Chaudhuri, Terence C. Burnham, and Andrew W. Lo. 2020. "An Empirical Evaluation of Tax-Loss-Harvesting Alpha." Financial Analysts Journal 76:3, 99–108. This study did not involve Parametric or its clients. There is no guarantee that a tax-management strategy will result in increased after-tax returns. Results will differ based on an individual investor's circumstances.
Get in touch
Want to know more about our Custom Core Equity solutions? Complete our contact form, and a representative will respond shortly.