Weekly Fixed Income Update
Interest rates, inflation, central bank action—all these and more can impact fixed income. Stay on top of the market with our weekly update.
November 29, 2022
Macro update
The November Federal Open Market Committee meeting minutes show that most officials believe the pace of future rate hikes may slow, but the fight against inflation isn't done and rates could end up higher than originally expected.
Political unrest and a possible COVID-19 lockdown in China are adding to recession risks. These risks have already been priced into the bond market, with the two- to 10-year spread being the most inverted it's been in decades.
The next monthly jobs number will be an important economic indicator, signaling if the Fed's aggressive tightening policy is slowing down the labor market enough.


Municipal bond update
Benchmark AAA yields declined across the curve -10/-18/ -5/ 0 in the 2-year, 5-year, 10-year, and 30-year part of the curve. Muni yields are up significantly on the year by +241/+215/+183/+210 bps YTD as of 11/25/22 (Per Thomson Reuters MMD).
Munis returned 0.38% last week, compared with 0.86% for the US Treasury index. November has been a strong month, with municipals returning 4.06% and US Treasuries returning 2.36%. However, respective YTD performance is -9.32% and -12.28% (Bloomberg, 11/28/2022).
Outflows of -$438 million were recorded for the week ending November 23, 2022. Outflows this year have totaled -$113 billion (Lipper, 11/23/2022).
Municipals are still offering attractive yields despite the move lower in yields this month.


Corporate bond update
The ICE BofA/Merrill Lynch 1–10 Year US Corporate Index returned 0.65% for the week and 2.78% month to date. The index outperformed like-duration treasuries on an excess-return basis by 0.20% for the week and 1.27% month to date (Bloomberg, 11/25/2022).
Investment-grade (IG) one- to 10-year corporate spreads compressed by four bps from 134 bps to 130 bps versus US Treasuries week over week (Bloomberg, 11/25/2022).
IG mutual funds and ETFs experienced inflows of $700 million last week, an increase of $300 million. Corporate only funds experienced inflows of $3.1 billion following last week's inflows of $2.6 billion (JPMorgan, 11/25/2022).
IG corporate bond yields, as measured by the ICE BofA/Merrill Lynch 1–10 Year US Corporate Index, fell 66 bps from their most recent highs but remain 200% above the 10-year average (Bloomberg, 11/25/2022).
Investing in fixed income securities involves risk. All investments are subject to loss. Learn more.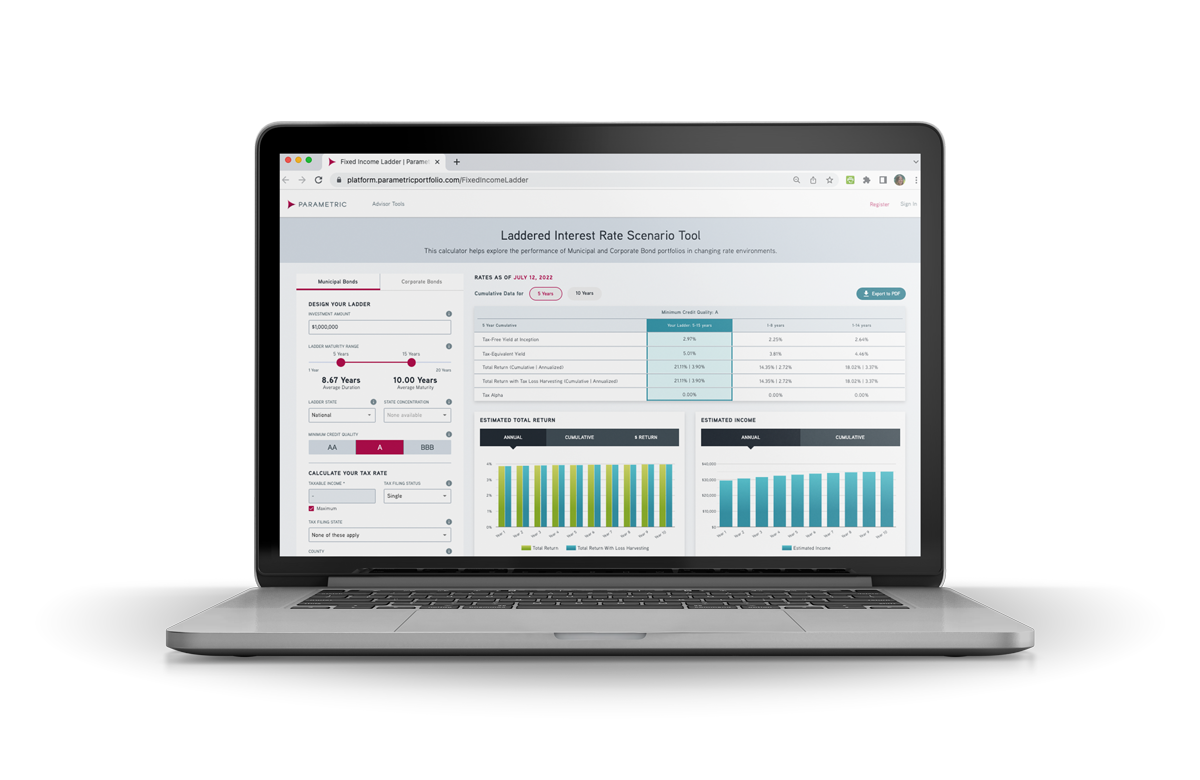 ADVISOR TOOL
Laddered Interest Rate Scenario Tool
Capture the performance of your laddered municipal or corporate bond portfolio in changing rate environments.
Get in touch
Discover how our fixed income solutions can address today's challenges. Request a sample portfolio or transition analysis.
The views expressed are those of the authors and are current only through the date stated. These views are subject to change at any time based upon market or other conditions, and Parametric and its affiliates disclaim any responsibility to update such views. These views may not be relied upon as investment advice and, because investment decisions for Parametric are based on many factors, may not be relied upon as an indication of trading intent on behalf of any Parametric strategy. The discussion herein is general in nature and is provided for informational purposes only. There is no guarantee as to its accuracy or completeness. Past performance is no guarantee of future results. All investments are subject to the risk of loss. Prospective investors should consult with a tax or legal advisor before making any investment decision. Please refer to the Disclosure page on our website for important information about investments and risks.
An imbalance in supply and demand in the municipal market may result in valuation uncertainties and greater volatility, less liquidity, widening credit spreads, and a lack of price transparency in the market. There generally is limited public information about municipal issuers. As interest rates rise, the value of certain income investments is likely to decline. Longer-term bonds typically are more sensitive to interest-rate changes than shorter-term bonds. Investments in income securities may be affected by changes in the creditworthiness of the issuer and are subject to the risk of nonpayment of principal and interest. The value of income securities also may decline because of real or perceived concerns about the issuer's ability to make principal and interest payments.

Corporate debt securities are subject to the risk of the issuer's inability to meet principal and interest payments on the obligation and may also be subject to price volatility due to such factors as interest rate sensitivity, market perception of the creditworthiness of the issuer, and general market liquidity. When interest rates rise, the value of corporate debt securities can be expected to decline. Debt securities with longer maturities tend to be more sensitive to interest rate movements than those with shorter maturities. Company defaults can impact the level of returns generated by corporate debt securities. An unexpected default can reduce income and the capital value of a corporate debt security. Furthermore, market expectations regarding economic conditions and the likely number of corporate defaults may impact the value of corporate debt securities.

BLOOMBERG® is a trademark and service mark of Bloomberg Finance LP and its affiliates (collectively "Bloomberg"). Bloomberg and Bloomberg's licensors own all proprietary rights in the Bloomberg Indices. Bloomberg does not approve or endorse this material, or guarantee the accuracy or completeness of any information herein, or make any warranty, express or implied, as to the results to be obtained therefrom and, to the maximum extent allowed by law, shall not have any liability or responsibility for injury or damages arising in connection therewith.