There's still a role for active management for high-net-worth investors—as long as their overall portfolio is efficient enough. Many advisors know a passively managed core can be a wise choice for taxable investors. Find out how direct indexing can make it even wiser.
Active management typically comes with higher portfolio turnover and a higher tax bill. Wealth managers may feel that an active strategy is too inefficient for high-net-worth clients who are sensitive to taxes. But do they need to forgo active management completely?
One solution is to turn to a core-satellite approach: a passive "core" surrounded by more active "satellites." Compared with an all-active portfolio, the core-satellite structure can be quite tax-efficient, even though it has an active component. A core-satellite portfolio is also normally less expensive in terms of management fees, since the bulk of its assets remain in lower-fee passive mandates. Let's dig deeper into its benefits.
What is core-satellite investing?
The core-satellite portfolio is a widely used construction approach for taxable clients. A manager invests the portfolio's core in a passive index-tracking mandate, while high-conviction active managers oversee a number of smaller satellite portfolios. The core component typically features strategic, long-term allocations that rarely change in composition, such as US large-cap equities and tax-exempt fixed income. The satellite component may involve tactical allocations to active investment strategies, which may feature concentrated portfolios and more significant levels of active risk than the core strategies.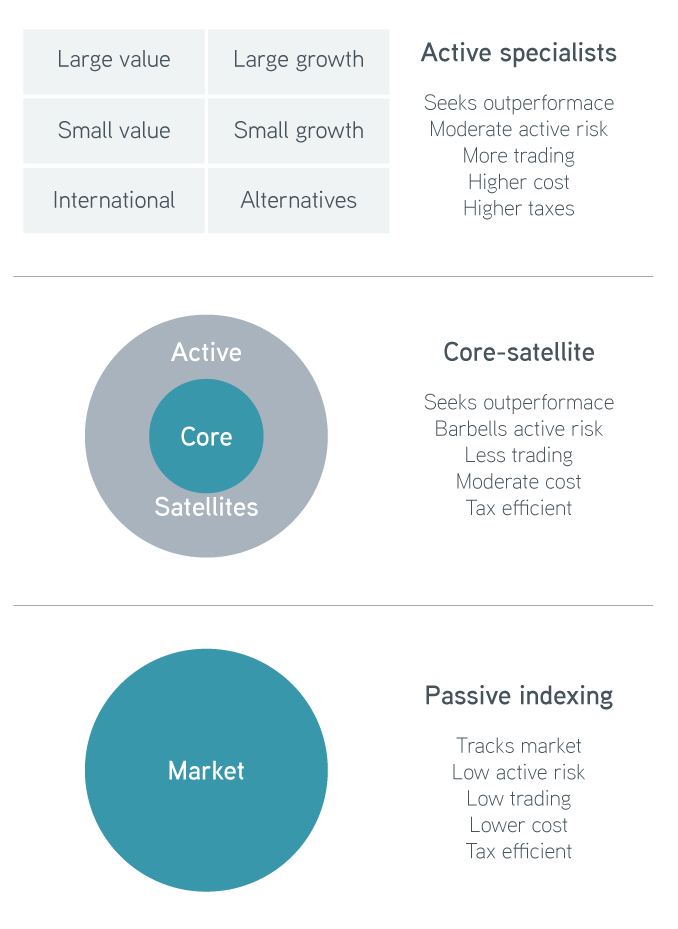 For illustrative purposes only.
Compared with a fully active portfolio, a core-satellite approach involves lower tracking-error risk versus a benchmark index. Since the core is passive, investors can allocate more of their active risk budget to satellites. As such it's possible that investors could give more flexible, less benchmark-sensitive mandates to the active investment strategies in their satellites. These active satellites often include small-cap, international, or thematic investments; private business or real estate holdings; alternative instruments like commodities or derivatives; and more esoteric asset classes like collectibles, art, or wine.
How does direct indexing fit into a core-satellite portfolio?
The tax efficiency of a core-satellite structure can improve further if the manager uses direct indexing for the core. In such a strategy, the investor enjoys direct ownership of the individual stocks that make up a chosen index. The manager can then opportunistically harvest losses and defer gains, subject to a modest tracking-error budget. Because the portfolio is held in a separately managed account (SMA) and not a commingled vehicle, the investor can use the losses harvested under this mandate to offset the taxable gains that the satellite managers generate. In this way, the core-satellite structure offers the potential to greatly increase after-tax returns across the whole portfolio.
Benefits of this investment model extend to the advisor as well. In an all-active portfolio, the advisor is responsible for ongoing due diligence of each manager. By allocating the core to more static long-term allocations, the advisor can focus their due-diligence efforts on just the satellite managers with the most potential for outperformance. This frees them up to manage wealth more holistically through retirement planning, estate management, and charitable giving, strengthening their existing client relationships and creating openings for new ones.
There's also a possible risk-management benefit to consider. Our research has found that a core-satellite approach results in portfolios with better downside capture in after-tax returns. Even when the active satellites underperform significantly, tax-loss harvesting in the core can soften the underperformance on an after-tax basis.
The bottom line
Clients who favor active management may be concerned about the tax inefficiency of an all-active portfolio. A systematic, rules-based direct indexing core can help solve this problem. It promotes deeper conversations with investors about their goals and preferences, and it can help lower tax bills over the long term. With more than 30 years of experience in the customized investment space, Parametric is well equipped to help advisors use direct indexing to strengthen their client relationships.